For a relatively small town, Stamford has enjoyed contributing a few quirky footnotes to the history books. This month we're looking at a some of the locals whose connections with the town are truly memorable…
History is littered with quirky figures, questionable acts and dodgy decisions, proving that often there's nothing quite so unbelievable as the truth. This month we're examining a few of the local figures that will be forever remembered as Stamford's most memorable residents.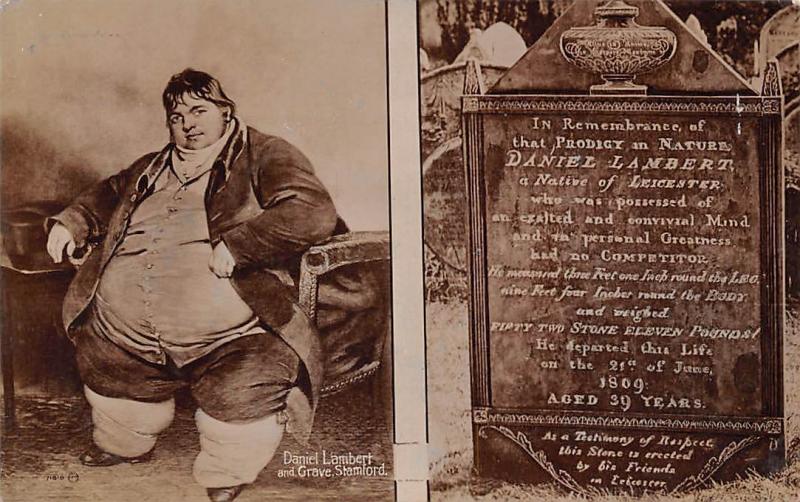 Larger than Life: Daniel Lambert…  
Among the more well-known residents of Stamford is Daniel Lambert. Larger than life is a clichéd way to describe a gentleman who would never shy away from his ability to command an audience keen to witness the spectacle of a man who, upon his death in 1809, weighed over 50 stone.
Happily, today, it's considered unacceptable to ridicule someone on the basis of their appearance, but when Daniel Lambert was born in Leicester in March 1770, society was rather different to say the least.
Lambert was born on the city's Blue Boar Lane. His family were middle class; his father had an upstanding career as gaoler of Bridewell Prison, a debtor's prison. Evidently Daniel was not an obese child and in fact was a keen and accomplished swimmer.
The young Daniel was apprenticed to a die sinker and engineer in Birmingham, creating the dies which would be used to press coins. Daniel completed four years of a seven year apprentice and then left the company to which he was apprenticed in favour of following in his father's footsteps instead.
At the age of 23 Daniel's weight had ballooned to 32 stone, and even after his weight gain, he used to walk the seven miles from Woolwich to London, where he took a residence. He also taught juniors to swim competitively and was a keen spectator of sports.
Again, unacceptable in modern society, but Daniel Lambert was a keen follower of bear fighting and cock fighting. At one such event Daniel even took on a bear to rescue his dog, apparently punching the bear in its head to ensure it released the stricken animal from his jaws.
In 1805 when Lambert would have been 35, he was pensioned off from the gaol in which he worked and given a sum of £50/year which would have been quite a comfortable income to live on.
He supplemented his income with public exhibitions of his weight, drawing crowds of up to 400. Curiously Daniel seemed quite brave enough to appear, and yet also sensitive  concerning his weight, especially when a member of the audience would ask a tactless question.
Daniel's diet wasn't overly extravagant and he was also thought to be teetotal. And yet, his eventual weight was 52 stone and 11lbs, the public were often curious about the subject but on one occasion somebody asked how much his bespoke suits cost to make.
An indignant Daniel replied that the member of the audience ought to purchase one for him in order to find out.
Daniel Lambert enjoyed Stamford and would visit the town regularly to dine there, usually at The George of Stamford or The Waggon & Horses. Daniel would place advertisements publicising his forthcoming appearances in the town and would attend cock fights in the town too. His last visit to Stamford was in June 1809 and though 'fatigued from his journey' he was otherwise in good health. Its believed that Daniel Lambert died at around 8.30am on Wednesday 21st June 1809 just prior to the arrival of his barber at his Waggon & Horses lodgings on St Martins.
His coffin was drawn by eight men and he was buried on Friday 23rd June to the rear of St Martin's Church. Affectionate obituaries reported the death of a man larger than life. On his gravestone are the words 'Altus in Animo in Corpore Maximus;' noble in soul, greatest in body.
The Short Story of 'Lord Minimus…'
As already established, political correctness is a recent invention, and following on
from our story of Daniel Lambert's life, characterised by ridicule or intrigue over his physical appearance, is the tale of Sir Jeffrey Hudson, the 'pet dwarf' of Queen Henrietta Maria, wife of King Charles I. Such a position would be unconscionable nowadays, but from in the Stewart era, the monarchy were rather less susceptible to having their conduct questioned.
It's believed that Jeffrey Hudson was actually born in Oakham, and that his stature – he was just 18 inches tall – was due to a hormone deficiency (perhaps a misfiring pituitary gland) given that his three brothers and his half-sister were all of conventional stature. Jeffrey's father was a butcher by trade but also a bullward and took him to Burghley House in Stamford one day, when he was just seven years old. There he caught the attention of George Villiers, Duke of Buckingham, for whom John Hudson was providing bulls for baiting.
Upon hearing about Jeffrey from the Duke, the Duchess of Buckingham requested a visit and subsequently took Jeffrey into her household. In one of high society's more bizarre moments, the Duchess decided that the best way to ingratiate herself with the visiting monarchy, Charles I and his young French wife, Queen Henrietta Maria, was to hide Jeffrey under a baked pie crust so that he could burst out of said pie, dressed in a little suit of armour and shout 'surprise.' Nothing if not an original gesture…
The queen was impressed and adopted Jeffrey as her 'court dwarf,' providing him with a gilded life, albeit one of subjugation and often jealous behaviour from his fellow courtiers. Things became so bad that Jeffrey finally snapped and a duel ensued between him and fellow courtier William Crofts.
Despite his size Jeffrey was a formidable shot and successfully fired a bullet into Crofts' head, killing him instantly. Duelling was at that time illegal and so Jeffrey was sentenced to death, only to have his sentence commuted to exile in France.
There he was captured by Barbary pirates and taken to North Africa where he spent 25 years as a slave, his family being too poor to pay the ransom. He returned to Rutland and lived here until his death in 1681.
Digging up the Past: Harry Burton…
Imagine the moment when the most famous archeological dig in the history of humanity  reaches its climax. After more than 10 years the moment came to open the tomb of King Tutankhamun… and right there, with a camera in his hand, was Stamford's Harry Burton. If ever there was a time to check you've taken the lens cap off…
The dig was backed by financier George Herbert, 5th Earl of Carnavon, and who employed Egyptologist Howard Carter in 1915. Harry's role was to document the dig and its findings, and some of the most well-recognised photographs of the first glimpse into the tomb were taken by Harry.
Born in Stamford in 1879, Burton was actually a cabinet maker by trade but developed an interest in history and specifically Egyptology after beginning work with Robert Henry Hobard Cust in 1896.
His skills as an art historian and photographer soon flourished and he and Cust worked in Florence where Burton met Theodore Davis where the two worked alongside on several tomb excavations. Davis relinquished his excavation permit and instead Harry began working with Carter and Herbert.
Harry Burton remained in Egypt until his death in 1940, and his legacy is over 1,400 photographs of Tutankhamun's tomb.
Lady Forbes – the original 'It Girl…'  
Long before Instagram influencers, 1990s 'It Girls' like Tara Palmer Tomkinson or even 1960s supermodels like Twiggy, there was Lady Angela Selina Bianca Forbes.
Born in 1876, in London's terribly posh Mayfair, Forbes grew up in Fife but also spent much of her time in Stamford at Lady Anne's House – latterly Lady Anne's Hotel – which was named after Lady Anne Cecil Countess of Stamford, daughter of William Cecil (2nd Earl of Exeter) and Elizabeth Manners in the 1600s.
Lady Forbes embraced the country live and enjoyed fox hunting, shooting and fishing in the area, riding side-saddle with the Quorn whilst being immortalised in chromolithograph in Vanity Fair magazine, with Elinor Glyn basing the character of Elizabeth on Forbes in her 1900 novel Visits of Elizabeth.
A novelist herself, and the wife of Imperial Yeoman James Stewart Forbes, during the First World War Lady Forbes became a proto-Forces Sweetheart and worked in soldiers' canteens in France during the conflict.
A tomboy before the description was coined, Lady Forbes was considered confident to the point of being abrasive and found herself in conflict with senior military men like  Field Marshall Sir Douglas Haig. Forbes returned to Stamford often and died in 1950.
Rae Earl: Award-Winning Writer…  
Witty, smart, empowering… and born in Stamford. Author Rae Earl was born in 1971 and is best known for the 2007 book My Fat, Mad Diary which was the basis for 2013-2015 Channel Four series My Mad Fat Diary. The book takes on themes like body image, sexuality and mental illness with humour and injects the kind of realism that any parent of teenage girls will consider a good influence.
A Criminal Mind: Colin Dexter…      
Most people consider the personification of Inspector Morse to be the irascible John Thaw, but it was Colin Dexter who first introduced us to the character in 1975 in Last Bus to Woodstock. Born in Stamford in 1930, educated in Cambridge and latterly a resident of Oxford where the Morse novels were based, Dexter wrote 13 Morse novels, 14 novellas and numerous short stories and crossword books as a keen head-scratcher when it comes to cryptic clues. He died in March 2017.
Princess of Pop: Nicola Roberts…    
Born in Stamford in 1985, Nicola Roberts found fame as a singer, songwriter and founder member of the ITV Popstars reality show pop group Girls Aloud. She later moved to Cheshire and the pop group split in 2013, which freed Nicola Roberts to participate in The Masked Singer last year.