This month we're remembering the time that Stamford played a part in Great Britain's motoring heritage as we remember Pick's motorworks on High Street St Martins…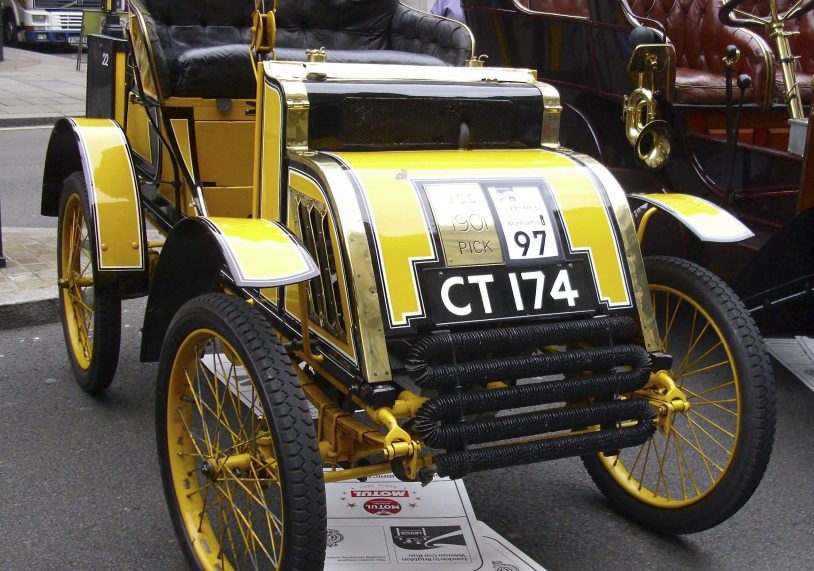 It is with considerable envy that I'll watch drivers pass me around Stamford and Rutland this summer, in their lovely convertible cars, with the roof down. Even more envy when the vehicle in question is a classic car.
What better way could there be to enjoy the sunshine than with it beaming down as you drive along, wind in hair. It's quite an irony that Britain is the biggest market in Europe for the sale of convertibles. Despite our iffy climate we purchase more of them per head of population than Spain or Italy, and we're second only in the numbers we purchase to America.
But at one time almost all cars were convertibles, and at one time, you could purchase a convertible built right here in Stamford. The only other manufacturer of motor cars in Lincolnshire, in fact, was Rose National.
The car you see here is indeed a Pick, named after the company's founder Jack Pick. The particular example on our previous page was sold by Bonhams in 2009 and it was made in the town. It's a 1901 4hp two-seater Voiturette… but if you'd like to hop in one to pootle off down to Burghley House, you might struggle.
It's thought that just one other Pick car beside this still resides in the UK – a Doctor's Coupé with 20hp from 1921 – and only five or six still exist worldwide… it's believed they're all in New Zealand.
The company's founder was John Henry 'Jack' Pick, and his background was in agricultural engineering. Jack worked at Blackstone & Co Ltd., an engineering company (and namesake of the local football team) which was founded in 1889 and made farm implements.
The company had its roots in the Rutland Ironworks company and eventually became Blackstone before that company would merge its engine making interests to create Lister Blackstone, the Associated British Oil Engine Company, and finally Hawker Siddeley, Ruston, and Alsthom, each of which were finally MAN Diesel, the later now known for manufacturing HGVs.
Having created swish new type of hoe for the company, Jack left the business in 1896 and went into business with A J Pledger – a name which still exists today as a manufacturer of horseshoes – to create and sell bicycles in and around the town.
Three years later Pick created his first motor car at his engineering works on the corner of St Leonard's Street and Brazenose Lane. It was known as the 1899 Voiturette and Jack exhibited it beside a small-bodied car with a wooden frame at Crystal Palace in London at the 1900 Stanley Cycle Show.
It's believed that two of these were created and sold for £85 (about £11,600 today) to Dr Benson of Market Deeping and to the 5th Marquess of Exeter William Thomas Brownlow Cecil. The business did well at this point and when the Stamford Mercury visited the factory in 1903 it reported:
'Some 50 cars are at present in the course of construction, varying from four to 24 horsepower. The increasing importance of the manufactory to a town like Stamford and the extent of the work turned out, may be gauged from the fact that the number of men employed at the commencement had grown to upwards of 100.'
In 1904 the business moved to High Street St Martins, directly opposite The George of Stamford. It's not clear which commercial arrangements between Pick and several engineering firms in the town – those which manufactured components for his vehicles – were formal, and which were simply favours on the part of his previous colleagues.
However Pick remained a Works Manager in the business rather than a director, maintaining a keener interest in engineering than business matters. This is evidenced by the fact that in 1906 he created a new chassis which would form the basis of his vehicles in the future. The town's Hayes & Son built the chassis and Pick moved into their St Martins engineering works, designating their subsequent models New Picks as a point of differentiation from older models.
The chassis provided a two-seater and four-seater vehicle and a racing car which was, the marketing material boasted, capable of an enormous 50mph!
Marketing material for a New Pick Landaulette boasted that the car had a wheelbase of nine feet, and a track of four feet six inches. Standard equipment was two large acetylene head lamps and two side lamps, a tail lamp, tool kit, pump, jack, horn, speedometer, clock, oil tin and tyre levers.
The body could be 'splendidly finished in any colour desired' and inside, its cloth upholstery was 'finished in the very best style with arm rests.' The car also boasted a 'speaking trumpet' so passengers could communicate to their chauffeur, and his seat was trimmed with leather.
With the outbreak of the First World War, it's probable that Pick's works were requisitioned by the ministry for war work, but post-war, no subsidies were given for worn out machinery, which might be an explanation as to why Pick failed to grow his production between the wars despite ventures like the production of a tractor which was technically innovative but commercially unsuccessful, and a motorcycle.
Post-war there was a larger demand for cars, but once again Pick was more engineer than businessman and concentrated on producing a larger-bodied vehicle with 22.5hp when rivals like Austin & Morris were making cars with smaller engines. Back in 1910, a new tax had been introduced charging £1 per unit of horsepower and so with Pick producing larger and more powerful engines, the cost of his vehicles soon became prohibitive against rivals. The post-war recession then set in and Pick had no choice but to put the company into voluntary liquidation in January 1925, rather sadly ending the town's foray into motor manufacturing.
Find Out More: Learn more about the history of Stamford in Christopher Davies's A-Z of Stamford, available from all good bookshops published by Amberley, £14.99. You can also follow @PickMotorCo on Twitter to see more archive material about Stamford's motor car manufacturing heritage.