One of the area's most unique and satisfying dining experiences is now under new management with a new Head Chef in the kitchen. Welcome back – or perhaps we should say E yōkoso – to Hoppi Dorri, Stamford's Japanese-fusion restaurant…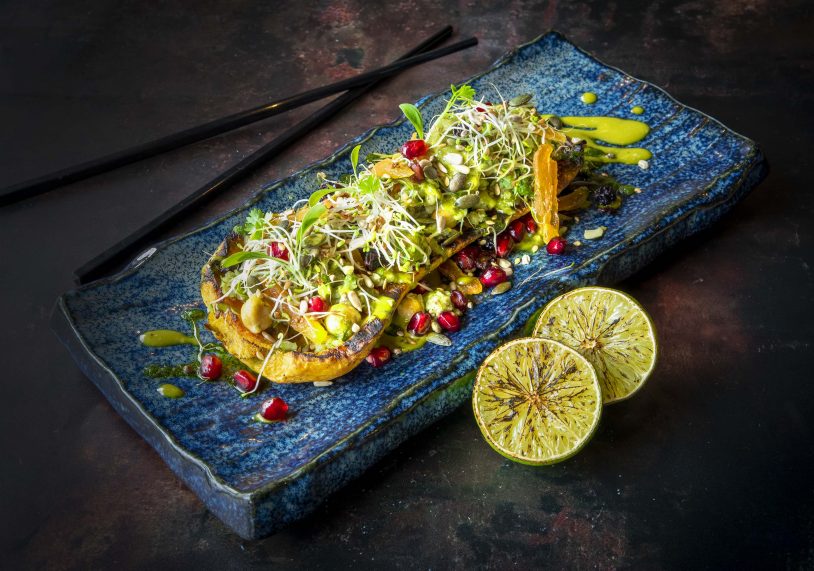 Around 18 months ago, Stamford found itself turning Japanese with the addition to its dining scene of Hoppi Dorri, an Asian fusion dining experience that, sadly, never quite managed to permeate the consciousness of local diners prior to the arrival of Covid. A shame, indeed, because the idea was sound and the place looked smart. It was rather large, too, especially for what some might consider a speciality restaurant, hence the decision by its previous management to retain the ground floor of the restaurant for dining and establish a Japanese-themed bar on the first floor.
A month ago, though, Hoppi Dorri changed ownership and Jonathan Spencer cast an expert eye over the place to see what improvements he could make. Jonathan already owns Orbis on Oakham's Church Street, providing food with pan-global influences. It's a restaurant concept that's popular and has been well-executed by the team. And so now, that same formula has been applied to Orbis Stamford, with 48 dining covers on the first floor of the building instead of the saki and cocktail bar.
The ground floor will remain Hoppi Dorri. Its 58 covers will continue to offer Japanese-fusion food but with a more streamlined menu and a new executive chef, Omar Palazzolo. The well-travelled among our readers may recognise that doesn't sound much like a Japanese name… indeed, Omar was born and raised in Milan, and early in his career, landed a place in the kitchen of the Roux's Gavroche; classically French fine dining.
Having worked in kitchens since the age of 14 and in places engilded by Michelin stars from the age of 18, it was about 10 years later that a Japanese spark was lit by two friends of Omar, who introduced the chef to their national cuisine.
"It was incredible," says Omar. "So many flavours, so many layers of complexity, such an emphasis on freshness of ingredients and so much scope."
"Immediately, I really wanted to explore every single facet of Japanese food, and set about learning as much as I could about the culture."
Omar's reputation in the capital let him to work at Japanese-Peruvian restaurant Nobu on Park Lane and Knightsbridge's private members gaff, The Art Club, with its Japanese restaurant, Kyubi. Omar then left to pursue a stint working with SushiSamba in Covent Garden and at London's Heron Tower, before moving down to Stamford with his partner and daughter prior to the opening of Hoppi Dorri 18 months ago. Under its new ownership, Omar now heads up the kitchen and leads a team of three chefs.
"Stamford is a super place to work," says Omar. "It offers a better way of life for residents and for those working in kitchens, compared to central London. Restaurants in Knightsbridge can charge mad amounts of money and their chefs are run into the ground."
"I was seeking a better way of life for me but for my team too. An exhausted team run off their feet aren't efficient or creative, and nobody enjoys a hostile working environment, so my philosophy at Hoppi Dorri is to encourage everyone in the team to achieve excellence in a place where the customer comes first, not the bottom line."
"We charge as little as we can without compromising on quality. Japanese fusion dishes can only be created well with the freshest ingredients and with lots of time and effort invested in their creation. Some of our sauces take a day to make, and to marinate a piece of meat or fish properly often necessitates 24 hours."
"We open from Wednesday to Saturday, for both lunchtime and evening service. Tuesday is our prep day, when we create sauces for example. That means our team is sufficiently well-rested to ensure they're at the top of their game and they're all prepared, ready to deliver top quality dishes from mid-week."
"Both Orbis and Hoppi Dorri share a kitchen but the teams are separate. Hoppi Dorri dishes are cooked authentically on charcoal, which adds an additional layer of authenticity and flavour. Again that's more time-consuming and complicated, but it's an investment in the diner's experience."
Omar says that as well as the depth and complexity of flavours, the appeal of Japanese fusion food is its deserved reputation as being the antithesis of processed food. Whilst sauces and marinades might be the result of hours of work and myriad ingredients, the fish, meat and vegetables themselves are fresh and uncomplicated, allowing each key ingredient in a dish to come to the fore.
Hoppi Dorri's remit as a Japanese fusion restaurant allows it to deviate from purely Japanese dishes and bring in any number of other influences. At the end of the 19th century, Peru was the first South American county to enter into diplomatic relations with Japan, the latter sending 790 pioneers to the country to share cultures, including food.
"Ostensibly then, the menu is Nikkei (Japanese and Peruvian) in character – cuisine born as a result of the Japanese introducing Peru to miso, ginger, soy and wasabi, in return for South American influences on Japanese food such as aji and yellow pepper.
"The creative possibilities of Nikkei cuisine allows us to create a Japanese fusion experience that's unique. Some of the menu's offerings are more authentic Japanese, some are our own inventions."
"It's a case of innovating but keeping quality high, ensuring the customer is happy and that we offer something unique," says Omar. "Stamfordians usually have lots of experience dining in high-end London restaurants or they are well-travelled."
"Because of that, the compliments that we receive really do mean a lot to us."
Some of Hoppi Dorri's dishes are smaller in nature, others are full-sized plates as Europeans would know them. There's a choice of three appetisers, seven choices from the sushi bar, seven main course dishes, seven signature dishes and four grill options plus nine side dishes and three puddings. Digestifs include sake and Japanese whiskies.
A common flavour profile for Hoppi Dorri's dishes is umami; savoury, translating as 'deliciousness' and a term coined in 1908 by Tokyo chef and chemist Kikunae Ikeda.
Our photoshoot saw us sampling about 15 of the restaurant's dishes along with the kitchen familiarising themselves with each dish to better advise customers. Unlike Indian cuisine, there's no hot spiciness, just satisfying depths of flavour and rich mature flavours.
Our recommendations include the very delicious confit duck leg, with grilled asparagus, but do save room for a Japanese whisky cappuccino or warm banana and caramel harumaki dessert.
It's safe to say that Hoppi Dorri's offering is as unique and special as you'll find anywhere short of central London's dining scene, and it's absolutely worth a visit.
Its food is unique, delicious and intriguing, whilst the setting and service are commensurate. And so, above all, we can highly recommend saying konnichiwa to what will soon almost certainly be considered one of Stamford's best restaurants.
Hoppi Dorri, All Saints' Place, Stamford PE9 2AR. Call 01780 766772 or see www.hoppidorri.co.uk.
On The Menu
AAppetiser:
Lime & Maldon edamame £5.
Thai prawn crackers £4.
Sushi:
Tuna nigiri £12.
Salmon nigiri £12.
Aromatic duck roll £12.
Hoppi Dorri Plates:
Crispy chilli Cornish squid with yuzo mayonnaise £11.
Barbary duck breast with sweet soy and ginger £14.50.
Spatchcock chicken with tamarind marinade and creamy truffle sauce £19/whole; £10.50/half.
Hoppi Dorri Signatures:
Confit duck leg with pak choi, cucumber and cashew nut & orange dressing £17.50.
Blackened Atlantic cod with monks beard, pak choi and pickled daikon £17.50.
30 day dry aged beef fillet £32.
Lamb cutlets with Korean pepper BBQ marinade £25.
A Sweet Ending:
White chocolate and coconut panna cotta with mango and passionfruit salsa £9.
Banana and caramel harumaki £8.50.