Probably the most thoughtful gift I could give the present Mrs Davis this festive season is 400 hours away from me… but how to spend that time? How about spending winter tucked up in a nice cosy garage, building your own sports car? This month we meet Wendi Freeman, who can help make work for idle hands and get all of those husbands out from under their wives' feet…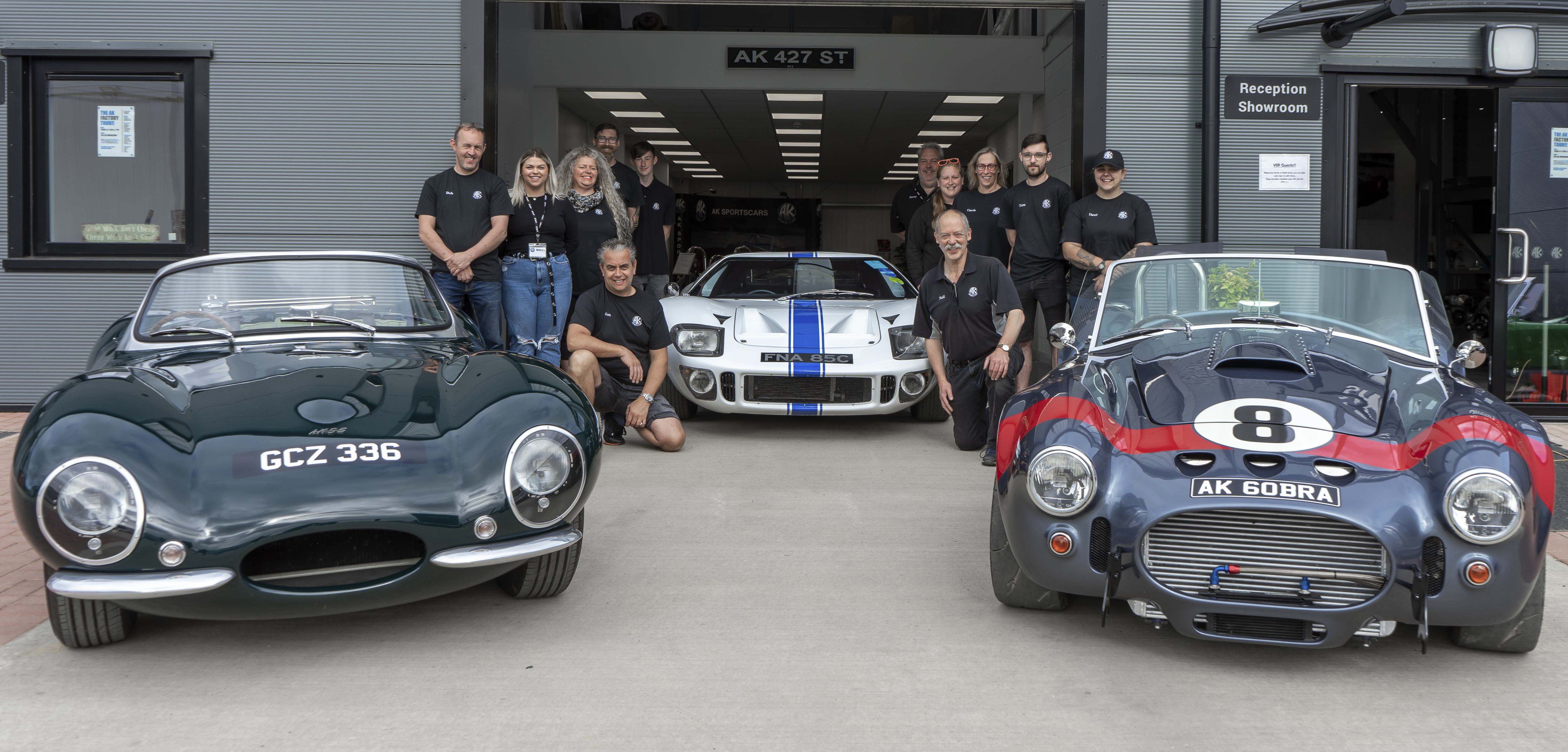 Love at first sight. Sometimes it can be quite problematic. "He was absolutely adamant he wanted the car," says Wendi. "He wouldn't leave the stand until we'd promised he could have it. It was our only demonstrator and it was still having some finishing touches added, I was practically begging him to reconsider, but his mind was made up."
August 2021 saw the first British Motor Show for 13 years taking place in Hampshire. Alongside brands like Ford (8,000 employees in the UK; £11.8bn turnover) and Vauxhall (4,029 employees in the UK; £3.1bn revenues), were Wendi Freeman, husband Jon, and fellow Director of AK Sports Cars, Dr Neil Johnson… and the car their company had made, by hand, in their Peterborough workshops. Total number of employees? 10. Annual output, about 40 cars a year for the past 30 years, making this car number 1,200… give or take.
Almost all of the company's cars have been based on the AC Cobra, an American muscle car made for retired racing driver Carroll Shelby. But now the company is producing another Great British Le Mans car, which bears a striking resemblance to an XKSS, plus its absolutely brand new AK40 model, a beautiful homage to the Ford GT40 which broke Ferrari's five-year Le Mans winning streak in 1966, leaving the Italians choking on their cappuccinos and using expressions significantly less polite than "Mamma Mia!"
The Cobra has always been regarded with fondness by creators of sporting replicas given its many different permutations, engines and styling tweaks. The other two models are somewhat rarer subjects for reinvention and Wendi and the family hope that their triumvirate of sports cars will represent two more unique and appealing options for enthusiasts.
The customer in question, meanwhile, wouldn't leave AK Sportscars' motor show stand before Wendi had agreed to sell him the car they were displaying, and so they've had to create another demonstrator, their latest AK-427 Cobra, to replace it.
It's the car I found myself in. It felt absolutely phenomenal at first glance and just got better and better thereafter. The deep bucket-ey seats are huggy retro racing thrones with proper harnesses, not the squishy armchairs most cars come with these days. The comparatively narrow footwell is like putting your feet deep into a cosy, snug sleeping bag. Making work for idle hands is a thin-rimmed glossy polished timber steering wheel and a proper metal gear stick. Most car manufacturers these days use plastic in their cars, gussied up to look like metal but this is proper machined metal, cool to the touch.
'Apple' (all of Wendi's cars get silly nicknames) is so-called because its body has been given no fewer than 13 coats of a pearlescent shade of paint for a lustrous finish which glistens from a chartreuse yellow to acid green depending on the light. Its midnight black Bride of Weir leather is embellished with green contrast stitching.
Hidden underneath the bonnet, meanwhile, (and colour coordinated with green highlights and gold metallic 'bling' bonnet hinges) is a seven litre eight-cylinder engine. That's seven litres… or to put it another way, more than two Range Rovers worth of displacement. Um, wow.
The seeds of AK Sports Cars were sown in the mid-80s when Ken Freeman wanted to create a replica car. At the time the only choices were 'kit cars' which use existing donor mechanicals and graft these onto new chassis and bodies. Ken wasn't happy with the quality of any of those and decided instead to create his own pattern and moulds.
Ken enlisted his friend Alan Frew, who was in the fabrication business. He created a chassis for Ken, and the two teamed up to sell that design as a starting point to allow others to build their own car, hence AK Sportscars was born, and the company had created their own homage to the classic Cobra. Alan had other business interests and later left Ken to run the business. By the time Ken retired in 2009, his son Jon and daughter-in-law Wendi were running the business, with Dr Neil Johnson, one of the company's satisfied customers, also joining the team two years ago.
For three decades, then, the AK-427 Cobra has been the company's mainstay, but in 2019, the company began production of a second model, resembling another iconic sports car, this time British, baring a passing resemblance to the XKSS, a road-going version of Le Mans' D-Type. November 2021 will see the arrival of a new jig to begin production of a third model, based on the Ford GT40.
The company moved to a new, larger premises in September and now have a capacity to produce about 100 cars a year, about twice their current output. Almost all of the company's customers want to purchase their car in kit form to build themselves, although it is possible to order any one of the company's three models either part-built (as a rolling chassis) or complete and ready to get in and drive.
"We didn't expect the surge in business," confesses Wendi. "In week one, all of the men in lockdown did the jobs their wives had been nagging them to do. Week two, they spent time with the kids. Week three and they began to crave a new project! Orders went through the roof, and those cars have been at various stages of construction ever since."
"Happily we can stagger production and distribution of components to send out to our those building their cars at home – there's about 170 ongoing builds right now. The pinch-point in our customers' journey now is at the paint shop. Many of our current customers are now ready to have their cars painted but paint shops are all so busy now."
Prices for the company's cars vary as enormously as the specification and scope for customisation. It is possible – with some compromises on options – to put an AK-427 Cobra in your workshop for £35,000, or have one fully built for you for about £65,000. AKSS and the new AK40 will command a bit of a premium, and if you specify engine upgrades, firmer suspension or other tweaks, it is possible to spend between £70,000 and £100,000. Enter the dealerships of most mainstream German car makers these days and you only have to trip up over the welcome mat to incur that sort of list price, so an AK Sportscar is rather well priced, not least because they're unique… and of course, hand-built. If you complete the build yourself, it's even more special… it's not your car because your purchased it; it's your car because you made it.
Should you choose to build your car yourself, you'll immediately become the proud owner of a slightly less sexy lever-arch file; AK Sportscars' build manual, which is rich in pictures and instruction. You'll also have about 400 hours of work ahead of you, tackling chapters five to 12 of the aforementioned manual. The company meanwhile, will be getting cracking in the first of three workshops.
Workshop one is where straight lengths of steel are cut and welded into one of two chassis (the later generation version is lighter and stiffer, aiding handling). The finished chassis is delivered to the customer along with a reconditioned differential and assorted donor parts from a Jaguar XJ40 series car (a 1980s or 1980s Jaguar) which required reconditioning.
Creation of the chassis takes a week per vehicle and – by design or perhaps coincidence – that's the same time it takes for the workshop next door to fabricate a car's bodywork from an apothecary's potion of fibreglass, acetone and resin, finished in a sort of off-grey gel finish. The nearside and offside flanks, bonnet and boot are completed, along with the interior floorpan and dashboard, plus ancillary body elements such as bonnet air scoops, glove compartment and so on.
Joined together, the completed composite body shell is then delivered to the customer for assembly or it's taken to a third workshop, where assembly of the company's own vehicles is also completed.
In-house, assembly is known as glassing on. It's essentially the marriage of body to chassis, but between shell and chassis there's all of the good stuff. It's here that the company can install the engine and gearbox into the chassis, and where wheels, brakes, steering and so on are fitted, should the owner wish to forgo those jobs.
There are many engines that can be specified, from donor units from existing XJ40 cars from Jaguar models or V8 Rovers, to brand new LS-series engines made by American manufacturer Chevrolet.
Whether AK Sportscars engineer your car or you roll up your sleeves, each car must pass an IVA (Individual Vehicle Approval) test for the government to green-light its roadworthiness. If you're using a new engine, you'll then receive a V5 registering the vehicle as brand new. If your engine is a reconditioned one, your registration will adopt that unit's original year of origin.
Once complete, each vehicle that XK Sportscars produces will weigh in at a modest 1,100kg and for reference a Ford Fiesta weights about the same, albeit without a potent V8 Chevy under the bonnet. In other words, any engine you put in an AK Sportscar model will ensure it shifts… which brings us to 'Timmy.' Silly name and a silly amount of power.
Remember that car we mentioned, at the British Motor Show? Its moniker was Timmy (short for 'Timmy-twin-turbo'). The naughty boys at XK Sportscars waited until Wendi's back was turned and strapped a couple of Xona turbochargers to the already gutsy AK-427 Cobra's engine. The result is a boost in engine power from around 500bhp for a 'standard' AK-427 to over 1,000bhp.
For context, I drove to see AK Sportscars in a very ordinary car that has about 120bhp, so that's the equivalent of having eight vehicles' worth of power in a single car, a fraction of the kerb weight to move around, and of course, no ABS, traction control or driver aids to temper the insanity.
"The customer insisted that we kept the power, and arrived to inspect their vehicle in a modern Ferrari that was already good for about 800bhp," says Wendi. "If they hadn't been acclimatised to driving a car with such a whopping amount of power already, we'd have been very reluctant to watch them drive away in such a savage car."
"Timmy was to have a twin (Tilly) that we would use as a technical proof of concept and a demonstrator. But when the boys returned from a test drive euphoric and our daughter Danielle – who's a glass-fibre technician and welder with the company – just giggled after a test drive… well, being the voice of reason, I made them take the turbos off Tilly, reasoning that it was just too much power to handle. They say that 'more is more and less is much less' but in this case, there really is a limit to the amount of power you need, and I've already promised the customer that we'll turn the boost on the turbos down, should they come to the same conclusion in the future."
Danielle's first taste of an AK-427 was in a car seat as a baby. Mum and dad dropped her off at school in their Cobras, and of course, she's been thoroughly indoctrinated into the family business ever since. But the cars are hardly daily drivers… are they?
"They're actually really easy to live with," says Wendi, in whose garage there's a fast Audi estate with the typical bells and whistles, right next to an AK-427. "In a modern car, you steer. In an AK, you drive. You have to feel when the car is at the limits of grip, finesse your use of throttle, gear change and clutch to drive smoothly and quietly – or to make the most of all that power on a track day. It's back-to-basics in terms of its demand on the driver, but that's not to say it's uncivilised. The steering is power-assisted, and with a new engine that power delivery is still very well-engineered."
"On a Sunday morning, the only question I ask is whether it's going to rain because the tonneau cover isn't as easy to fit as pressing a button to raise a roof electrically, as on a modern convertible car, but otherwise, the cars are easy to drive, easy to park, very usable. You can even fill the boot with more than a week's worth of shopping or a weekend's worth of luggage."
I'm minded to raise the subject of electrification with Wendi, though. The overwhelming trend everywhere else in the motor industry is the replacement of combustion with current, engines with electricity. Surely muscular V8 engines run contrary to that?
"Because we're a small-volume maker, we're more adaptable," says Wendi. "Electrification – even of our models – is definitely coming. In fact, we've a few customers who have already built electric versions of our cars. They've shared their insights and development with us, and we're confident that we could already produce an electric version of any of our three models, but for now we're holding off because the technology and experiences that our plug-in customers had had is maturing all the time. I think we're prepared though, and it's technically feasible to power our cars with electrified drivetrains. In fact the instant power that electrification delivers actually quite suits the cars… the only thing missing is that V8 soundtrack."
Of course, it's not just the looks or old-school power that ensures AK Sportscars' customers fall in love with their cars. Purchasing a car is easy. Too easy, perhaps. Imagine, though, labouring happily over the creation of your car for 400 hours, and finally opening the garage door, turning that key and making that maiden voyage.
Anyone can buy a car… some can restore a car. But to build your car? That's something so special that few motoring experiences can compare… one with a sense of exclusivity and visceral driving pleasure that no modern mass-produced car will ever satisfy.
Find Out More: AK Sportscars is based on Eagle Business Park in Yaxley, Peterborough. The company produces its AK-427 Cobra, AKSS and AK40, with bespoke specification and configurations, and prices from around £35,000 to £100,000. Self-build and turnkey models available, call 01733 267633 or see www.aksportscars.co.uk for details.