This month we reveal the winners of our 2021 Good Food Awards. Back in October we invited our readers to vote for their favourite local restaurants, coffee shops and food & drink producers…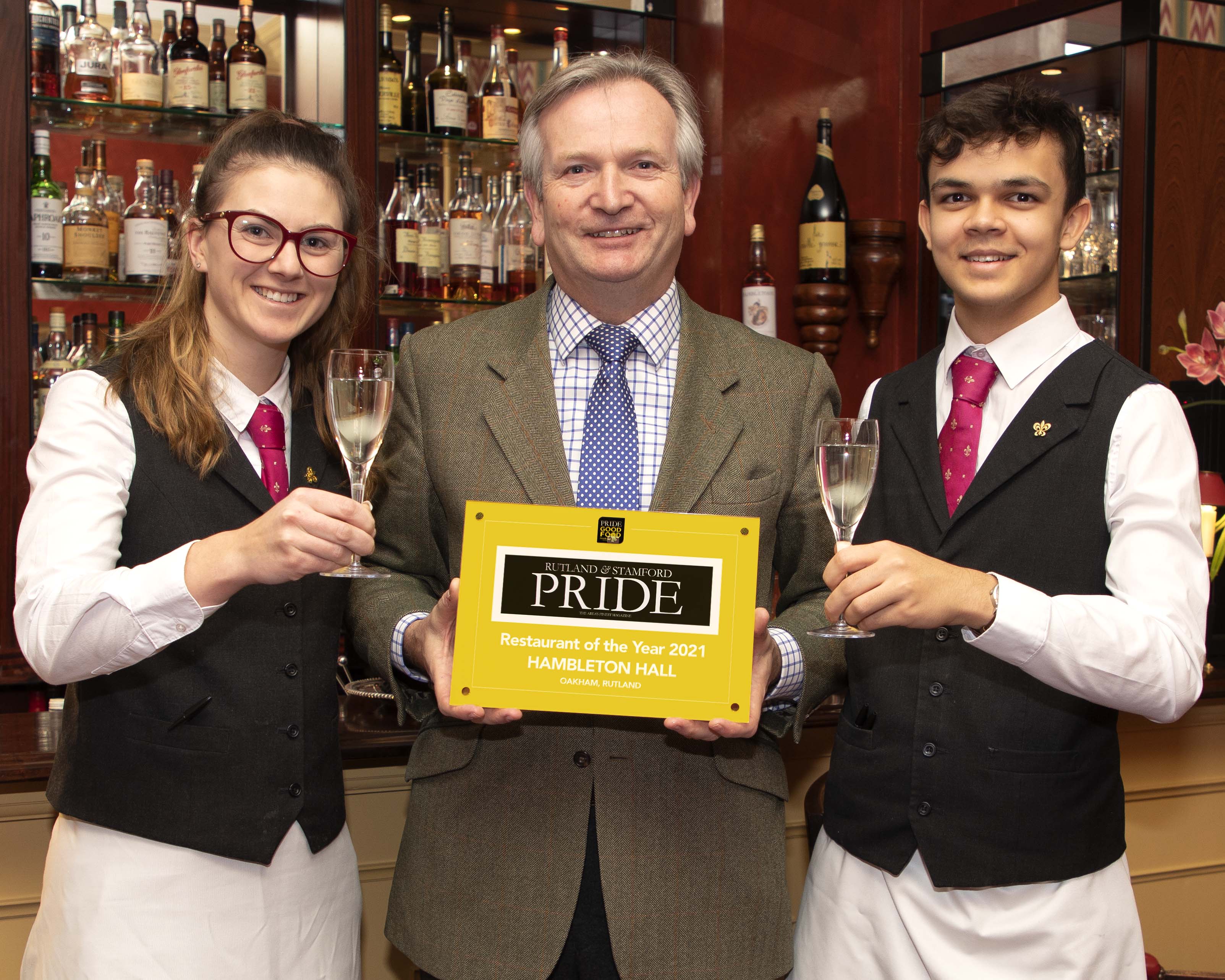 Rutland & Stamford's Restaurant of the Year
A worthy win for wonderful Hambleton Hall, a consistent favourite with Pride's readers!
Finding fresh words of praise for one of Rutland's best-known and one of its most loved restaurants is a tricky one. There could, after all, be few people who are unaware of what Hambleton Hall stands for in terms of its excellence and the respect it has, not just in the area but across the country.
The country house hotel was built in 1881 as a hunting lodge for Walter Marshall before the house passed to his sister Eva Astley Paston Cooper whose colourful social circle included Noël Coward, Malcolm Sargent and Charles Scott Moncrieff.
Upon Eva Cooper's death, the place passed to Lord Trent, Dr. Brockbank and Major and Mrs Hoare, who took on the property until the creation of Rutland Water from 1976. Subsequently, Tim & Stefa Hart transformed the place in 1979 and 1980 into a country house hotel.
Stefa still provides interior design services for selected clients, having lived with the interior designer Nina Campbell. The both helped to create the interiors of the hotel and by extension, establish its country house feel. Meanwhile Tim Hart's personal interest is in helping to ensure the grounds of Hambleton Hall look beautiful all year round, and its lovely terrace offers a superb vantage point from which to enjoy both the grounds themselves but also the view over the reservoir.
Of course, whilst stunning interiors, bedrooms and a lovely setting are all part of the appeal of Hambleton Hall, its proud boast is the long-standing presence of Aaron Patterson, who began his career at Hambleton Hall before leaving to gain additional experience with Raymond Blanc and Anton Mosiman prior to his return to the hotel in 1992, by which time Hambleton Hall had already held its Michelin Star for a decade. That star has been retained by Aaron and his 16-strong brigade ever since.
This month, we strongly recommend taking advantage of Hambleton Hall's participation in Rutland's Lunch for Less promotion which will provide concessionary dining in January and February; two courses are just £34.50 and a third course is £9.50. In the evening, a menu of the day provides a choice of four starters, four main courses plus two additional gourmet corner options as well as a choice of four desserts.
Many of Hambleton Hall's ingredients are sourced locally or grown in the hotel's own kitchen garden. This is one of the ways that Hambleton Hall ensures it can provide what remains, simply, one of the best dining experiences in the country.
Hambleton Hall, Oakham LE15 8TH. Tel: 01572 756991, www.hambletonhall.com
Also Commended:
The Olive Branch: In 1999 something magical happened in Clipsham. Sean Hope, Ben Jones and Marcus Welford created The Olive Branch in place of a closed down village pub. Today, it's Michelin-starred, determinedly rustic and an absolutely sublime place to dine.
Tel: 01780 410355, www.theolivebranchpub.com.
Hitchens Barn: Formerly of Hambleton Hall, Neil and Louise Hitchens left the hotel and after travelling around the world, working in some of the fanciest hotels, they returned to Rutland to run The Berkeley Arms in Wymondham. Then in January 2019, the two moved into the town and established Hitchen's Barn, instantly being rewarded with a Bib Gourmand award in the Michelin Guide.
Tel: 01572 722255, www.hitchensbarn.co.uk.
The Lake Isle: Uppingham's Restaurant with Rooms is well-regarded in the area, providing dishes crafted from fresh seasonal ingredients.
Tel: 01572 722255, www.hitchensbarn.co.uk.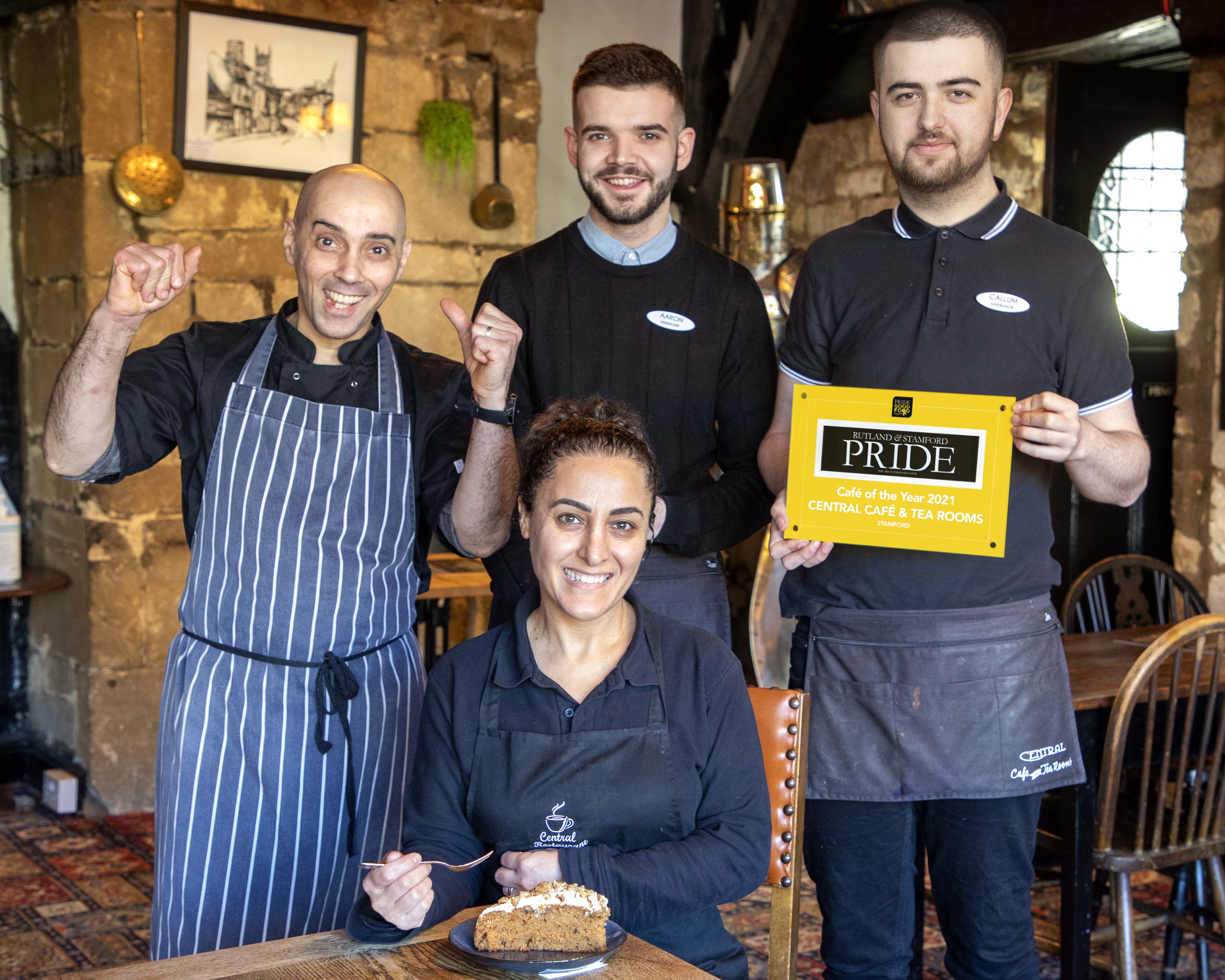 Café, Coffee Shop or Bistro of the Year 2021
Central Café in Stamford takes our next award for when you're seeking a light bite with style
We've reserved our second category of our Good Food Awards to champion Rutland or Stamford businesses which offer lighter bites, lunchtime service, afternoon tea and daytime dining. Central Café is based in a 15th century timber-framed building with loads of character, and great views over Red Lion Square.
The café somewhat boldly promises the best breakfast in the town, but it's a claim that it's able to support thanks to a range of fresh locally sourced ingredients such as Benny's Eggs and local butchery. On the menu are classic sandwiches, warm paninis perfect for the winter months, homemade burgers and a staple of quality coffee prepared by professional baristas. A really great, independently owned café and tea room, in the heart of Stamford!
Central Café, Red Lion St, Stamford PE9 2AJ. Tel: 01780 763217, www. centralcafeandtearooms.com
Also Commended:
Otters Fine Foods: In November 2019, Leo Sugden took the opportunity to locate his deli and café to brand new premises on Oakham's High Street. Its menu is based around light lunches and breakfasts incorporating its smoked meat and cheeses.
Tel: 01572 756481, www.ottersfinefoods.co.uk.
The Orangery, Stamford: Based at Burghley House, The Orangery is a great place to enjoy coffee and cake, especially in the spring when the adjacent gardens are a carpet of daffodils.
Tel: 01780 761989, www.burghley.co.uk.
The Garden Restaurant: Located within Gates Garden Centre, The Garden Restaurant is heaving as Pride goes to press thanks to thousands of shoppers all enjoying the retailer's Christmas displays, which remain the best in the area. The Garden Restaurant has a whopping capacity of 360, as well as brilliant breakfasts, light lunches, salads, burgers, cakes and afternoon teas.
Tel: 01664 454309, www.gatesgardencentre.co.uk.
Best International Dining Restaurant
One of the area's most unique dining out options, Orbis, is our international dining out winner…!
They say travel broadens the horizons, but then again, so does food. That's why, for our 2021 awards, we created a category which specifically celebrates international cuisine. Votes flooded in for many pan-Asian and Mediterranean dining experiences, but our readers overwhelmingly recommended Orbis as their number one choice.
Orbis was based in Oakham, just off Church Lane, but as Pride goes to press it'll reopen in newly renovated premises on Mill Street in the building which was formerly occupied by Mill Street's kitchen and pub.
Meanwhile, Orbis also established itself in Stamford, in the building which was formerly occupied by Hoppi Dorri, and it will incorporate the latter's sushi and Japanese fusion dining menu as Hoppi Dorri at Orbis in Stamford.
Jonathan Spencer is the restauranteur behind Orbis, and says it is unapologetically a fusion restaurant. Indeed, Japanese food and specifically Nikkai cuisine draws upon the relationship between Japan and Peru – South America more broadly – established at the beginning of the 20th century.
Happily, that means instead of remaining constrained by just Japanese influences, Orbis and Hoppi Dorri at Orbis are able to bring together influences from across the world, providing chefs Sam McDonald and Omar Palazzolo with plenty of scope to create
innovative and beautiful dishes which draw on a number of culinary cultures. That means dishes from the land, from the sea and from the garden, from Brazilian spare ribs to Peking duck breast to maple syrup belly pork.
The diversity of dishes on Orbis's menus are matched only by the attention to detail that the team expends upon them and the creative flair invested not just in their flavour, but in their presentation too.
Either Oakham or Stamford's Orbis offers very good dining, an entirely unique dining concept and something deliciously different compared to other pubs and restaurants in the area. Much respected, much recommended, and a truly deserving winner in this category.
Orbis, All Saints' Pl, Stamford PE9 2AR or Mill St, Oakham LE15 6EA, Tel: 01572 359211, www.orbisoakham.co.uk.
Also Commended:
Fika, Oakham & Stamford: Brother and sister Ivo & Tia created Fika, 'inspired by the Swedish way of life,' just off Oakham's Mill Street, and have opened another in Stamford's High Street since. Superb healthy breakfasts, superfood salads and more.
Tel: 01572 352935, www.fikacafe.co.uk.
Sarpech, Oakham: The authentic Indian restaurant and wine bar in Oakham. Sarpech's ethos is to faithfully represent as much of the subcontinent as possible without compromise.
Tel: 01572 842888, www.sarpech.co.uk.
Mad Turk, Stamford: Relaxed, traditional Turkish/Anatolian food. The menu is clean fresh and authentic and best for sharing.  There is a good selection of vegetarian dishes, too.
Tel: 01780 238001, www.themadturk.co.uk.
San Georgio, Oakham: A little taste of Italy with authentic cuisine in Oakham.
Tel: 01572 759656, www.sangiorgiorestaurant.co.uk.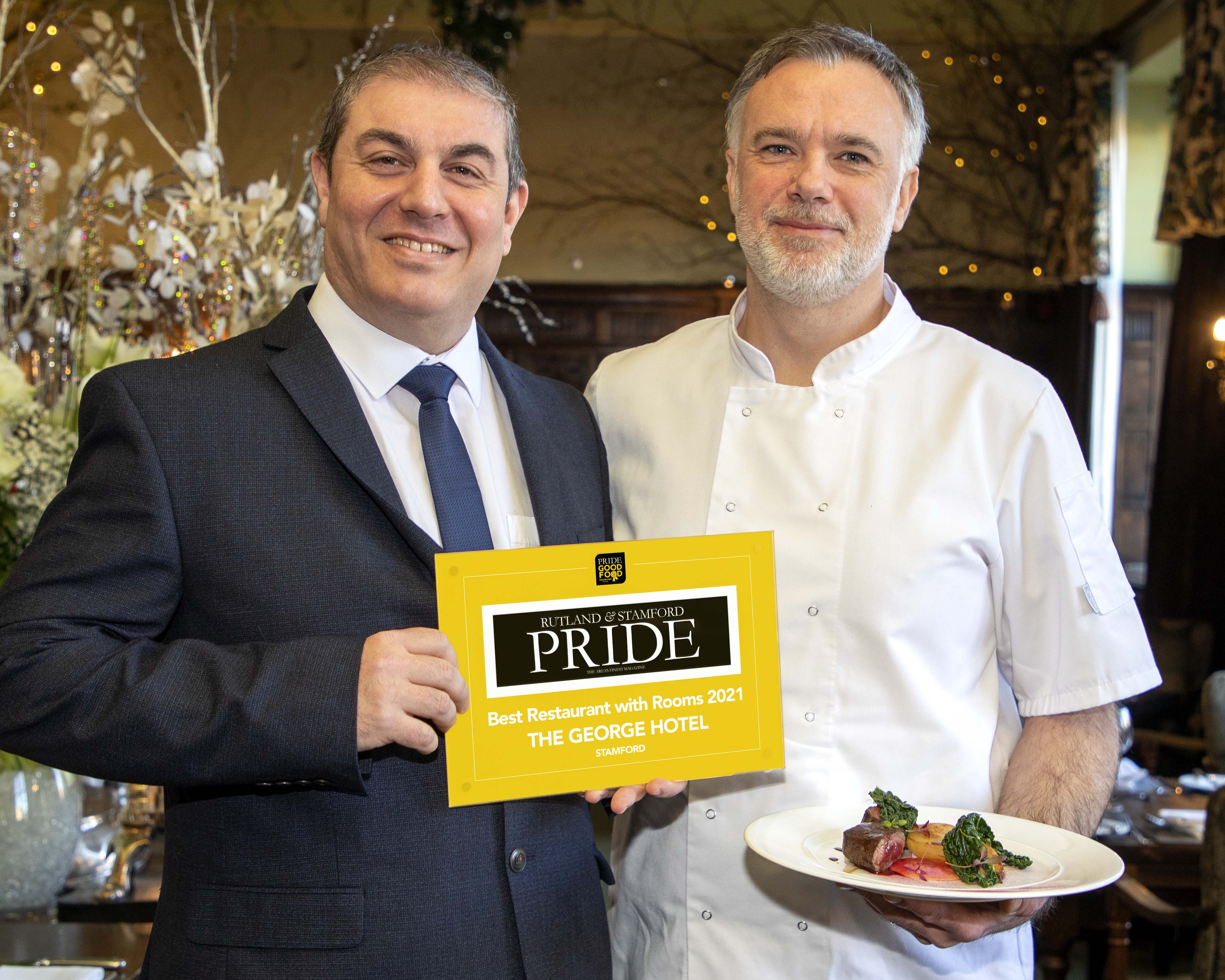 Rutland & Stamford's Best 'Restaurant with Rooms'
The George of Stamford takes our 2021 title as the area's best 'restaurant with rooms…'
It's a very special year for The George of Stamford. 2022 represents the 50th anniversary of the 900 year old coaching inn coming under the custodianship of owners Lawrence and Andrea Hoskins.
Its more recent General Managers – Paul Reseigh, Chris Pitman and Ivo Vannocci – had each originated from a food and beverage background, so the appointment of new General Manager Petros Psyllakis means that for the first time, The George has a GM from a service background, rather than a Chef Patron.
"Nonetheless, our emphasis on good food will remain," says Petros as we present the hotel with our Restaurant with Rooms award for 2021, as voted for by Pride readers. "They regard The George as synonymous with Stamford, and an exemplification of the town's look and feel."
"The George is very unique. It's larger inside than it looks, and when fully-staffed we have over 180 people working here. Taking over custodianship of the hotel is a daunting prospect, because we have to embrace the heritage of the building, maintain its feel and our values, whilst still delivering exceptional service and comfort for our guests."
"Many of the team have worked here for 20 years, The George is a part of us, as it's a part of Stamford. Taking care of it and evolving it sympathetically whilst still leaving it better and better for each successive custodian is a challenge… but it's one to which we're all absolutely committed!"
The George of Stamford, High Street St Martin's, St Martins, Stamford PE9 2LB. Tel: 01780 750750, www.georgehotelofstamford.com.
Also Commended:
Lake Isle, Uppingham: Two AA rosette cuisine, carefully prepared by Stuart Mead, in a pretty Grade II listed restaurant… those are the hallmarks of Uppingham's Lake Isle, founded 20 years ago. Each of the 12 rooms are comfortable, tastefully furnished and they make the most of the building's cosy historic charm.
Tel: 01572 822951, www.lakeisle.co.uk.
Beech House, Clipsham: Beech House is the sister of Clipsham's Olive Branch, and complements the latter's Good Pub Guide award-winning dining with the provision of six beautifully decorated and individual rooms. Comfortable, luxurious and more akin to staying in a friend's guest suite than a guest house.
Tel: 01780 410355, www.theolivebranchpub.com.
The Finch's Arms, Hambleton: À la carte dining is a real treat at the Finch's Arms in Hambleton and when you retire to bed, you can also enjoy the comfort of 10 beautifully decorated rooms with amazing views over the water. The Finch's sister pub restaurant – The Admiral Hornblower, in the centre of Oakham – is also worth a look and it, too, has 10 en suite rooms.
Tel: 01572 756575, www.finchsarms.co.uk.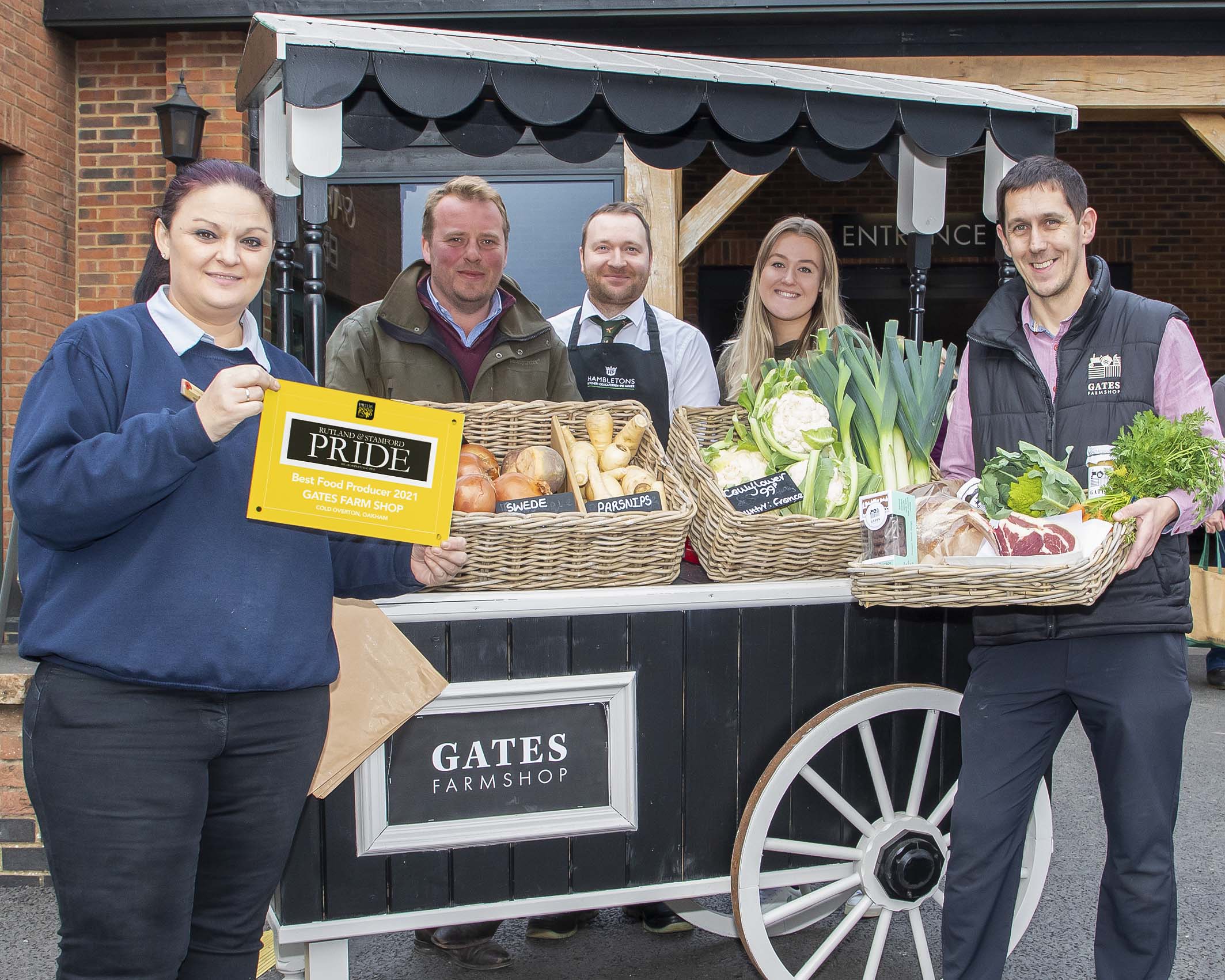 2021's Best Local Food Producer or Retailer
Gates Garden Centre farms and retails the best quality local produce in its modern farm shop…
Over 12,000sq ft with over 4,000 products! Gates Garden Centre's farm shop has to be one of the largest in the country, certainly in the local area, and it promises a true foodie experience. Little wonder, then, that our readers have voted it our Best Local Food Producer or Retailer of the Year.
The butchery, run by similarly award winning Hambleton Farms, sells a wide variety of locally sourced meat including beef and lamb from Gates' own farm in the village, helping to keep food miles to a minimum. You can buy organic milk sourced from a local dairy herd just across the fields from the farm shop, plus quality fruit and veg.
There's a huge range of cheese to choose from on the cheese and deli counter, as well as home-made pies, quiches and a range of scotch eggs. And, while the aim is to source as much as possible locally, no deli would be complete without a choice of olives and other anti-pasti.
An artisan bakery offers a wide selection of bread and cakes from local bakeries
including Hambletons. There's a loose fill range with granola, nuts, seeds and pulses amongst others and a make your own peanut butter station… and your orange juice won't be any fresher than when you squeeze it yourself in-store! What a refreshing way to shop!
Gates Garden Centre and Farm Shop, Cold Overton, Oakham LE15 7QB. Tel: 01664 454309, www.gatesgardencentre.co.uk.
Also Commended:
Hambleton Bakery: It was in 2008 that Rutland's Julian Carter approached hotelier Tim Hart to create 'the Hambleton Hall of bakeries' in the area. A pastry chef in the kitchens of this year's Restaurant of the Year, Julian and Tim embarked on a partnership which has since yielded six shops and a great reputation with a delicious range of baked products not just for consumers, but for some of the area's most discerning restaurants too.
Tel: 01572 812995, www.hambletonbakery.co.uk.
Otters Fine Foods, Oakham: Leo Sugden has moved to a larger deli and coffee shop on Oakham's High Street. Bigger, better but with the same range of smoked cheese, fish and other deli treats.
Tel: 01572 756481, www.ottersfinefoods.co.uk.
Grasmere Farm, Stamford: With shops in Stamford, Market Deeping and Bourne, Grasmere Farm specialises in award winning pork. It's a family-run business embracing values such as complete traceability and real care for food values and provenance. Its Hampshire-cross pigs are lovingly cared for, and yield the area's very best pork.
Tel: 01780 765563, www.grasmere-farm.co.uk.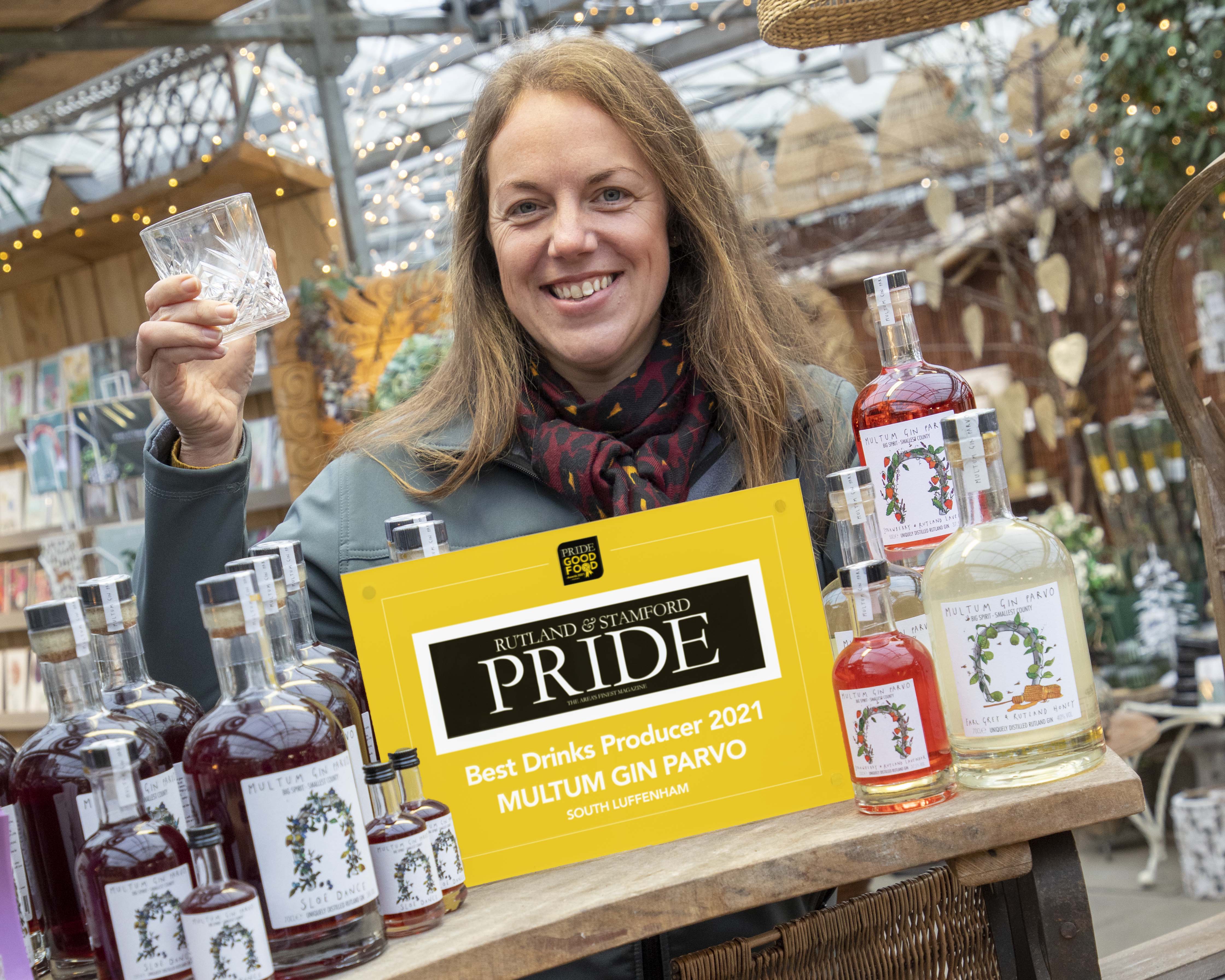 Best Drinks Producer for 2021
Please raise a glass to Multum Gin Parvo, the winner of our awards' final category…!
Our sixth and final good food Awards category aims to recognise all those local businesses who are helping to quench our thirst, both in winter and summer. Multum Gin Parvo (see what they did there?) was established in August 2009 by three gin connoisseurs; Rutland's Chaz Ellis, Hayley Cook and Tim Cook. In three months, working with master distiller Simon, the group came up with a traditional dry gin that would later be joined by innovative flavours such as Strawberry and Lavender – a perfect summer tipple – one with Earl Grey Tea and Rutland Honey, and their Sloe Gin to enjoy in the winter months.
Our readers reckon Multum Gin Parvo is an exceptional ambassador for the county's commitment to producing quality food and drink, and the team are determined to give a little back to the county they know and love, making donations to the area's Osprey Leadership Foundation via their special edition Migration gin.
The family are also involved in the running of Rutland Water Garden Nursery, where their products are sold. We think that the range perfectly captures the spirit of Rutland. In fact, if we were inclined to attempt a pun, we'd say that Multum Gin Parvo is just the tonic!
Tel: 01780 720217, www.multumginparvo.com.
Also Commended:
Two Chimps Coffee: Two Chimps, based in Oakham and established by photographers turned coffee roasters Andy Cross and Laura Shead are now bringing hand-roasted beans directly to your door. Freshly roasted, ethically sourced coffee tailored for you from a climate positive coffee company.
Tel: 01572 774389, www.twochimpscoffee.com.
Grainstore Brewery, Oakham: The town's Grainstore Brewery Tap opened its doors in September 1995 and today is recognised as one of the best brew pubs in Britain. The combination of superb beers, brewed on the premises, and a traditional pubsetting has proven to be a winner.
Tel: 01572 770065, www.grainstorebrewery.com.