An epic village pub restaurant that's family run, now with second generation restauranteurs at the helm. This month we're enjoying the hospitality of The Six Bells at Witham on the Hill where siblings James & Lauren are ringing the changes, having taken over from parents Jim & Sharon Trevor…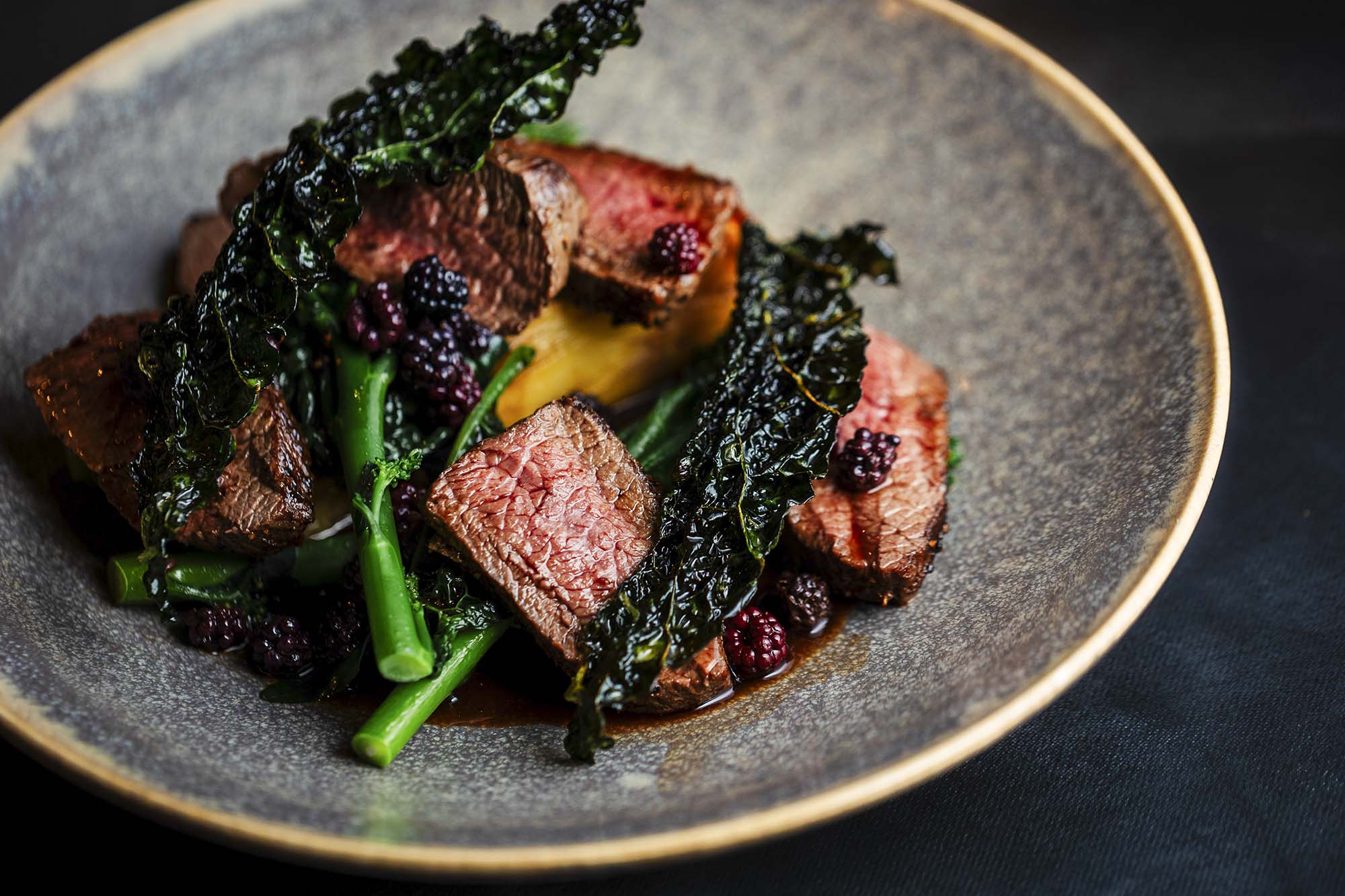 Hell's Bells! The Six Bells beats seven bells out of pretty much  every pub restaurant in the area. Phenomenally lovely people, super dining, and a great setting… rubbish weather, though.
The present Mrs Davis expressed frustration at my apparent complacency towards Storm Eunice when I insisted on keeping our dining out appointment at Witham on the Hill's best-in-class pub restaurant. Some people's glass is half-full. Others have a half-empty glass. My wife's glass, though, is completely empty, it has just fallen of a cliff and it is now on fire. Typically I dismiss all of her misgivings with self-assured machismo ("It'll be fine…" will probably be the last words I ever speak before meeting a comical end). But on this occasion, she might have had a point.
The winds were blowing around the Grade II listed Edwardian pub restaurant upon my arrival, and there was something of an air of armageddon with the vortices, driving rain and grim skies.
Hopefully it'll be much calmer, much warmer and much brighter as you read this. If it is, and you're ready to venture out and enjoy spring dining, we've a hell of a recommendation for you, here.
The Six Bells is home to the Trevor family, not to mention a place of work and an immense source of pride. Jim & Sharon Trevor took over The Jackson Stops in Stretton in 2000 and ran it until 2006. they latterly founded Stamford's Jim's Yard and Jim's Bistro, plus The Beehive.
Son James pursued an economics degree in the US and worked in the three-Michelin star Alinea before returning to the UK to work with his sister Lauren, when the two siblings took on The Queen's Head at Bulwick.
The family consolidated their businesses into The Six Bells so that James and Lauren could gradually take on the day-to-day running of the restaurant, and whilst all family members remain keenly involved, from Autumn 2021, the second generation's influence on the business became more apparent.
James and Lauren worked with Head Chef Ben Poulton to create new menus, they curated a new wine list, and they rebranded the place. Lauren has also welcomed into the world the third generation of Trevor dynasty which should be useful if they're short of a potwash in, oooh, 16 years or so.
There's a single menu with seven starters, six main courses plus three 'take them off the menu and the punters will mutiny' classics; fish 'n' chips, bangers 'n' mash, confit duck leg.
In one corner of the pub is a traditional stone pizza oven for the pub restaurant's provision of Napoli-style pizzas. Fired by wood, the dry residual heat from the oven is also used to roast sirloins of beef and joints of pork for Sunday lunch service.
The place also has a rotisserie, which in the summer month sits just outside the entrance enticing customers in. And, as someone who adores French cooking with all of its cream and butter and naughtiness, I'm personally thrilled to note an auberge menu every Monday, with three dishes for a tout petite £19; pressed ham hock, Bœuf Bourguignon and Chocolate Nemesis? C'est magnifique!
Joyously, everything at The Six Bells is made in-house. The pub restaurant's eight-grain bread, for example, is baked daily, with a little extra for customers to purchase and take home. Chutneys, sauces, desserts, ice creams and sorbets are made by the brigade of five chefs, and even the truffles and petit fours served with coffee are homemade. Local suppliers are used where possible, with venison from Grimsthorpe and Duck, Woodcock, and Rabbit all shot within a mile or so of the restaurant.
Asparagus and strawberries from farms near Rutland Water will all make their presence felt on spring and summer menus, whilst a specialist fish supplier provides diver-caught scallops, Cornish monkfish and so on.
James and Lauren's new wine menu has been produced in association with Enotria,  and provides a choice of 11 white, 11 red and 11 rosé options, plus six fine wine options topping out at £90 and including very fine Montrachet or Châteauneuf-Du-Pape.
Jim & Sharon's pedigree in local hospitality is immensely strong, and as soon as they were old enough to wash pots and run a hoover round the restaurant, James and Lauren too were conscripted into hospitality, eventually working in the kitchen, and at front of house.
With James and Lauren's ascension from potwash to proprietors too, the whole family must now be the most talented, and experienced restauranteurs in the area, and as an added bonus, they're thoroughly lovely people as well. Looking for somewhere to dine this spring? Look no further. The Six Bells is an absolutely epic recommendation!
Sample Menu
Starters
Chicken & Smoked Ham Hock Terrine with Homemade Piccalilli £8.
Jim's Chicken Liver Parfait £8.
Portland Crab Macaroni with Créme Fraîche, Chilli, Lemon, Dill & Aged Parmesan £11.50.
Main Courses
Crispy Free Range Pork Belly Braised Cheek, Savoy Cabbage, Mash & Cider Sauce £18.50.
Honey Glazed Breast of Duck, Crispy Anna Potatoes, Glazed Carrots & Five-Spice Sauce £19.50.
Classics
Grimsthorpe Estate Venison Ragu with Garlic Mash £15.
Desserts
Chocolate Nemesis, Crème Fraiche, £7.50.
Wood Oven Baked Lemon Tart, Raspberry Sorbet £7.50.
Chocolates & Petits Fours £6
NB: Menu items subject to change.
The Six Bells is based at Witham on the Hill, Bourne, PE10 0JH. Call 01778 590360 or see www.sixbellswitham.co.uk.