If you're entertaining this festive season, if you're looking to give the gift of delicious cakes or you'd just like to treat yourself, let us introduce Tiffin & Co Bakehouse's Shannon Riglin whose new festive bakes are, in a word… delicious!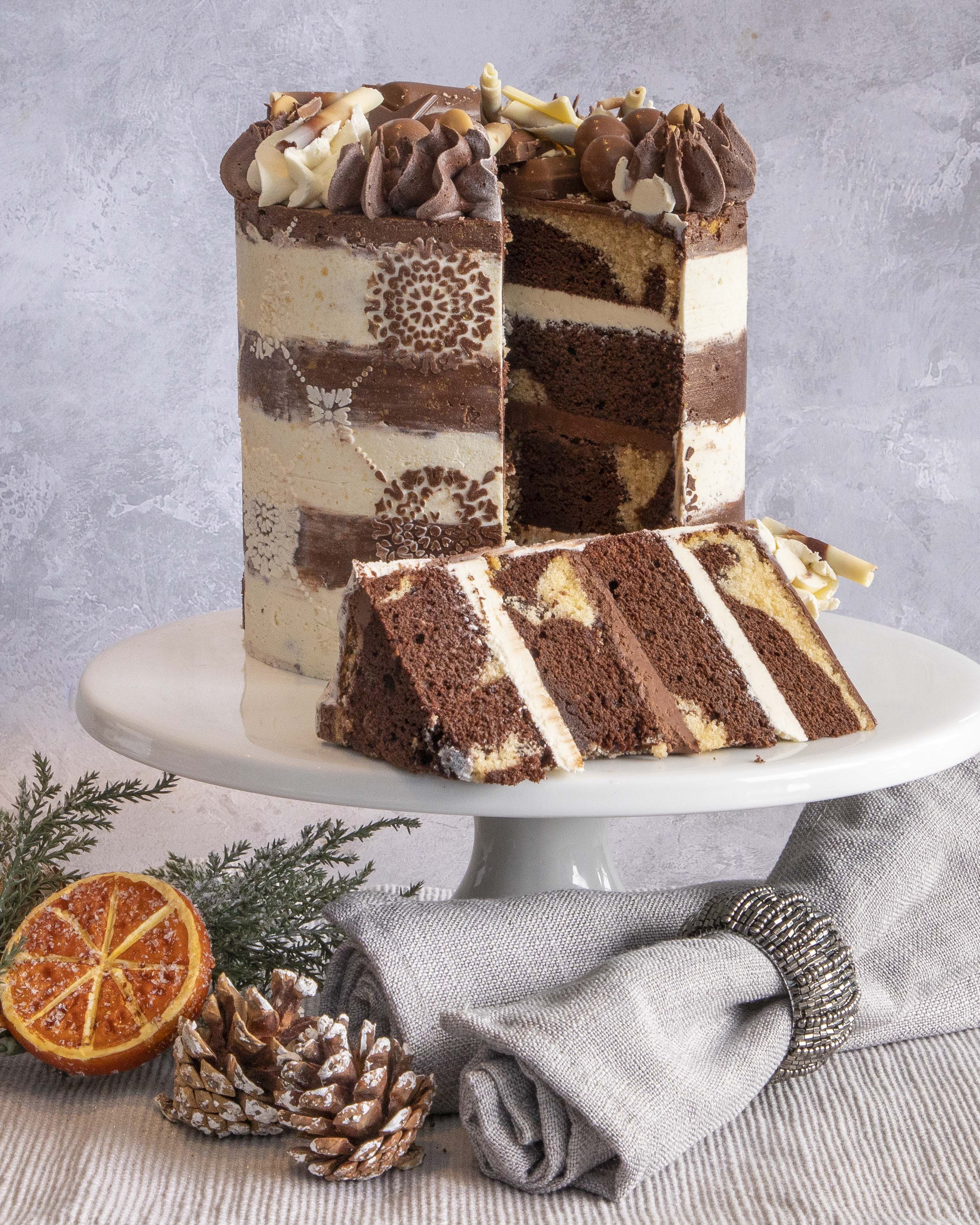 Something smells amazing…! Upon turning up to meet one of Lincolnshire's newest luxury confectioners, it's clear we're in for a treat. And surely enough, Shannon Riglin's studio is full of the latest products she's created as part of her Christmas range, ready to offer to those seeking festive treats for guests to enjoy over the season. Her showstopper is a stunning looking four-layer marbled chocolate cake heaving with ganache and chocolate curls.
'That must have taken ages!' We remark, but Shannon's been baking since she was a youngster and assures us it's just a case of utilising her experience to approach even the most ambitious bake with patience and attention to detail. You could give Shannon the credit she deserves… or… if you were feeling particularly nefarious, you could just pass it off to guests as your own creation.
Either way, Shannon's just happy that hundreds of people this Christmas will be enjoying her ranges of tray bakes, blondies, cookies, cakes, cheesecakes and cookie pies. And it's a nice change of pace from the rigours of academia, like the masters degree she completed at the University of Lincoln last September, just prior to setting up her business, Tiffin & Co Bakehouse.
"I've lived in Lincolnshire most of my life and have always had the ambition of baking for a living. Previously, I've baked for family and friends, but I knew it would be a leap of faith to turn a personal passion into a business."
"After pursuing a Business Studies & Management degree with the Open University and then completing my Masters, we were in the throes of lockdown and I finally had the time to set up a business. I've designed the branding, made the website and set about creating a range of products that I thought everyone would love."
"That was seven months ago and the response has been really rewarding. I've some core products that are popular all year round but I also try to create new ranges, like my Christmas products, which are just about ready to go."
"My ranges are available at all six of Gary Simpson's shops in Lincoln, Sleaford and Stamford, as well as Baytree Garden Centre, Stamford Garden Centre and Boston's Sack Store, but most products can also be delivered nationally too."
"I'm already receiving orders for mixed boxes of brownies, blondies, cookies and festive products like cranberry flapjacks and white forest blondies; limited edition products."
"I'm taking orders for Christmas delivery until mid-December, and already people are really happy to have found a gift for loved ones, up and down the country, which are more personal, really indulgent and a present that comes from a small local business."
"Our chocolate and Lotus Biscoff products  are the most popular at the moment, but we've hot cookie dough trays, dipping sauces and cookie pies too, and we're also taking orders for completely bespoke eight-inch celebration cakes."
"More involved cakes need about a week's notice, but often for products that I bake daily I can send out with a courier for next day delivery. After all, nobody should have to wait to enjoy something delicious this season!"
Find Out More: Shannon is the founder of Tiffin & Co Bakehouse, delivering brownies, blondies, cakes and cookies nationwide. She can create bespoke cakes and other goodies to order. Order at www.tiffinandcobakehouse.co.uk, email enquiries@tiffinandcobakehouse.co.uk or enquire via social media @tiffinandcobakehouse.