This month we visit a unique and wonderful restaurant in the Vale of Belvoir which offers a tasting menu experience predicated upon the availability of fresh seasonal ingredients…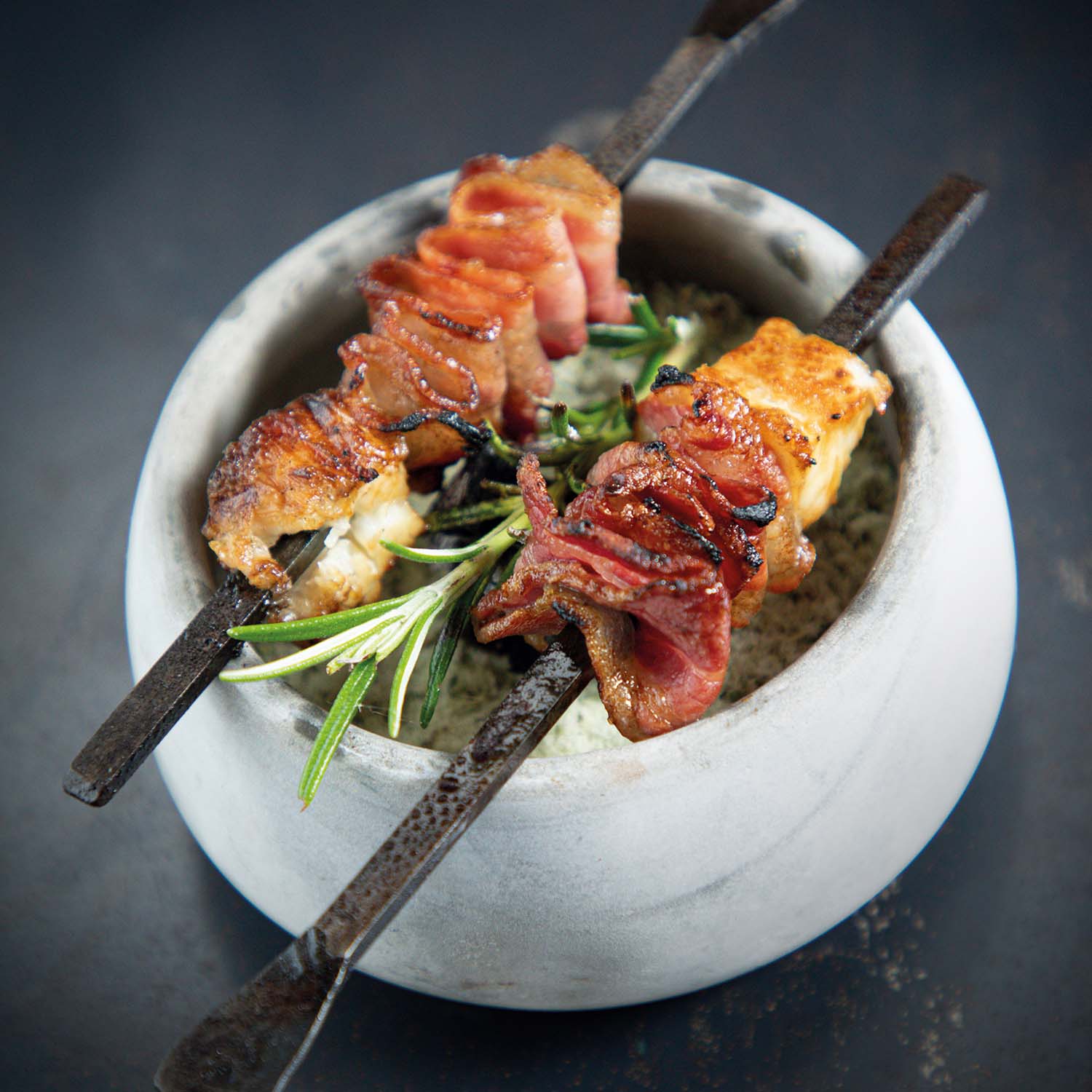 'Unique' is a word that tends to be overused, – especially in the field of marketing – but on this occasion, there's justification to describe Restaurant Jericho as such. It's an unusual restaurant in the Vale of Belvoir and it's home to Rich and Grace Stevens who are self-taught restauranteurs, and therefore never followed a conventional career path into hospitality.
Instead, they've made their own successes and mistakes, worked through any mistakes free of dogma or established industry precedents, innovated accordingly and have consistently reinvented their offering of food post-pandemic, to ultimately establish Jericho in September 2022.
Grace works at front of house and alongside Rich in the kitchen are chefs Joel and Archie. The restaurant follows a tasting menu format and services just 12 covers a night. Three chefs, 12 covers. That's one chef for every four diners. But that level of staffing is necessary because of the intricacy of producing Jericho's 20-course tasting menu. Yes… 20 courses. 20. Two-zero.
The family farm upon which Rich was brought up is 200 years old and he's a fourth-generation farmer, with experience in both the livestock and arable sectors. He also worked in engineering and eventually sold high-end farming machinery before returning to livestock as a smallholder.
After embarking on a butchery course Rich set up Dickies in 2017 as an artisan butchery, farm shop café and 'secret summer steak club' specialising in a small number of covers and rustic dining for locals.
The latter was successful… too successful as it turns out. More staff, more covers, more hassle and the kind of compromises you're forced to make when scaling up all meant Rich fell out of love with Dickies. Then Covid came along, with further adaptation of Dickies to facilitate social distancing. Eventually Rich decided that enough was enough and it was time to reinvent the site with a ground-up redefinition of what a restaurant on the site could offer.
The restaurant itself has a unique look. Unsurprisingly, as Rich built it himself, with a vision of a timber frame and extensive glazing with an open kitchen, open flame cooking, plus high ceilings and skylights for a rustic industrial look. So, yes… not content with simply creating the restaurant, the enviably practical Rich also built the premises.
This included making the tables from mild steel, created the heavy industrial entrance door (cosy 'nuclear bunker chic'), he installed log burners and his open fire ranges, then commissioned bespoke plates and hand-forged knives and cutlery from Tim Aucott in the Vale of Belvoir. He also created a kitchen garden with its raised beds outside the restaurant to grow their own produce.
As slick as the restaurant looks, and as talented as the team are though, there's a forehead-slappingly simple and back-to-basics approach to the composition of Jericho's menu which poses a simple question: 'what do we have to work with?'
It's a question more chefs should ask, but don't because it's a hassle to work around lack of ingredients. Training junior members of the brigade is time-consuming and trying unproven dishes on menus is a risk. We exist in a world in which strawberries, asparagus and game are available all year round, regardless of seasonality. By contrast, Rich and the team start with what's seasonal, local and what dishes will mean something to them or to the area, then construct their menu around that.
Rich and the team butcher their own meat, using the whole beast and they create their own charcuterie. They utilise game from local shoots which turns up on their doorstep. The restaurant's independent fish supplier bypasses the fish markets entirely, and instead liaises directly with fishermen; if they've not caught it fresh, Rich doesn't use it!
Likewise the team uses raw milk from a dairy less than a mile away, free range eggs from three miles away and the chefs make their own yoghurt and cheese too. Bread is made in house, and the team reckons they're about 80% self-sufficient in fruit, veg and herbs.
"It's an approach championed by Magnus Nilsson of the restaurant Fävikan," says Rich. "It's 'creativity through constraint.' Instead of saying we want to create something which uses strawberries, for example, and ordering them through a fruit and veg supplier, we accept that they're not available, and have to work with what is available, changing our menus on a daily basis to suit availability. It's a challenge, but it makes you sharper as a chef, more adaptable and it means your dishes are more authentic and seasonal."
Rich's dishes involve lots of preparation, to say nothing of the effort involved in making your own bread, cheese, and so on. It does mean, though, that the dining experience is varied and assiduous, with lots of techniques needed and 20 small, entertaining and imaginative dishes rather than three much larger and more conventional courses. Nothing about Jericho is typical, and what Rich, Grace, Joel and Archie have created is a clean-sheet design of what they believe a restaurant should be, with cooking from the heart, no corner-cutting allowed and a genuine interest in seasonality and provenance.
It's achingly authentic, not at all pretentious or gratuitous, just a really genuinely great experience, with a lovely team demonstrating down-to-earth professionalism and also their uncompromising love of food.
Tasting Menu format with 20 courses, £90/head.
Pig skin, black garlic apple.
Jericho charcuterie.
Garden broth.
Vismino Kisi Artana, Georgia.
Hornbuckle cheese & apples.
Potato and mussel.
Lamb chorizo & smoked date.
Wild boar, eel and Marmite.
Partridge leg.
Halfpenny Green Penny Black, England.
Jericho bread, raw butters with bird liver, peanut, redcurrant.
Oliver Zeter Grauburgunder, Pfalz.
Porthilly oyster, blackberry & bramley.
Mackerel, summer pickles and nasturtium.
Lautarul Pinot Noir, Romania.
Raised bed carrot, very good cream, honey.
Partridge, barley tea, smoked date.
Mushroom chawanmushi, girolles and rye.
Colinas Do Douro Superior, Douro.
Hare, pear, damson.
Mutton, turnip, myrtle.
Teal, barley, blackcurrant.
Silage ice cream.
Recioto Della Valpolicella, Italy.
Farm egg.
Orchard apple, brown cheese, buttermilk Cropwell Bishop Stilton, Langar honeycomb.
Dining Out at Restaurant Jericho
Plungar, in the Vale of Belvoir
The Pitch: "Rooted by working the land, Restaurant Jericho shares a dining experience at our farm inspired by humble ingredients and the most honest way to cook… fire."
Food Served: Friday and Saturday evenings from 7pm, booking essential.
Restaurant Jericho, Orchard Farm, Plungar NG13 0JA. Telephone 01949 728288 or see www.restaurantjericho.com.