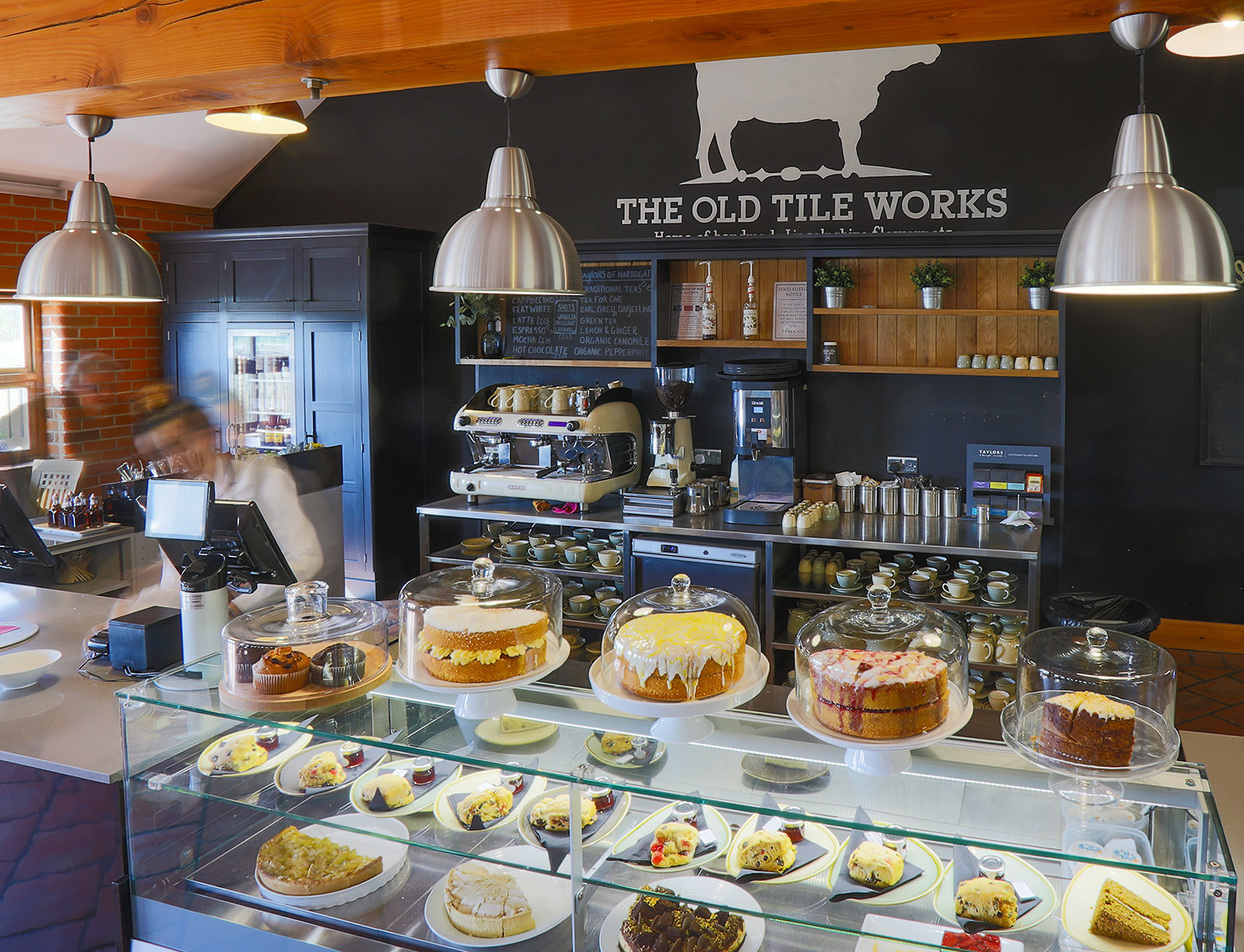 This month we're enjoying dining in style… or rather, dining around tiles, with a rather smart daytime dining experience within tickling distance of the mighty Humber Bridge. Looking to stretch your legs on a Saturday afternoon? Head to The Old Tile Works and its artisan village at Barton-upon-Humber!
Funny how times change, isn't it? For a long time the south banks of the Humber Estuary could hardly be described as a destination for visitors, let alone a place to spend a relaxing Saturday afternoon.
From the 1840s, the clay banks helped the brick and tile industry to thrive as successive swathes of claggy, damp clay were dug out of the ground to service local tile and brick works. The hulking brutalist Humber Bridge opened in 1981 and soon after, with the usable clay extracted, the various clay pit sites were acquired in 1983 by the Lincolnshire Wildlife Trust to undergo transformation into what is now the Far Ings Nature Reserve.
Soon, an industrial area gave way to an area rich in natural beauty. In 2012, the Harrison family redeveloped part of the former Grade II listed working tile works to create what is known today as The Old Tile Works. The William Blyth Far Ings and Hoe Hill Tile Works continue to produce their range of traditional handmade clay roof tiles – about 1,500,000 of them every year!
The Old Tile Works is a wonderful rural enterprise in the form of an excellent coffee shop and restaurant – slap bang between the Humber Bridge and the beautiful nature reserve – with an artisan village of six studios for local crafts people to operate from.
The Old Tile Works services birdwatchers, dog walkers, cyclists, nature photographers, ladies who lunch and magazine editors who don't, but can make hay by photographing the Humber Bridge in the same visit. It's a cracking place, definitely worthy of a visit if you're kicking your heels on a Saturday afternoon and fancy a mooch out in the sunshine with the dog.
The site's artisan village is home to a small batch distillery, potter's shed, furniture maker, needlecraft studio and luxury cake maker among others… it makes a great place to visit after lunch. I was expecting somewhere half decent, having seen photographs of the place, but I was seriously impressed and feel very comfortable offering a recommendation. It helped, too, that having booked an appointment on a day that sleet and misery were forecast, bright sunshine and blue skies attended instead. Accordingly, there were ladies enjoy morning coffee, several happy dogs stretching their legs and people enjoying a visit to the Artisan Village.
There's a blissfully simple single menu – with just the occasional ad hoc special currently The Old Tile Works is open for daytime service. There are about 20 items on the lunch menus, plus speciality sandwiches served with skin-on fries and homemade coleslaw – ten choices of those – as well as baked potatoes.
It's a well created menu too, with a couple of really good and proper homemade pies – all crimped shortcrust, stuffed with glossy gravy – as well as variations on salads and curries. Each dish on the menu sounds satisfying but you can tell that dishes are chosen to be easy to prepare freshly during a busy service, so quality is kept high, waiting times short, but the kitchen can still offer its diners lots of choice.
Highlights – beyond the pies – include honey and chilli-poached salmon, pan fried sea bass, a gourmet burger with all of the elements (gherkins; brioche bun; skin-on fries) and proper butcher's sausage and mash. There's also a really good Lincolnshire Ploughmans for summer lunchtimes too.
Satisfyingly, the Old Tile Works's bread is homemade, and if you're stopping by for morning coffee, the cakes – also homemade – are as thick as a mattress and almost as well padded, with buttercream and fruity jam.
A beautiful looking Bakewell Tart sponge cake with almonds and icing nearly made me faint with delight whilst proper small estate coffee, posh teas, local ales and artisan soft drinks like elderflower and raspberry lemonade are all ideal antidotes to tiredness after traipsing around the nature reserves.
Having talked with Harry and his partner Leah Worsley about the tile industry and how William Blyth's handmade clay roof tiles are still very much in demand, it occurred to me that two things are needed.
Firstly, a decent site of interpretation about the area's tile industry so visitors can find out more about this underpublicised local industry; secondly a place of interpretation for the Humber Bridge. As well as being an extraordinary engineering feat and a hulking piece of brutalist architecture, it has a really fascinating history. I've been in the underground 'foot' where each single cable descends 156m to secure the 2,220m bridge into the banks of the Humber. It's fascinating and too many people – especially the 120,000 cars that use it each week – take it for granted.
What will definitely be coming to the area though is a high end garden centre with the potential of spanning approximately two acres. It is one of Harry and Leah's projects this year to make ready for opening in 2020. The couple will develop the site with an aim to create a destination for visitors with future development ideas like a Victorian orangery on the south facing terrace joining onto the Old Tile Works restaurant. Whatever the couple do with the site in the near future, their plans are reason to visit an already lovely site.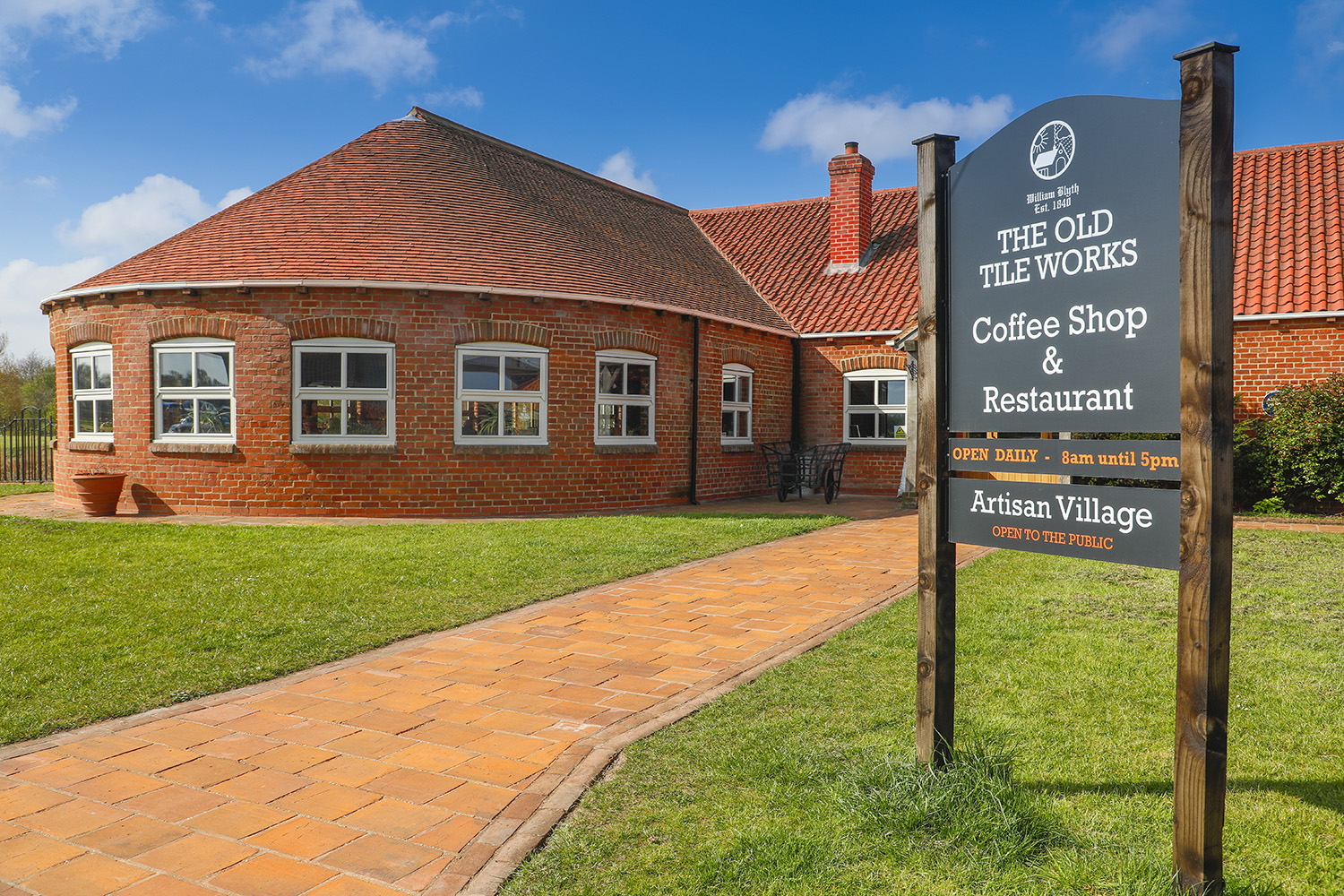 On the Menu…
Brunch
Full English breakfast with Cumberland pork sausages, thick cut back bacon, black pudding, plum tomato, baked beans, mushrooms, hash brown and free range egg £8.95.
Crushed avocado with cherry tomatoes on the vine £7.95.
Lunch Menu
Pan fried sea bass with freshly made ratatouille and homemade crusty bread £9.95.
Honey and chilli poached salmon with new potatoes and fresh salad £8.75.
Homemade slow-cooked steak or chicken and thyme pies with shortcrust pastry and seasonal vegetables £10.95.
Speciality Sandwiches
Smoked salmon and avocado open sandwich with skin-on homemade fries and salad £8.25.
Club sandwich with roast chicken breast and dry-cured bacon, skin-on homemade fries and salad £7.95.
The Old Tile Works is open seven days a week from 8am – 5pm. Old Tile Yard, Far Ings Road, Barton-upon-Humber, DN18 5RF. Call for details 01652 637095 or see www.theoldtileworks.com.