Enjoy summer dining this month at the consistently wonderful Petwood Hotel. Whether you're dining al fresco, waiting until you can step indoors, or enjoying afternoon tea on the terrace, there's much for us to recommend!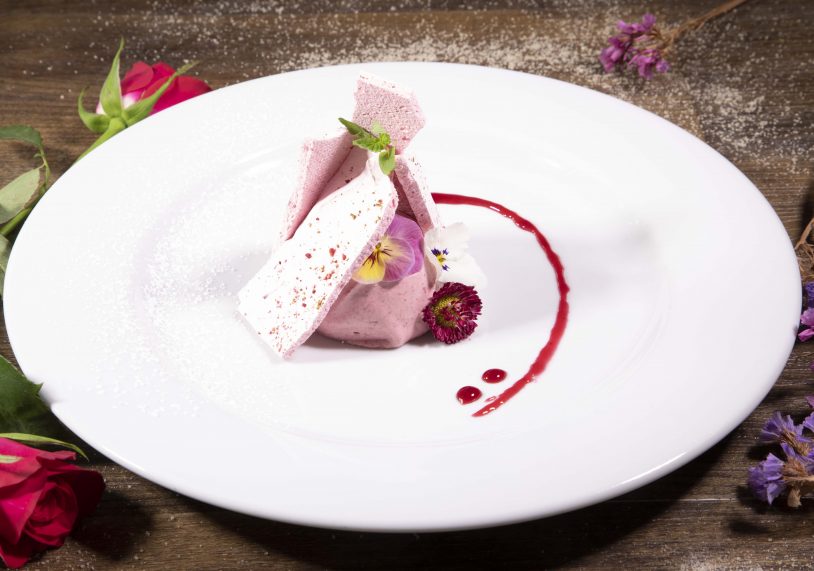 There are two routes to success… hard work, or good luck. For the brigade of chefs at The Petwood Hotel, hard work is the thing. They're a talented lot, as we can attest, having been photographing the team's dishes for a couple of decades now.
However, on our most recent visit, the brigade was enjoying both the fruits of good fortune, as well as those arising from their usual commitment and skill. It's the day of the Grand National, and also a Saturday.
Specifically it's the Saturday just before the hotel's al fresco re-opening, and the brigade are meeting up for a menu tasting.
It's a sort of dress rehearsal for the chefs to ensure the dishes all look and taste consistent and for the front of house staff to taste the kitchen's food, so they can advise their diners with authority on what each dish is like.
As the dishes begin to emerge from the kitchen, it becomes clear that despite having been closed during lockdown, the team haven't lost their ability or their creative flair.
However, there's a slight pause amid all the pan-rattling and more than a little exuberance as several chefs celebrate a win, having luckily backed Irish jockey Rachael Blackmore.
The excitement continues as the front of house team sample dishes from the menus and agree that its new additions will go a considerable way to helping diners to forget about lockdown and ensuring they can once again enjoy visiting hotels, restaurants and pubs with friends, post-lockdown.
From our visit until 17th May, The Petwood will serve its guests on its terrace, with social distancing and lots of fresh air. During that period there's a single menu, with 10 starters, 13 main courses, four salads and seven dessert options including ice creams and a cheeseboard.
With the exception of just two dishes, it's a brand spanking new menu, with the quality of each dish underwritten by local suppliers like Mel Ward for butchers, Alfred Enderby & Moorcroft for fish and Freshdrop for fruit and vegetables. Each dish has been thoughtfully chosen to make the best of seasonal ingredients and it is – according to those customers giving the hotel's Head Chef Philip Long their feedback – a truly brilliant spring menu.
It's a given that lunchtime and evening dining is a treat, but the menu also provides three rather epic brunch options, including Eggs Benedict or for the sweet of tooth, a Pancake Stack with Strawberries & Maple Syrup. The Petwood's afternoon tea options are more popular than ever, too, as diners clamour to reunite with friends and family they can do so over a great value £18.25/head three tiered afternoon tea, with cakes and patisserie freshly made, in house, each day.
Additional afternoon tea options include one with Prosecco, Champagne or gin, plus a new, exciting Noveltea option, with alcoholic Earl Grey Tea with Gin, Oolong Tea with Whisky or Green Mint Tea with Rum, each of which is exclusive in the area to the hotel.
At the moment the hotel's diners will enjoy an al fresco setting either on the terrace with its umbrellas or under the twin star marquee.  Either of these affords protection either from the odd draught… or intense sunshine; the latter, though is what we're hoping for.
During its closure, the team has been able to complete a few jobs which are a bit tricky when you're working around guests, diners and weddings.
Working with Lincolnshire interior designer Gilly Henson, the hotel has been able to usher in all of the trades needed to complete a full refurbishment of the Terrace Bar, Petwood Suite, Garden Room, the reception area and a few of the hotel's 53 bedrooms too.
The hotel's kitchens, too, have been refurbed, taking advantage of not having breakfast, lunch and dinner service, or catering for weddings to work around.
Speaking of making plans, there are plenty underway for a summer of entertainment at the hotel too. If you're keen to remind yourself of what going out for a meal and a show feels like, the ever-popular 'Faulty Towers: The Dining Experience' returns this June. This two hour interactive dining experience has been tweaked to ensure a Covid-secure performance without losing any of the fun.
Diners will be greeted by Basil, Sybil and Manuel (que?) who will serve dinner with a large side order of comedy chaos… we've enjoyed the hotel's Faulty Towers dining experience (£52.50/head inc., three course meal) before, and trust us… it's hilarious!
Also this summer, you can enjoy outdoor cinema and theatre experiences (the latter are provided by Lincoln's Chapterhouse Theatre), with dates throughout the summer to be confirmed (see www.petwood.co.uk).
Unlike those lucky chefs, in the Grand National the horse I backed was short of a leg, but the bookies' favourite this month for great dining is definitely The Petwood Hotel. Its lovely setting, superb new menu and summer of entertainment, make it a real winner, by several lengths!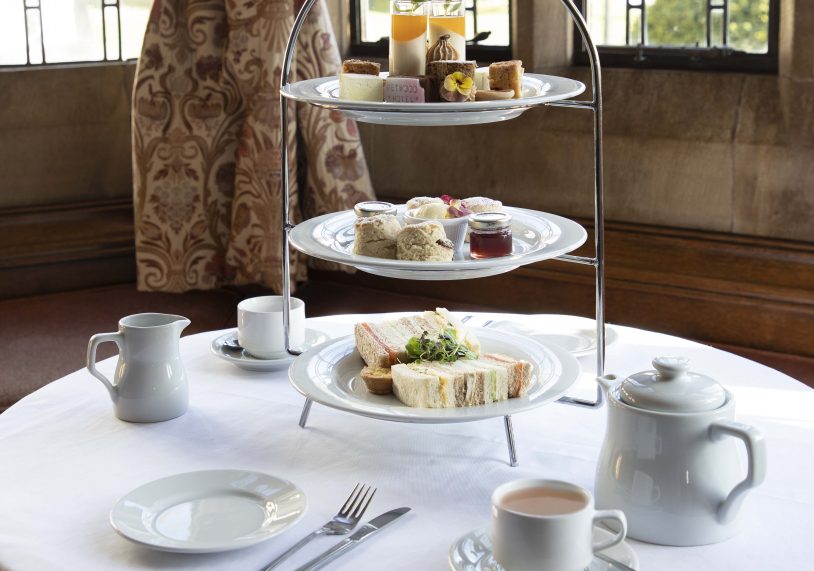 Brunch
Eggs Benedict, muffin, ham, poached eggs, hollandaise sauce £7.85.
Pancake stack, strawberries & maple syrup £8.25.
Starters
Treacle cured sea trout, pan fried scallops, pickled ginger, paprika dusted beansprouts £9.65.
Chilled confit duck Thai spring rolls, cucumber, spring onion, hoisin sauce £8.75.
Main Courses
Seabass fillet with glass noodle salad, peas, edamame beans, miso, poppy seed butter £13.
Grilled tenderstem broccoli, satay sauce, quinoa, burnt lime, crushed peanuts £9.75.
Duck breast with savoy cabbage, saffron fondant potato, blackberry and ginger sauce £17.75.
Desserts
Frozen blackcurrant mousse, juniper meringue shards, blackcurrant, with anise syrup £6.10.
Blueberry poached pineapple, yoghurt ice cream, blueberry coulis, £6.10.
NB: Featured dishes are subject to change.