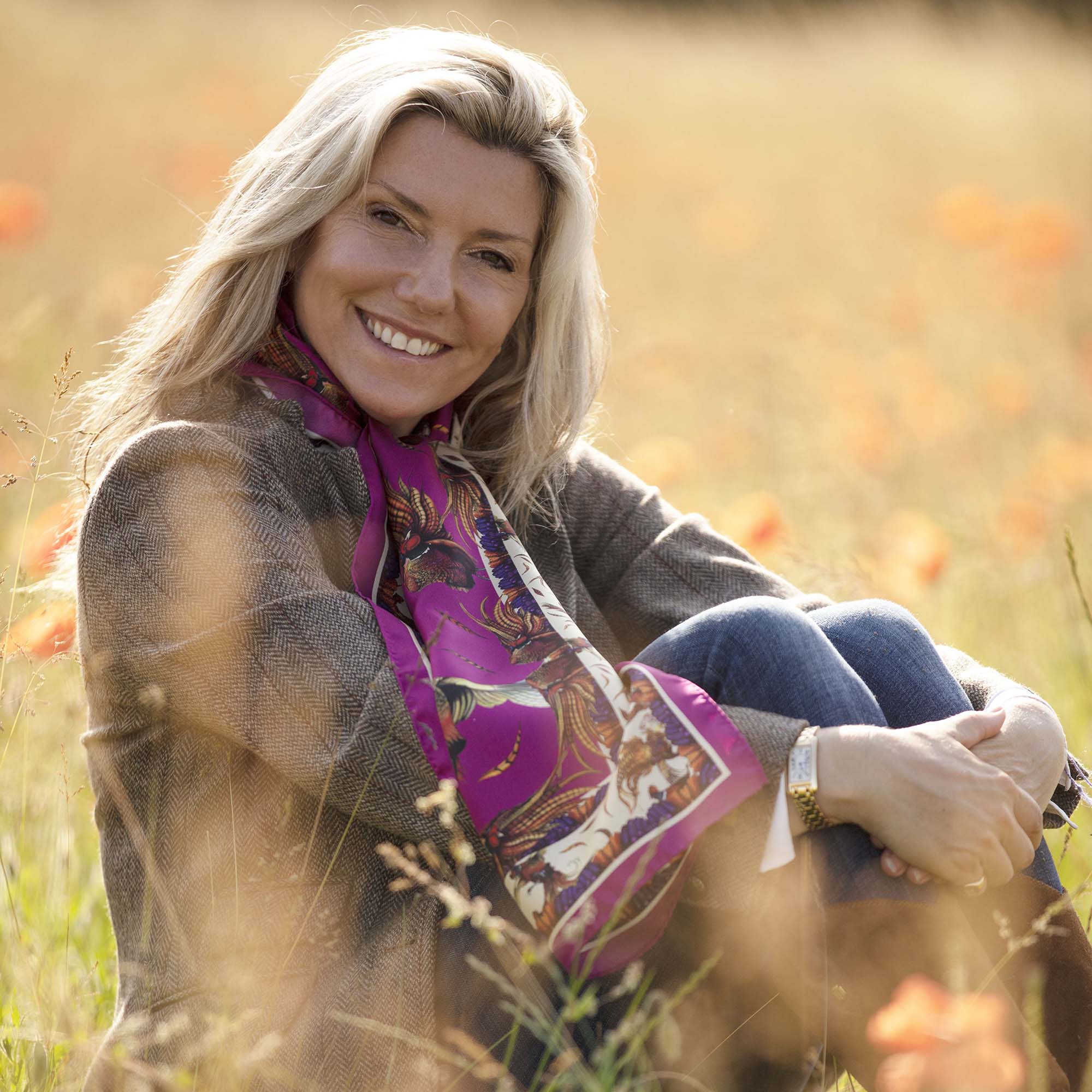 The Visual Narrative of a countryside which unfolds throughout the year is an inspiration to all artists, but for Louth's Clare Haggas, the ever-changing view from the window of her studio is especially relevant.
Keeping an eye on the bird life and the ebullient palette of greens and flecks of colour which reveal themselves in spring provides a rich source of inspiration which Clare can use in her work. She creates huge original illustrations of animals, flora and fauna which then find themselves transferred onto giclée prints and onto silk scarves, pocket squares and ties. This month Clare is excited to be launching a range of products for homes, too, and finds herself in the finals of a national competition to reward rural enterprises.
Clare's business was known as Clare Shaw Fine Art and Design, before she married the love of her life Will, a local farmer, and rebranded as Clare Haggas. She has been in the world of painting since 2015, a born and bred Cheltenham girl who moved to Lincolnshire in 2014 to be with her now husband.
Her leap of faith invoked a period of uncertainty. Clare was unsure what to do after the move; continue working in Sales and Marketing or embark on a new adventure. In the meantime, whilst mulling over her decision she undertook painting as a hobby but what she didn't know was that her life was about to take a very unexpected turn.
Living on the outskirts of Louth, surrounded by the beauty of our much-loved Lincolnshire countryside, Clare had the perfect opportunity to paint the local wildlife that surrounded their home. The artist uploaded her images to social media and soon found herself accepting orders for commissioned artwork. Clare became well known, very quickly. But it was when her artwork was accepted at luxury countryside retailer The House of Bruar in Scotland that orders soon exploded.
"My main income by that point was private  commission work for original artwork, which was great, but I felt like something was missing. I kept asking myself 'what more could I do?'"
It was in December 2016 that a chance meeting changed Clare's life. The artist went to a meeting in Cheltenham where she began speaking to a gentleman in a waiting room, who had expressed an interest in her paintings.
Clare was telling him how she through her work would suit silk, and later when he revealed that he owned a silk printing company in Evesham, a four-minute discussion and 'let's do it' leap of faith brought Clare's ideas to life.
"We work together really well and what makes the association with each other so brilliant is that it all happens from home, I can create my designs in my 'happy place' and send them off to be printed – everything is created in this country."
"Another motivation for developing my paintings to prints suitable for silk scarves and pocket squares was because as a typical country girl I couldn't find anything to wear to set off an outfit… I found the available country motifs all very boring."
Clare wanted to create something vibrant to 'bring life' to women's outfits and soon filled a gap in the market. After her success as a designer of accessories for ladies, Clare went on to launch a men's range last year which consists of ties, pocket squares and scarves.
This summer she will be launching a very exciting homeware selection. In April she will launch a range of colourful, high end luxury velvet cushions with wallpapers, coasters, place mats, napkins and napkin rings to follow.
The beauty of Clare's product ranges, especially in the respect of her accessories, is that her ideas don't need to be created in specific sizes, which would necessitate expansion and make life difficult for a home based business.
"I am an artist, not a fashion designer," she says. "The joy is in creating the artwork and I've just expanded the number of ranges I produce with new designs like Peacock, Hare and an upcoming Flower range."
"I never reprint once all of my editions have sold out, which helps to create a sense of exclusivity for my customers," says Clare. "I like them to feel special and if they have a limited-edition print, of which I have lower batches available of, it is unfair of me to continue making these for other customers."
"I have gone from selling 10 products a week, to 500-750 a week with 43 stores now selling my stock… some of the most luxurious stores in the world. It is crazy!"
Clare's husband Will, her daughter Daisy and her dogs are all very supportive and help Clare to create the great work/life balance that she maintains.
"Daisy is my chief stylist and at the age of 15 she does not hold back to tell me if she does not like a design! She is very business minded however."
"Though I can't see her following in my footsteps as she is very sporty and wants to study child psychology. I have always been around dogs and we have now four in the house, with the newest edition being Molly, a Cocker Spaniel puppy."
"No day is the same with a Terrier, two Labs and a Cocker running around… I am just really lucky!"
Clare is very independent when it comes to her business and though she does have a colleague on hand to help with her packages, plus another to help with wholesale and someone who manages her website, she describes herself as being totally hand's on, and the main focus is to keep other local Lincolnshire businesses going.
"It is important I support other businesses close to me, and why I use the Post Office for example rather than a courier." Clare's skills from her university days, studying business and marketing, afforded insight into the potential of online commerce, as well we being faithful to her local audience.
"I wanted to ensure my business was as user-friendly as possible and met all of my target audiences," she says. "But I also still send out brochures and accept written orders and cheques rather than just online orders and payments."
"Up until a year ago Clare described her target audience as being 40-75year old females, however it's becoming increasingly diverse, and now comprises male and females from just seven years of age upwards!
"That feels great," says Clare. "I love the versatility in my range of customers, knowing that all ages are 'wearing Clare Haggas.' My ultimate dream, though, is to see the Queen or The Duchess of Cambridge  wearing one of my scarves!"
Last year Clare entered herself into the Rural Business Awards into three different categories; Best Rural Start Up, Best Rural Retailer and Best Rural Arts, crafts and artisan business.
She was delighted to win the Midlands' Best Rural Start Up and Best Rural Retailer category and to be awarded runner up as Best Rural Arts, crafts and artisan. The UK finals will be held, as Pride goes to press, in Manchester. "It is so nice to be recognised and even considered for these awards!"
"I'm proud of my achievements but even more proud that I can celebrate, reflect and above all enjoy the countryside which surrounds us!"
Clare Haggas creates is an English countryside artist based near Louth. She created limited edition silk scarves, ties and pocket squares. See her work at clarehaggas.com or call 07943 502756.