If there's anything more comforting in the winter months than heaving off a soggy-soled pair of outdoor boots and slipping into some furry and cosseting, we've yet to experience it.  You'd think the slipper market was beyond evolution. And yet, Angi Hussey and Chantelle Gill proved they were one step ahead of the market when they established Laines London in 2019, with a newly established brand of luxury slippers that has put its best foot forward ever since…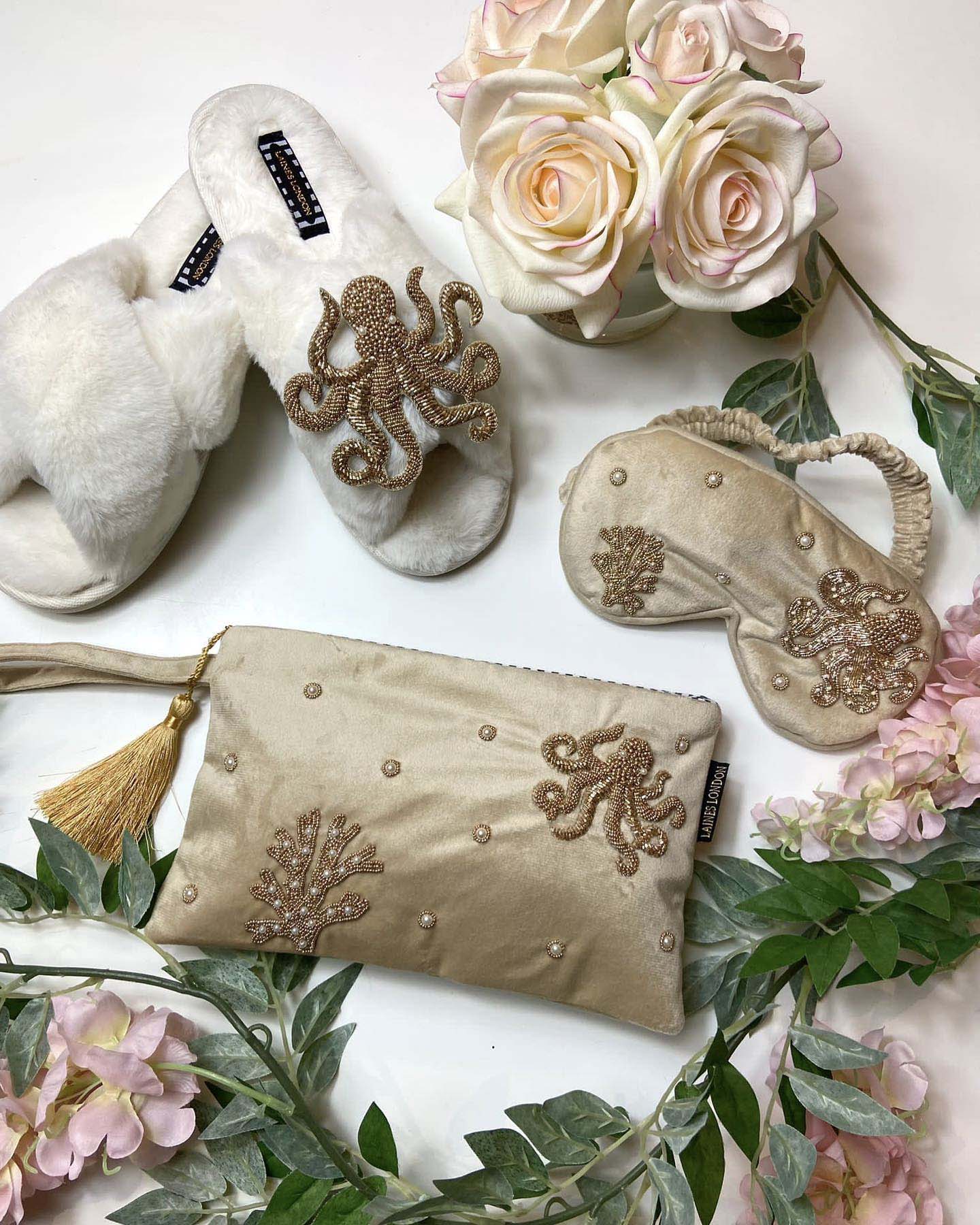 Da Da Da Dah, Da Da Dah… it's Saturday evening, time for the grand final of Strictly Come Dancing 2022, and on Lincolnshire's East Coast, Angi Hussey and Chantelle Gill are on the sofa, with two dogs – their sausage dog and their pug – plus two mugs of tea, and two chocolate Hob Nobs. Could the scene get any cosier? Actually yes. They're each snuggled into a pair of plush, hand-finished, beautifully made slippers, designed right here in Lincolnshire but sold as far away as Europe, the UK and Australia.
Angi & Chantelle have earned the chance to put their feet up (briefly), because over the past few weeks, they've been crazy busy, fulfilling orders for their slippers, sold under the Laines London brand. Established in 2019 this is, in fairness, a business still very much in its infancy, but one that has enjoyed a stratospheric start. Their products have already been sold in Harrods, Selfridges along with over 300 boutiques worldwide.
So how on Earth did such a young brand – albeit one with great products – manage to gain such immediate traction in the market, especially based in a Lincolnshire seaside town, rather than in the city? "We've always loved Skegness. It's our home," says Angi, who was in the hospitality trade in the town for 25 years and worked in the family business with her parents.
"As a family we still run bars, hotels and restaurants in the town. Being raised in a family business we all needed to muck in and work hard. And that's one of the best qualities you can have in business."
"Chantelle and I had a homeware and interiors business in the town, and I really enjoyed designing the interiors for the family's businesses, so we were used to choosing products that we felt were well-designed and well-made. In 2019 we were looking to do something different and to establish a new business, something in the fashion industry which wouldn't compromise existing businesses, like fashion retailers, in the town."
"We looked at what we could improve and realised that among the products we would do better, slippers were at the top of our list. I love design and spent a lot of time creating our first collection, which launched in time for autumn and winter 2019."
"Some slippers on the market looked great but weren't particularly well-made or durable. Others were practical but not necessarily all that desirable."
"So really, our aim was just to design-in the values of comfort and luxury, whilst manufacturing-in practicality and wearability. After that it was a case of ensuring that the price point reflected the quality without giving our designs a huge price tag."
"For a product that looks fairly straightforward, there are all sorts of design decisions to make: practical considerations like how many lines you create and how many sizes you offer, but then beyond those, ethical considerations too."
"It's really hard to have products manufactured to the quality we want in this country without them incurring really high price points."
"We can, though, make sure our embellishments are all hand-sewn and that our products are finished by a local team."
"In terms of the materials we use, too, we don't believe there's any need to use animal-derived products like fur."
"We can manufacture faux furs that feel better, that are more consistent and that wear better. As a result, all our products are vegan in nature."
"Our soles, too, have been designed to become a part of your feet, to sort of cuddle into you, but they're also supportive and sturdy enough to allow you to go outdoors when you're letting the dog out."
"We've a classic design available in six colours – black, cream, grey, navy, pink and toffee – with around 100 different embellishments."
"We also offer sliders with extra cushioning and a bespoke, deep-tread sole, and we've designed our socks, pyjamas, kimonos and eye-masks to complement, as well as a range of handbags and fashions."
"Just a couple of weeks ago we took delivery of our new Christmas collection, three designs – nutcracker, snowflake and Christmas tree car – which we're really thrilled with."
"The Covid lockdown saw a boom in the slipper market, especially online sales, as more people were working – or not working – from home, suddenly the business exploded on social media and we found ourselves in retailers like Harrods and Selfridges."
"It's been an exciting time, and nothing fuels your enthusiasm for building a business like success."
"The run-up to Christmas this year has already been busier than ever. My two daughters and son are all roped-in to help out, firstly to fulfil orders for retailer, and then to satisfy online orders direct to customers."
"We've been thrilled to see how well our products have been received and even prouder that they're designed right here in Skegness. Meanwhile, we're already well on the way to completing our spring/summer collection for 2023 and we will soon be working on our autumn/winter 2023 collections too."
So really, there's only a brief amount of time for Angi and Chantelle – or their family – to put their feet up. Which is a shame. Because if they did, they'd be able to slip into a pair of their own designs, settle down in front of the TV, and cheer on their favourite Strictly finalist! n
Laines London is the Skegness-born business of Angi Hussey and Chantelle Gill, ably assisted by a fabulous team of Skegness ladies who help the whole business run smoothly! You can purchase their slippers, sliders, kimonos, eye-masks and fashion accessories online, direct, at www.laineslondon.com.