This month we reveal the winners of our 2021 Good Food Awards. Back in October we invited our readers to vote for their favourite local restaurants, coffee shops and food & drink producers…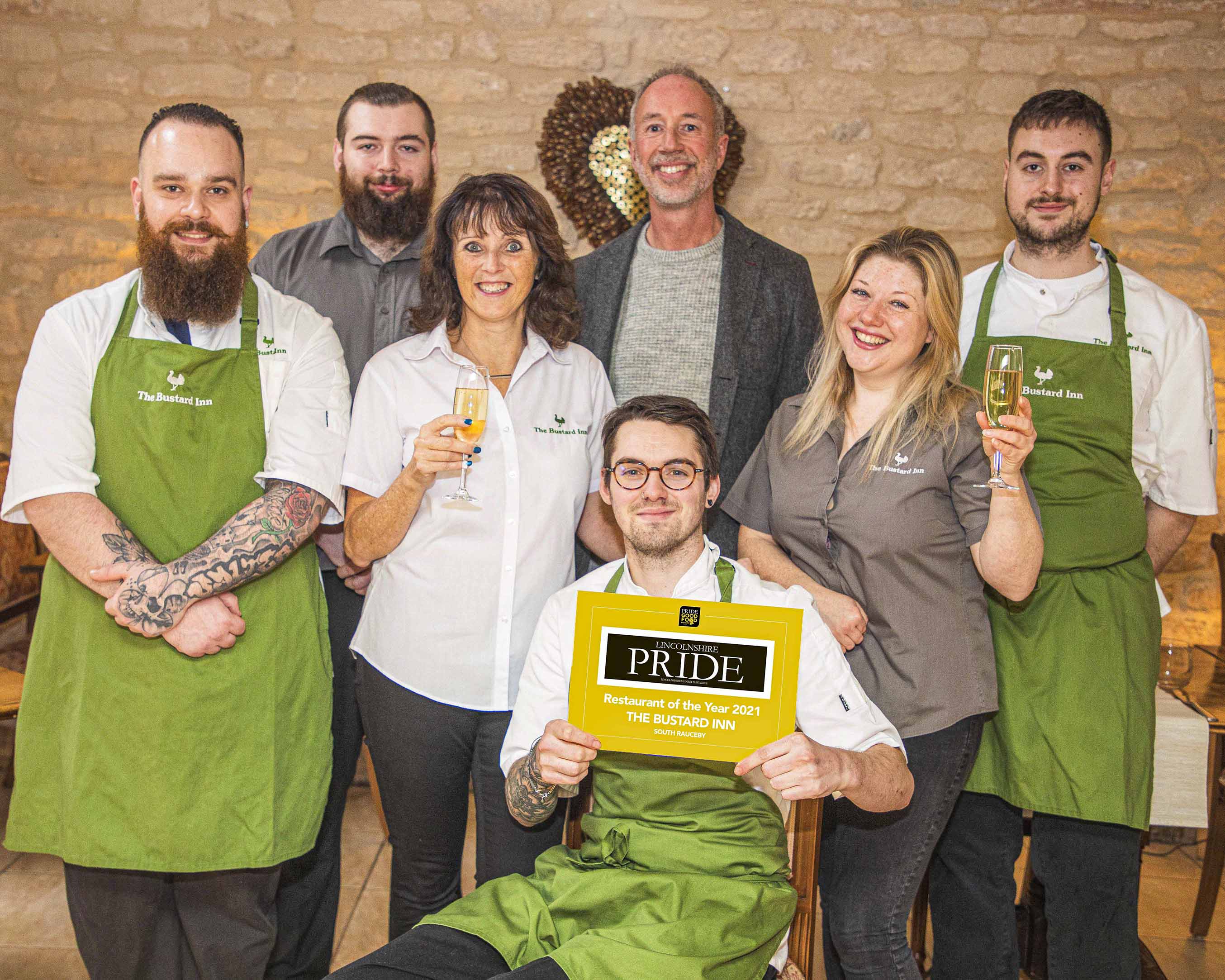 Lincolnshire Pride's Restaurant of the Year
We're delighted to announce our 2021 winner is South Rauceby's exceptional Bustard Inn…
What do you look for in a truly exceptional restaurant? As far as we're concerned the qualities it should embody are good food – that's a given – but also a warm welcome. There should be great synergy between the kitchen team and those at front of house, plus a sense of creativity and flair both in the presentation of dishes but also the choice of flavours which are employed in dishes, from starter to dessert.
Back in October we asked all of our readers to nominate their favourite restaurants, and happily, those nominated came from moreorless every village and town across Lincolnshire. With a location pretty much equidistant from Sleaford, Grantham, Newark and Lincoln, South Rauceby's Bustard Inn can draw diners in from quite a radius. It's worth the visit too, as the former malthouse and brewery has been around since 1860, formerly serving thirsty workers from the Rauceby Estate with their well earned pint.
It was extensively renovated in 2007 and has remained a quality country pub restaurant since. For the past three years it has been owned by Lesley and Julian Lonsdale who were determined that relaxed quality was their aim for the place, moving forward. With the arrival of Josh Singleton, former Masterchef: The Professionals competitor  who has headed up the kitchen more recently, quality is assured.
What's really nice, though, is that whilst The Bustard Inn is a smart place to dine, with a great menu, it has also retained a lovely country pub feel. It's smart enough to feel like a treat, well-priced enough to offer quality without stinging the wallet, relaxed enough to avoid that feeling of standing on ceremony. The Bustard Inn has a lovely balance of being an enjoyable high quality but accessible place to visit.
Fussy or extensive menus are a bugbear of ours, and happily, The Bustard has just a single menu for lunchtime and evening service respectively, with five starters, main courses and four desserts. That's a broad enough choice to ensure you'll find something which appeals whilst also ensuring the kitchen team can concentrate on ensuring the consistency and quality of each dish.
Local ingredients are used where quality allows. Each dish is glorious in its colour and presentation, and flavours are well-judged. In short, there's nothing to dislike about The Bustard Inn… just ask our readers!
The Bustard Inn, South Rauceby, Sleaford NG34 8QG.
Tel: 01529 488250, www.thebustardinn.co.uk.
Also Commended:
Winteringham Fields: Home to Colin McGurran, Gareth Bartrum and the team, this super establishment is North Lincolnshire's only Michelin Star restaurant, offering an eight course tasting menu for £99.
Tel: 01724 733096, www.winteringhamfields.co.uk.
The Jew's House: Located on The Strait in Lincoln, Gavin Aitkenhead and Samantha Tomkins work hard in the kitchen and at front of house respectively to create a polished experience. Established in 2006, it's one of the county's best restaurants,  in one of the city's oldest and most beautiful buildings.
Tel: 01522 524851, www.jewshouserestaurant.co.uk.
The Brownlow Arms: An exceptional pub restaurant which was named in The Good Pub Guide as Lincolnshire Dining Pub of the Year. The place has recently gained a fresh infusion of talent in the form of new head chef Dean.
Tel: 01400 250234, www.thebrownlowarms.com.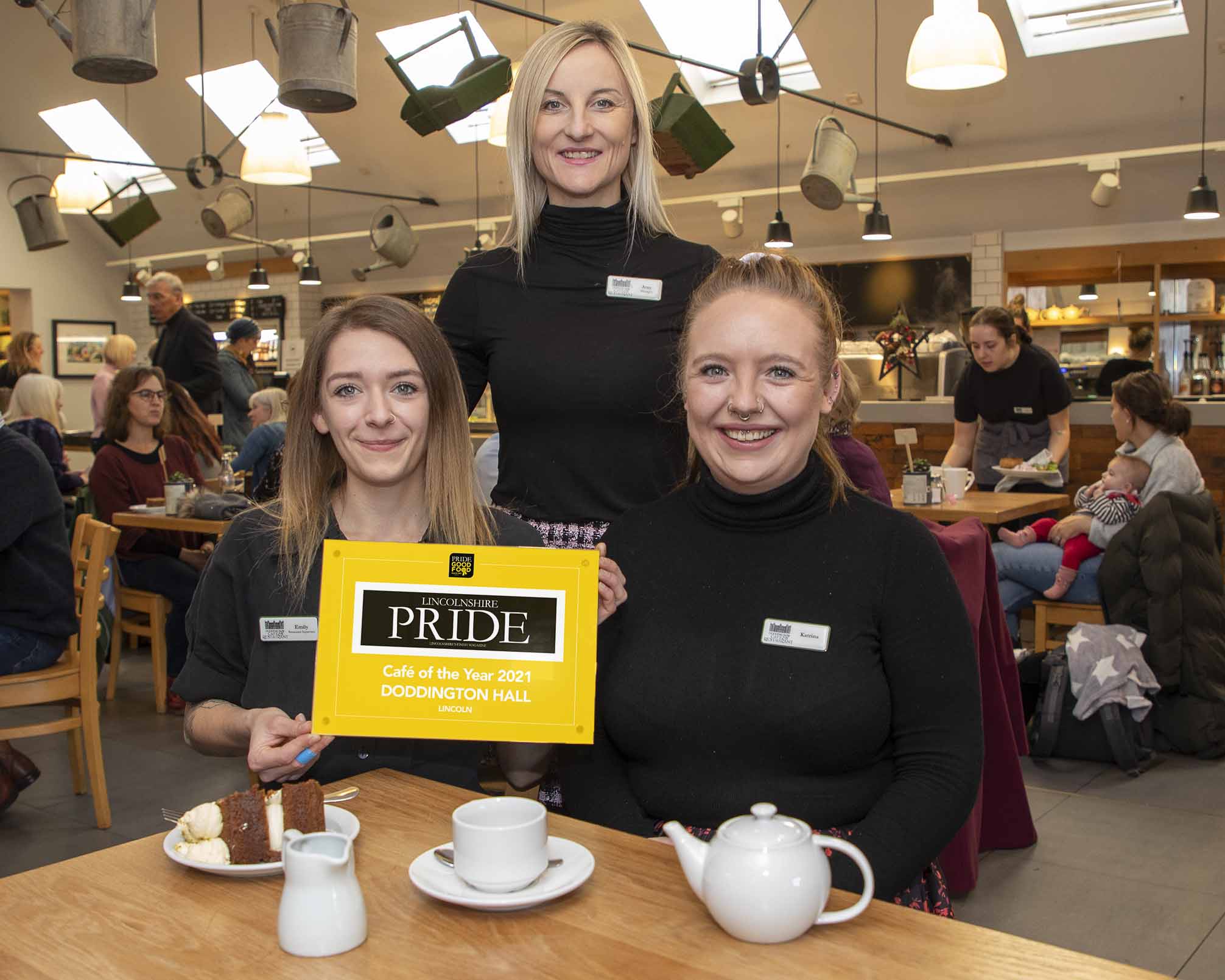 Café, Coffee Shop or Bistro of the Year 2021
A wonderful win for Doddington Hall just a stone's throw from the centre of Lincoln…
We've Reserved the second category of our Good Food Awards to champion Lincolnshire businesses which offer lighter bites, lunchtime service, afternoon tea and daytime dining.
It's a category into which Doddington Hall's café falls, although the name is a bit of a  misnomer because the range of burgers, fish and chip dishes, jacket potatoes and flatbreads on offer well exceed the remit of a traditional café.
The country house was built in the late 1590s for a local lawyer and is Grade I listed. The Jarvis family inherited the estate in 1829 and the lineage can be traced to Claire and James Birch who took the house on in 2006.
Since then, the estate has been home to retailers of home and clothing wares, as well as its bike shop, Bauble Barn over the festive season, and its very successful farm shop. A natural partner for the farm shop was a really good café and with a kitchen garden adjacent, Doddington Hall is now able to serve as an ambassador for Lincolnshire produce which it grows, sells and also utilises to create its café menu.
"Here at Doddington Hall we are proud to showcase high quality seasonal produce from our own Estate and local suppliers. We have our own herd of Lincoln Red Cattle for all our beef dishes, plentiful game, our own honey and foraged wild garlic along with fantastic year-round produce from our walled Kitchen Garden. Beyond the Estate, we seek out the best local growers and producers from Lincolnshire and surrounding counties," says Jonny Richardson.
Doddington Hall, Main St, Doddington, Lincoln LN6 4RU
Tel: 01522 243189, www.doddingtonhall.com.
Also Commended:
Tablez Café Bistro: Located just off Sleaford's Southgate, Tablez is run by Mesut and Gemma Palabiyik and was established in 2016. It has already had to expand to meet demand and has created a new roof terrace ideal for spring and summer dining. The term café is a bit of an understatement; it's a great place for daytime and evening dining, with the odd Turkish night held through the year as well, for added culinary interest.
Tel: 01529 300922.
The Pink Pig, Scunthorpe: A superb farm park with the Greedy Pig and Oink cafés, plus a really good farm shop.
Tel: 01724 844466, www.pinkpigfarm.co.uk.
Lawsons Bistro, Lincoln: Exceptional menu of dishes that would put most dedicated fine dining restaurants to shame – maple roasted pork belly and 12hr braised beef. Head Chef Paul Fields spend the previous decade at Brown's Pie Shop on Steep Hill before establishing Lawsons in 2018.
Tel: 01522 520202, www.lawsonsbarandbistro.co.uk.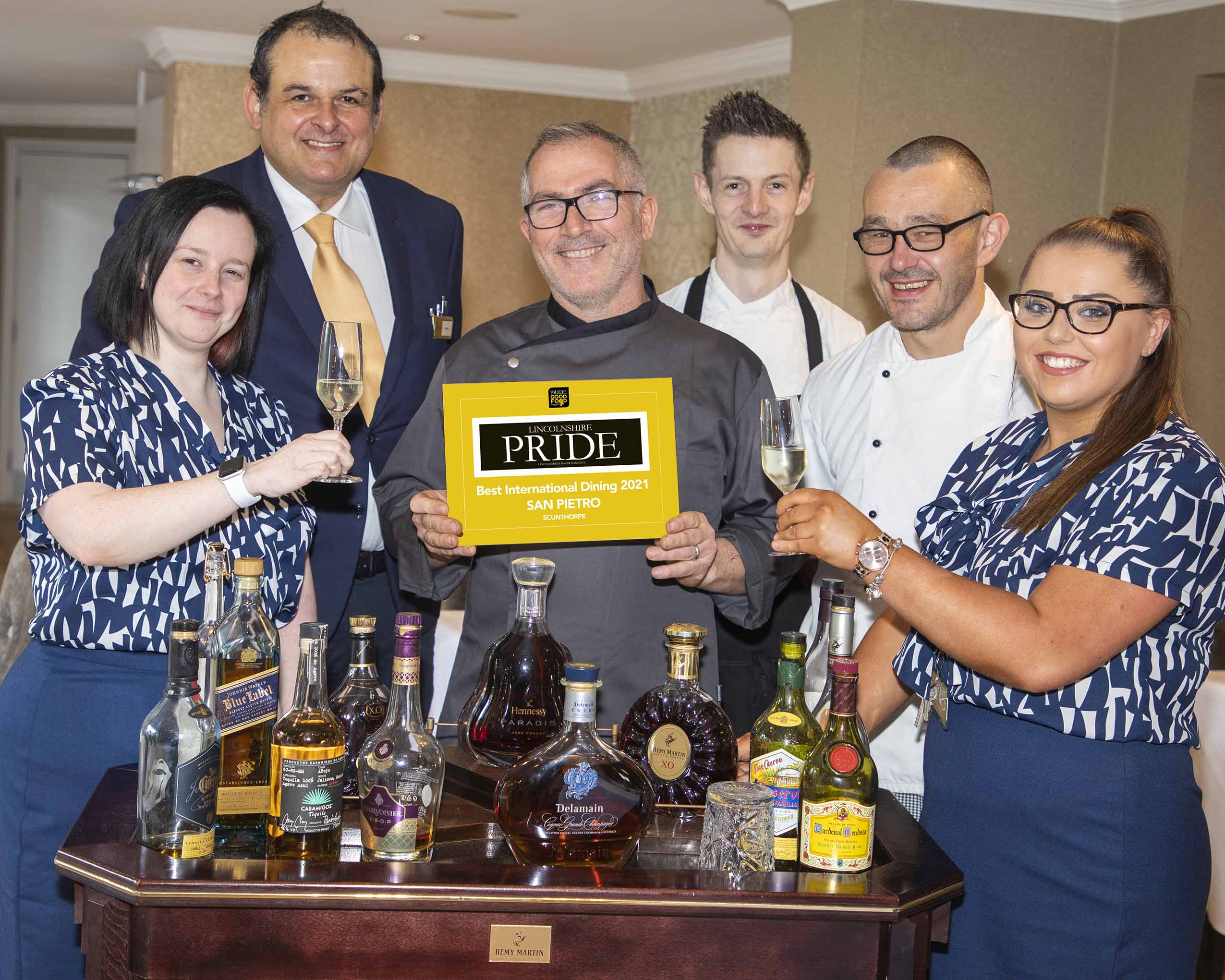 Best International Dining Restaurant
Enjoy Mediterranean dining at Scunthorpe's San Pietro, the home of truly impressive cuisine!
About 1,898 Miles from Lincolnshire is the village of Villalba, in the Sicilian province of Caltanissetta. The place is regarded for great food, but if that's a little too far to travel, we're relieved to say that Scunthorpe is a good deal more convenient.
Pietro Catalano is from Villalba but settled in Lincolnshire with his wife Michelle, and after a few years spent working for Michelin Star chef Giorgio Locatelli, Pietro and Michelle established San Pietro in 2003.
Today the place has two AA rosettes and 14 seriously smart bedrooms in a 19th century Grade II listed former windmill. When we invited our readers to recommend their favourite Lincolnshire restaurant offering international cuisine, we had a sneaking suspicion that San Pietro would come highly recommended.
There's something sunny and happy about Mediterranean cuisine, for a start, and authentic dishes from the region are typically predicated upon fresh ingredients, presented simply with a minimum of fuss.
Accordingly, the hallmarks of the dining experience at San Pietro are key ingredients which are allowed to come to the fore with a choice of dining via the 'Menu del Giorno,' or an à la carte option. There's also a tasting menu which can be pre-booked if you're seeking to give Pietro and his team the chance to really show off their talents over nine courses.
Most diners' experience of Mediterranean cuisine is limited to very Anglicised Italian restaurants which offer little innovation and just the usual pizza and pasta dishes. Happily San Pietro is the exception to the rule. It's a really stylish restaurant with a great feel and, more to the point, an absolutely knockout provision of dishes which are as delicious as they are beautiful. Pietro and Michelle have done a really great job of establishing San Pietro, and if you've yet to enjoy the authentic taste of Pietro's home, we can definitely recommend it!
San Pietro, High Street East, Scunthorpe, DN15 6UH.
Tel: 01724 277774, sanpietro.uk.com.
Also Commended:
The Agra, Sleaford: It's really refreshing to encounter a restaurant whose cuisine is authentic, and the Chenni and Bengali dishes created by Leeneth 'LK' Karim at The Agra are not only truly authentic, they're beautifully prepared too. LK's expertise hails from his time at Bindi Restaurant, which pioneered the world's hottest curry, but his milder dishes are just as flavoursome! A definite recommendation!
Tel: 01529 305900, www.theagra.co.uk.
Orbis & Hoppi Dorri: Orbis & Hoppi Dorri are sister restaurants located on Stamford's All Saints' Street. Orbis provides dazzling cuisine with worldwide influences, whilst Hoppi Dorri is a Japanese fusion experience offering sushi to go.
Tel: 01780 669950, www.hdsushi.co.uk.
Zucchi, Woodhall Spa: Great Mediterranean dining in the heart of Woodhall Spa, beloved by our readers.
Tel: 01526 354466, www.zucci.org.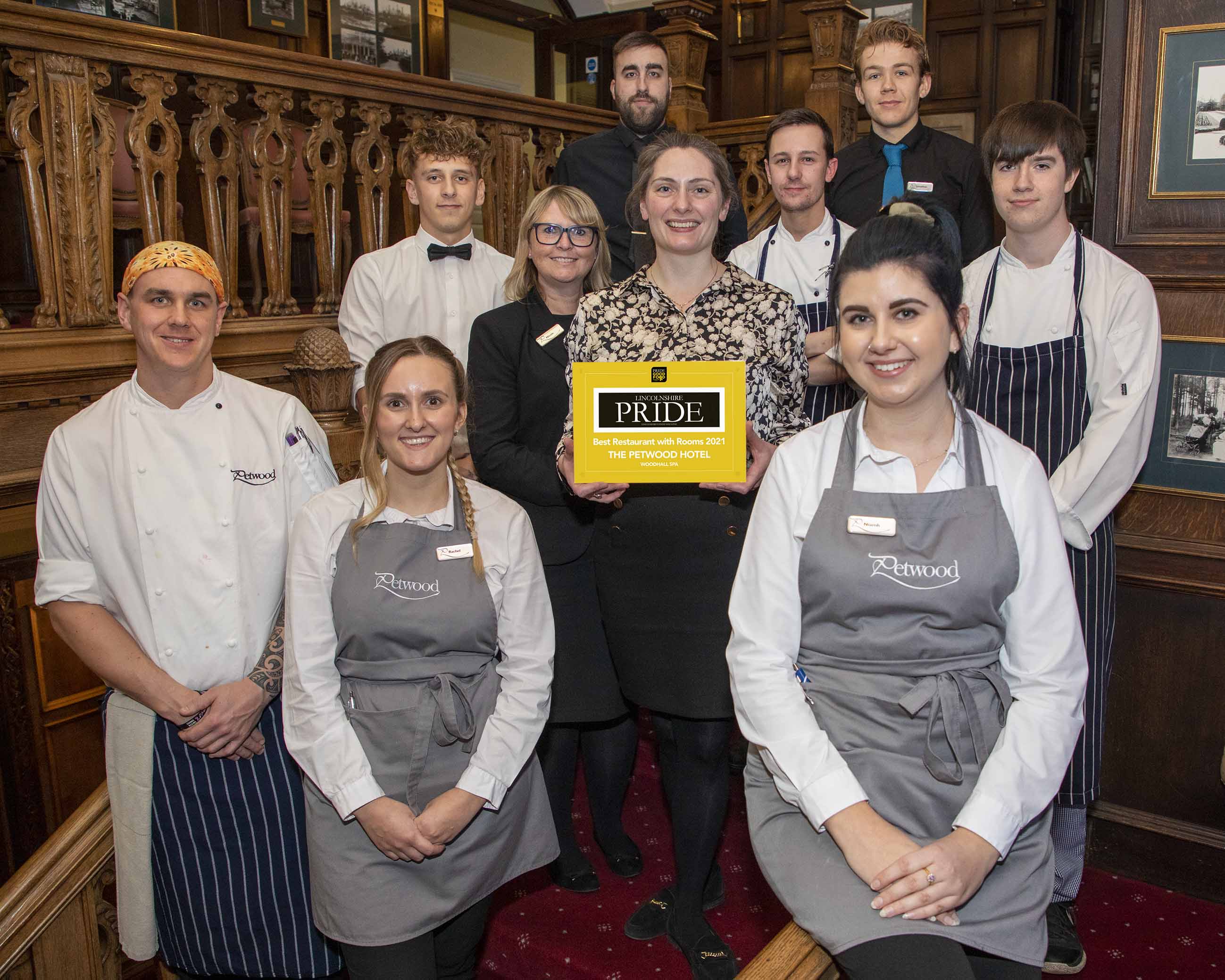 Lincolnshire's Best 'Restaurant with Rooms'
You'll sleep in comfort and luxury at The Petwood Hotel, the county's best 'restaurant with rooms…'
It's Cold Outdoors, and more than a little dark, too. So, after you've enjoyed your meal, instead of wending your weary way home, opt for a restaurant with rooms and save yourself the journey.
It's really satisfying to find a restaurant whose accommodation is as good as their dining experience, and that's exactly the recommendation we've asked our readers to make in this category. You've voted for Woodhall Spa's Petwood Hotel, and it's easy to see why. Whether you visit in winter, spring, summer or autumn, it's always a pleasure to wake up in one of Lincolnshire's best loved and most well-established hotels, with its 53 bedrooms all classically styled and enjoying their setting in the Edwardian hotel with its Harold Peto landscaped gardens and 30 acres of grounds.
Head Chef Philip Long and his brigade provide AA rosette standard dining via an à la carte menu comprising seven starters, 12 main courses and seven desserts, all infused with a number of ingredients from local suppliers.
Also on offer is a lunchtime service menu comprising lighter 'small plates,' salads and sandwiches. Anything else? Well, afternoon tea is a definite recommendation, and we'll urge you to keep an eye on the hotel's events programme which provides plenty of fun such as theatre in the grounds and comedy dining evenings based on programmes like Only Fools and Fawlty Towers.
The Petwood Hotel, Stixwould Road, Woodhall Spa LN10 6QG.
Tel: 01526 352411, www.petwood.co.uk.
Also Commended:
Washingborough Hall: Classic country house style, in a gorgeous Grade II listed Georgian country house hotel. We're not sure which is the most outstanding feature of Washingborough Hall; either its 20 beautiful rooms – including its two four-poster rooms – or the hotel's location just a few miles from the centre of Lincoln. Dining wise, owner Lucy Herring is a Cordon Bleu trained chef.
Tel: 01522 790340, www.washingboroughhall.com.
The George of Stamford: The beautiful Georgian town of Stamford remains a stunning place to visit, and one of its most revered dining rooms is The George. The hotel's oak panelled dining room offers old-school luxury and service, whilst its bedrooms are very good ambassadors for the character and comfort of this 900 year old coaching inn.
Tel: 01780 750750, www.georgehotelofstamford.com.
The Old Bakery, Lincoln: One of the most well-regarded hotels in Lincoln, The Old Bakery has just three bedrooms. Low ceilings, lots of character, and it dates back to 1837, so if you're looking to enjoy first class dining with accommodation right in the centre of Lincoln, this rustic family-run restaurant is a gem.
Tel: 01522 576057, www.theold-bakery.co.uk.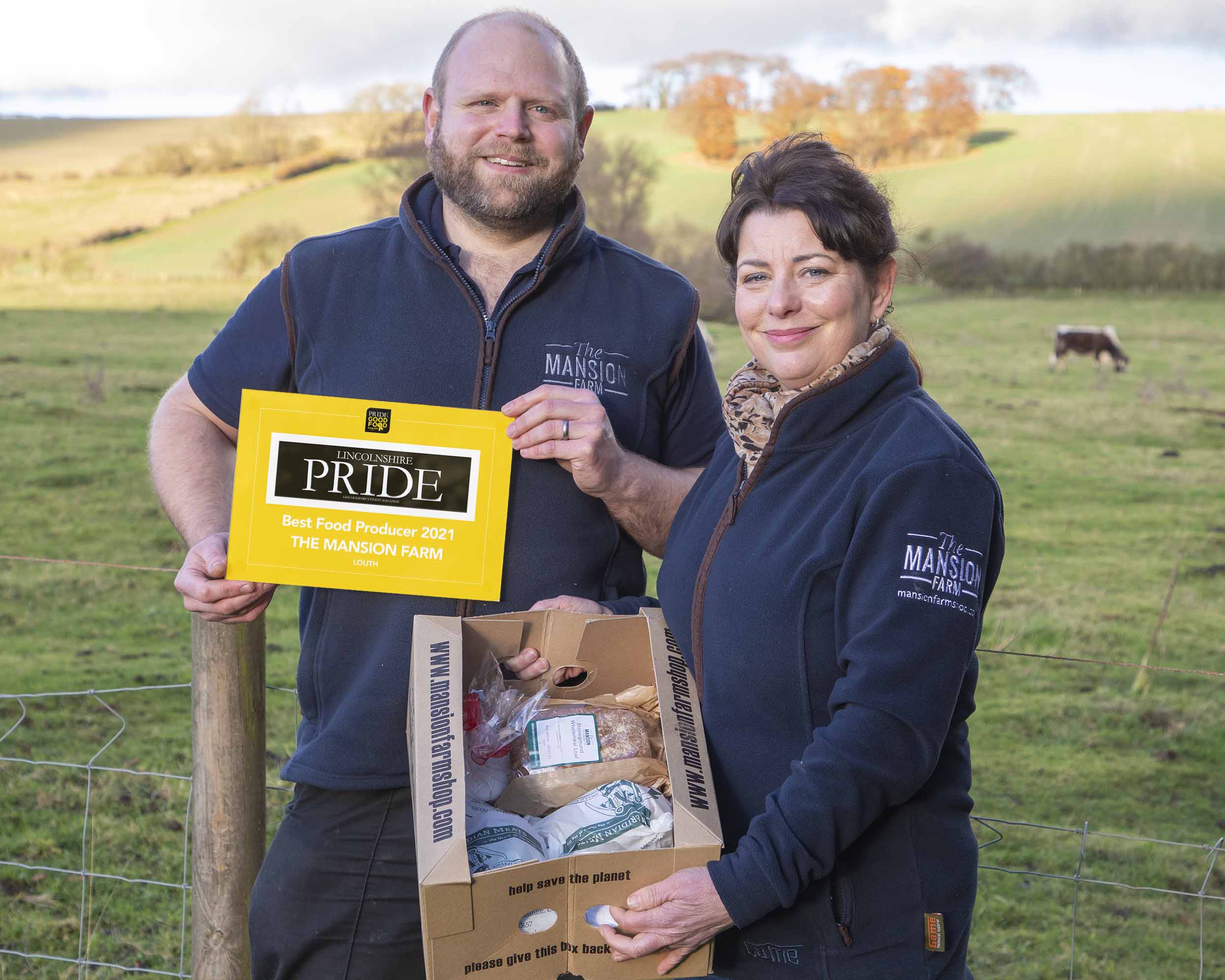 Best Lincolnshire Food Producer or Retailer
Louth's Jim & Odile Sutcliffe's clever business, Mansion Farm, brings great food to your door…
The internet has permeated the way we shop for many things; clothes, appliances, and of course the grocery shop. The trouble is, it's still a sector dominated by the so-called 'big four' supermarkets, whose resources are vast to say the least.
Happily though, the internet allows any small business – a local farm shop or deli – to sell their products across the country from a single website, and that's why Jim and Odile Sutcliffe have set up the Mansion Farm Shop website providing meat from their own farm as well as deli products plus a range of products from their in-house bakery, from the dairy, greengrocer and fishmonger as well as the butcher.
Jim is best known for his time with Meridian Meats in Louth and has set up Mansion Farm Shop to consolidate all of the best products from local food producers and farmers into one convenient online shop.
Our readers clearly think this is a brilliant idea and have overwhelmingly voted to award Mansion Farm Shop with this year's Best Lincolnshire Food Producer or Retailer title.
We love the idea that the company can act as ambassadors for the area's best produce and a hub to allow locals to sell their food across the whole of the country, bringing food and drink from the county that feeds the country to the rest of Britain.
Also Commended:
Poacher Cheese, Ulceby: A herd of 230 Holstein Fresian cows help Tim and Simon Jones to produce the county's best-known local cheese. There are other cheesemakers in the county, of course, but creamy and rich Lincolnshire Poacher is synonymous with the county.
Tel: 01507 466987, www.lincolnshirepoachercheese.com
Myers Bakery, Horncastle: Home to Lincolnshire Plum Loaf, a delicious winter treat that no self-respecting Yellowbelly would enjoy without a slice of Poacher cheese melting on top!
Tel: 01507 522234, www.myersbakery.co.uk.
Gary Simpson Butchers: Located in Sleaford, Lincoln, Stamford, Spalding and Heckington, providing high-welfare butchery and pies and ready meals.
Tel: 01529 460403, www.gsimpsonbutchers.co.uk.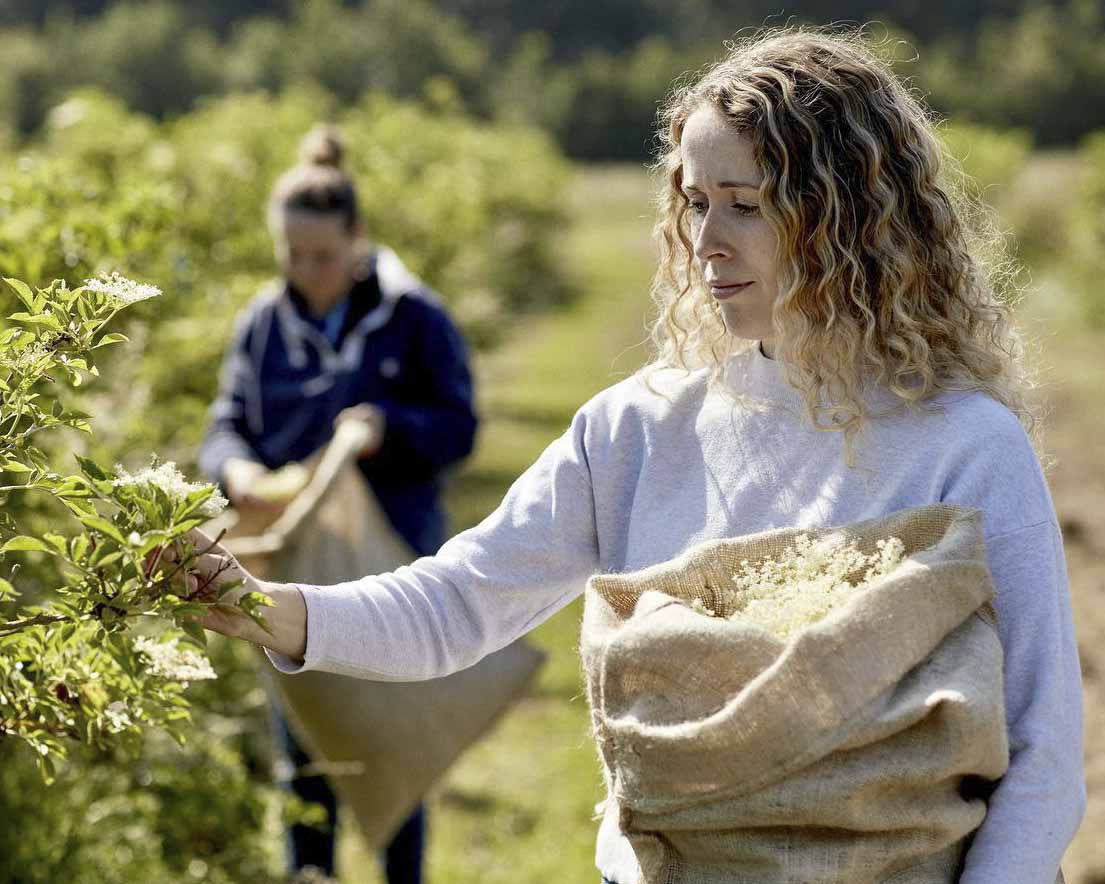 Best Local Drinks Producer 2021
The overwhelming winner of this brand new category is Grantham's Belvoir Fruit Farm…
The Flagship Product of Belvoir Fruit Farms is its elderflower pressé and cordial, which Pev Manners created in the Vale of Belvoir based on his mother's old recipe, which was a favourite with his thirsty childhood friends.
But its range has grown, with winter and summer products (Mulled Winter Cordial and Cucumber & Mint) plus a range of non-alcoholic 'gin and tonic' style drinks, and over 50 products in total, Belvoir Fruit Farm's drinks are authentic, refreshing and alcohol-free. A delicious taste of the hedgerows and countryside, and an all-year-round favourite of our readers.
Tel: 01476 870286, www.belvoirfarm.co.uk.
Also Commended:
Gentlemen Distillers: Home to Brandsman British Gin and Bandsmaster Dry Gin. Established in 2019 this Lincoln-based distillery is already hitting all the right notes – in the right order – with fans of gin 'n' tonic!
Tel: 01522 695893, www.bandsmangin.co.uk.
Stokes Coffee, Lincoln: Stokes provide coffee blends for retail customers and for the hospitality industry and was established 120 years ago. Today, it's based at The Lawn in Lincoln, but you can also buy its Columbian and Honduran blends online.
Tel: 01522 523548, www.stokescoffee.com.
Bateman's Brewery: Established in 1874 and with a fourth generation of the family – Jaclyn and Stuart Bateman – now at the helm, Batemans' flagship beer, its XXXB is easily the most well-regarded of the county's local ales.
Tel: 01754 880317, www.bateman.co.uk.