Victorian elegance, a great setting and a lovely team. And now, there's also a new Head Chef with all-new menus to enjoy too, at Woodhall Spa's Dower House Hotel…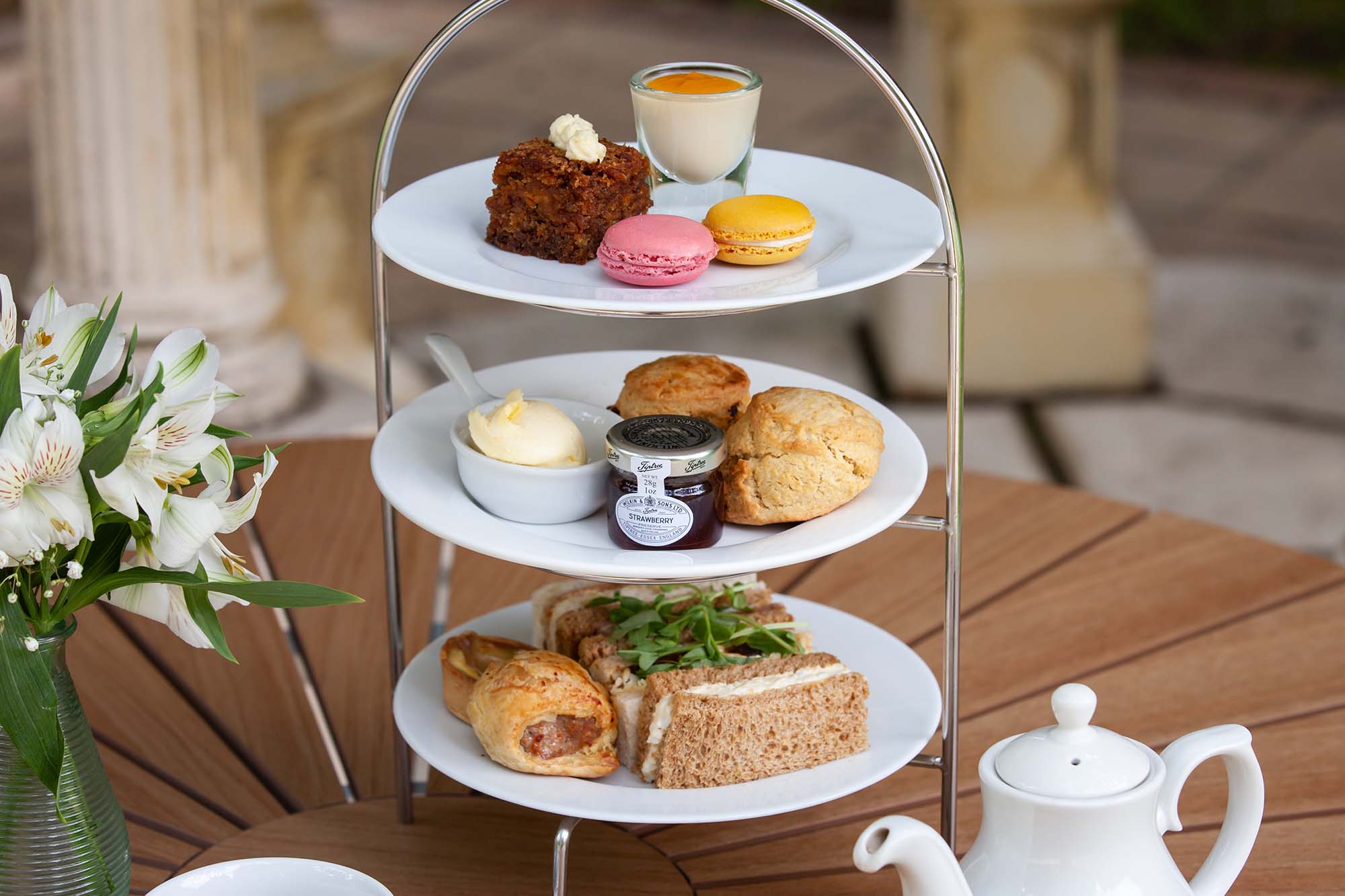 When it comes to dining out at Woodhall Spa's Dower House Hotel, you don't have to say "I do!" to say "We will!" Nor do you have to be a guest staying in one of the hotel's 21 (lovely) bedrooms. The Dower House is open to all, and we can especially recommend paying visit this season to enjoy the dishes that brand new Head Chef Callum Hawkins will be offering to Lincolnshire diners.
The Dower House Hotel was built in 1904 for Colonel Stafford Vere Hotchkin, creator and namesake of the Hotchkin course at Woodhall Spa Golf Club. It became a hotel about 40 years ago and was purchased by its present owners a decade or so ago, with an additional lodge built, comprising 15 rooms, back in 2011.
The elegant red-brick building, leafy grounds, the folly in which couples can marry, positioned under a mature weeping willow, and its secluded location have all ensured that the Dower House Hotel has become one of the most sought-after wedding venues in the county. With that success though, comes a sense of concern that the place might be overlooked as a restaurant in its own right, not only for residents, but for non-residents too.
That would indeed be a shame because in the past year or so the hotel has been treated to a comprehensive refurbishment of its restaurant, communal areas and its rooms. For a long time the hotel's dominant colour theme was crimson red, commensurate with its branding, but now that hue has been retired in favour of calming sage and neutral stone colours. There are pretty parquet floors, new soft furnishings and a smart dining room with the rebranded Harry's Bar.
It's now a well-presented hotel with a great setting, both of which provide a more than suitable backdrop for its raison d'être; a revised offering of dining courtesy of its new chef. Callum arrived at The Dower House from the hotel's sister venue, The Griffin Plumtree in Nottinghamshire, where he achieved an AA rosette for the venue. His aim is to produce a dining experience currently unavailable in the village and to refine the provision of dishes at The Dower House with Lincolnshire's best local ingredients, using just two or three elements for a dish but allowing the resulting plate to become greater than the sum of its parts.
During the daytime, there's a Light Bites menu providing everything from baguettes to burgers, flatbreads and a classic Ceasar salad from noon until 5.30pm. The Dower House Hotel's main menu, though, is available during both lunchtime and evening service, seven days a week.
With five starters and 10 main courses, it's a sufficient blend of several choices per course, whilst remaining concise enough to ensure everything is freshly prepared in house. Wherever possible, producers and suppliers are sourced locally, such as butchery from Graham Fidling and Marrfish which, whilst headquartered elsewhere, provides the hotel with fish freshly sourced from Grimsby's fish market each morning.
During the autumn and winter months, game will be sourced from local shoots whilst speciality breads and desserts are produced in house. There's a separate Sunday lunch menu, too, with Callum endeavouring to do justice to that weekend staple with jumbo Yorkshire puddings and unctuous gravy created from three days of boiling bones and chanting incantations.
Food arrives beautifully presented with a flourish of colour, and served on stylish brand new contemporary crockery. Diners can also choose to dine in either the 26-cover restaurant or outdoors on the terrace. To accompany your meal the hotel has partnered with Majestic to curate a list of more than 30 bins of wine from about £25/bottle topping out at £60. Our suggestions are  for a really good Barolo if you're enjoying the sirloin steak or duck leg, or a New Zealand sauvignon blanc to accompany Callum's hake or tagliatelle. A brand new range of classic cocktails and 'whiskies of the world' are also making a debut at the hotel this season too.
A mention, too, for the hotel's very popular provision of afternoon tea, an elegant offering presented on tiers with or without optional fizz or G&T, and again available on the terrace subject to the Great British weather. 2023 has not only seen the completion of a redecoration for the hotel and the arrival of Callum, but also a new General Manager in the form of Carlo Petrucci, who also arrived at The Dower House via its sister restaurant.
"It's undoubtedly a beautiful hotel with lots of history, some really comfortable spaces and some really nice rooms that are well-appointed and generous in size, he says."
"Now we're also enhancing our provision of dining, with Callum's insight and flair, we're  confident that we'll be providing one of the best dining experiences in the area too."
The Dower House may be one of the most sought-after wedding venues in Lincolnshire, but it's also one of the most beautifully presented dining hotels in the county, with a nice setting and a lovely team. With the addition of Callum and a wonderful new menu for autumn, the hotel is even more appealing for those seeking somewhere really pretty for comfortable, high-quality dining.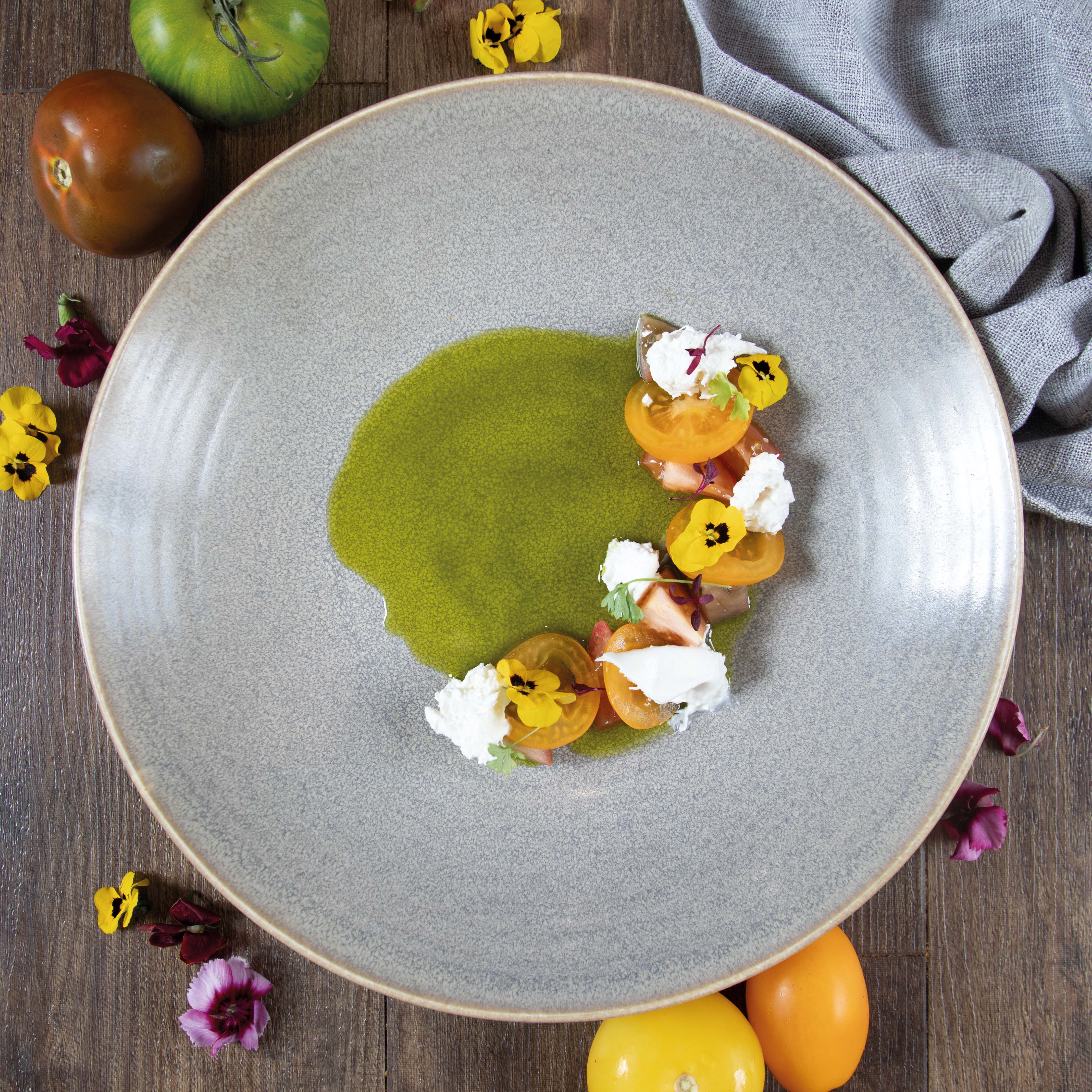 On the Menu
Starters
Black pudding Scotch egg with spiced-apple gel and celeriac remoulade, £12.
Burrata with basil oil, Inca tomatoes, toasted pistachio and garlic sourdough, £10.
Duck liver and brandy parfait with toasted brioche, kirsch cherry and baby herbs, £9.
Vodka-cured salmon with charred peach, toasted rye and lemon butter, £9.
Main Plates
Sirloin steak, garlic field mushroom, vine roasted cherry tomato, red wine garlic butter, triple cooked chips, £29.
Braised puy lentils with harissa glazed baby carrots, pickled fennel, paprika yogurt and pomegranate, £17.
Pan fried hake with potato terrine, mussels, dill apple, samphire, £24.
Fish & chips with minted pea purée, tartar sauce, £16.50.
Confit duck leg with mixed bean and chorizo cassoulet, creamed polenta and duck bonbon, £23.
Desserts
Dark chocolate torte with Chantilly cream, passionfruit gel, £9.
Pineapple and dark rum semifreddo with almond brittle, coconut sorbet, mango gel, £9.
Dining Out at…
The Dower House at Woodhall Spa
The Pitch: "An elegant country house hotel in Lincolnshire, serving wonderful new dishes courtesy of Callum Hawkins."
Food Served: Light bites served seven days from 12 noon. Until 5.30pm. Main menu served seven days, 12 noon-2.30pm and 5.30pm-9pm. Sunday lunch 12noon-4pm.
The Dower House Hotel, Manor Estate, Woodhall Spa, LN10 6PY. Call 01526 352588, see www.dowerhousehotel.co.uk.