This month we're enjoying brilliant dining at one of Lincolnshire's best pub restaurants. Find out why it's worth the journey to the Hope & Anchor…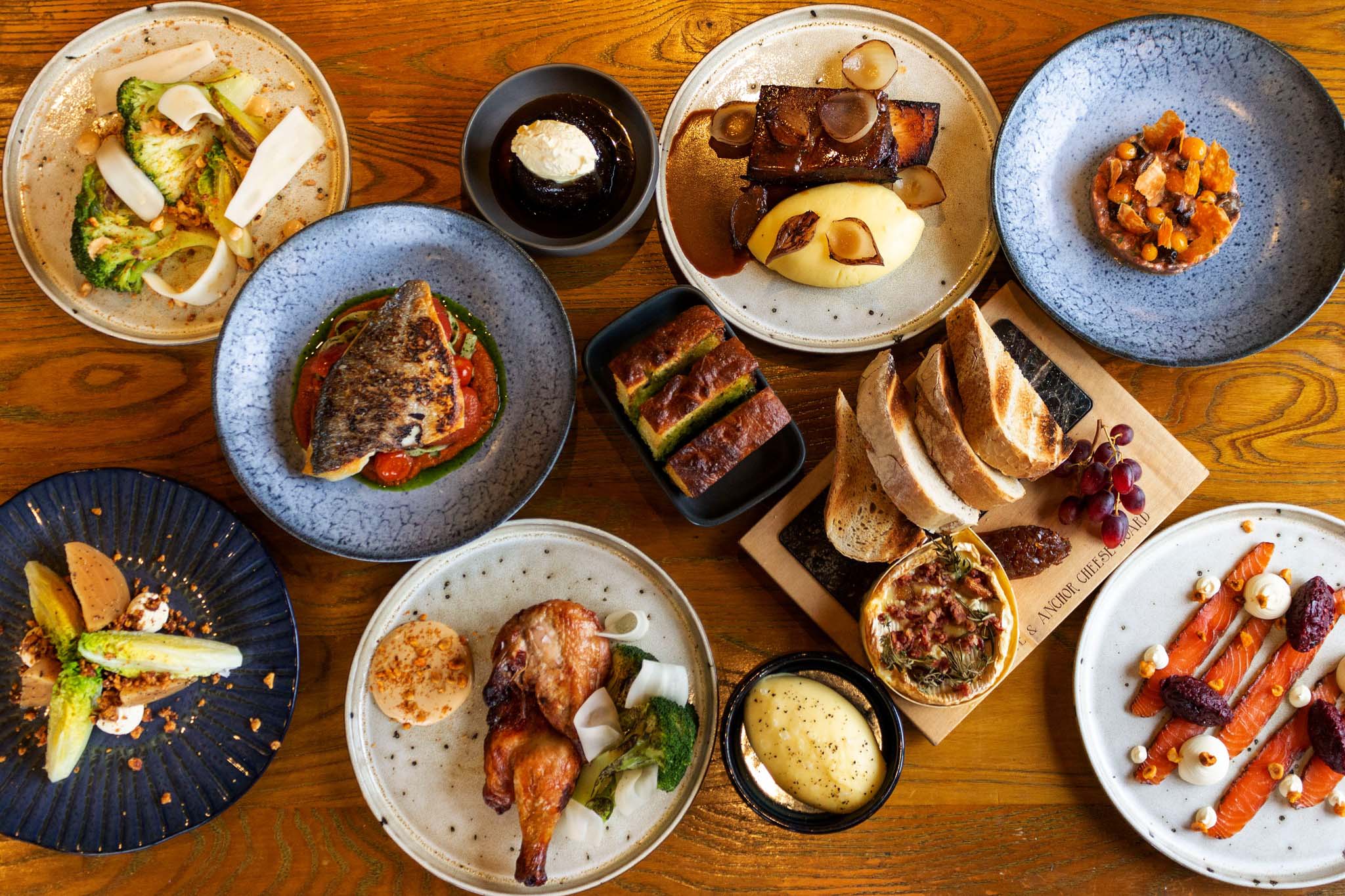 Hope & Glory is what we discovered in North Lincolnshire this month, with a visit to South Ferriby's Hope & Anchor. It's about as far north as you can go in Lincolnshire without getting your feet wet, adjacent to the Ferriby sluice, the marina and Humber.
Happily that means evening diners are able to enjoy panoramic views of the sun casting its golden hour glow over the estuary. However, that also means the place isn't exactly central in Lincolnshire, which is a shame because if I had my way, I'd frog march everybody in the county, in single file, to the door of the place and encourage them to personally experience the exceptional dining, warm welcome and sheer effort that the team puts into their dishes.
The Hope & Anchor dates back to the 19th century and was more of a boozer until a flood in 2013 saw to its closure. Slawek Mikolajczyk arrived at the place and conducted a back-to-brick refurbishment of the place, opening in 2016. Slawek is hardly one to do things by halves, as evidenced by the previous kitchens in which he's worked; Le Manoir with Raymond Blanc, La Gavroche with Roux and a little closer to home at Winteringham Fields.
Given his CV, Slawek should have been less modest (or less pessimistic) about his probable success. His business plan originally anticipated about 250-300 diners a week. But if God wanted us to live by a business plan, he'd have been an accountant, not a monotheistic deity.
In the first week Slawek reached and breached over 1,000 covers and though that's settled to about 700 covers a week now, it's safe to say the place is ridiculously popular and enjoys a fantastic reputation, commensurate with the team's skills and creativity.
Teamwork makes the dream work, so they say, and there's a team of six chefs in the kitchen at any one time. And they stick around too, thanks to the fact that Slawek really looks after them and does his best to impart every possible trick, technique and example of best-practice in his protégés.
The team eats, drinks and enjoys food together; they enjoy gym workouts together and apparently even embark on a daily regime of team-building push-ups prior to service… healthy body, healthy mind and a healthy dose of friendly competition between chefs, apparently.
In between shifts at Winteringham Fields, Slawek used to volunteer to help out the village butcher in order to teach himself to prepare his own meat. Today, Slawek and his chefs take one 700kg cow, two pigs, two sheep and about 50 chickens a month, butchering them all in-house, advocating a no-waste philosophy.
The approach is called Whole Cow Project, Whole Pig Project and Whole Lamb Project. The team uses everything from the finest cut of beef for the restaurant's Côte de boeuf, to trimmings from the pig for the home-made sausages and charcuterie they make in house, and boil up bones to create in-house stocks.
All meat is hung for a minimum of 30 days in the fridge and, in fact, the Côte de boeuf is aged for a hundred days, whilst charcuterie is conditioned for between three and six months.
The team also forage together for the samphire, chickweed and wild garlic growing around the banks of the Humber and Slawek is a passionate pickler and preserver, with jars in the dining room containing everything from home-made kimchi to chutneys plus his home-infused lobster oil. Bread, ice creams and sorbets are made in house too.
Happily there's just a single menu, served during both lunchtime and evening service. It comprises a few 'while you wait' options like oysters, pork crackling and Kabanos from  Slawek's native Poland.
There are 12 starters and no fewer than 17 main courses. As a menu, such a choice of dishes might seem a little too comprehensive for chefs to be well-practiced in each one's creation. But upon closer scrutiny, it's a cleverly created list of dishes whose production is predicated on butchering and preparing meat, creating portions and completing as much of the prep work as possible so that, at the point of a customer ordering a particular dish, it can leave the kitchen as efficiently as possible. Each dish comprises just three or four elements, haloing around a particular ingredient, which means the team has a tonne of butchery and prep work before service, but they operate really efficiently during service, with lots of love lavished on key ingredients.
Take a simple dish like fish and chips; the fish is hand-brined in house, chips are triple-cooked and batter is homemade from the real ale served over the bar. Hopefully it's a dish the team enjoy preparing, too, as the Hope & Anchor serves over 150 of them a week!
This is proper feel-good food and just one look at the sharing dishes should be enough to make any diner swoon; 20oz chateaubriand; 16oz Wagyu rib-eye, or a full native lobster with 8oz beef fillet or even a whole rack of Winteringham lamb, for example.
There's no doubt that The Hope & Anchor is a bit out of the way. If it was in the centre of Lincoln they'd be queuing around the Cathedral and all the way down Steep Hill. But even if you'll incur a bit of travel, we promise you won't be disappointed.
Whilst you're in the area, visit Humber Bridge Garden Centre and the Tileworks, or Normanby Hall, or spend a bit of time at Far Ings nature reserve. Failing that, just book into one of The Hope & Anchor's five beautiful rooms and make a night of it. However you justify your visit… just visit.
Book in soon and enjoy the skill, commitment and the creativity of the team. The Hope & Anchor, we can confidently say, is one of the best restaurants in Lincolnshire.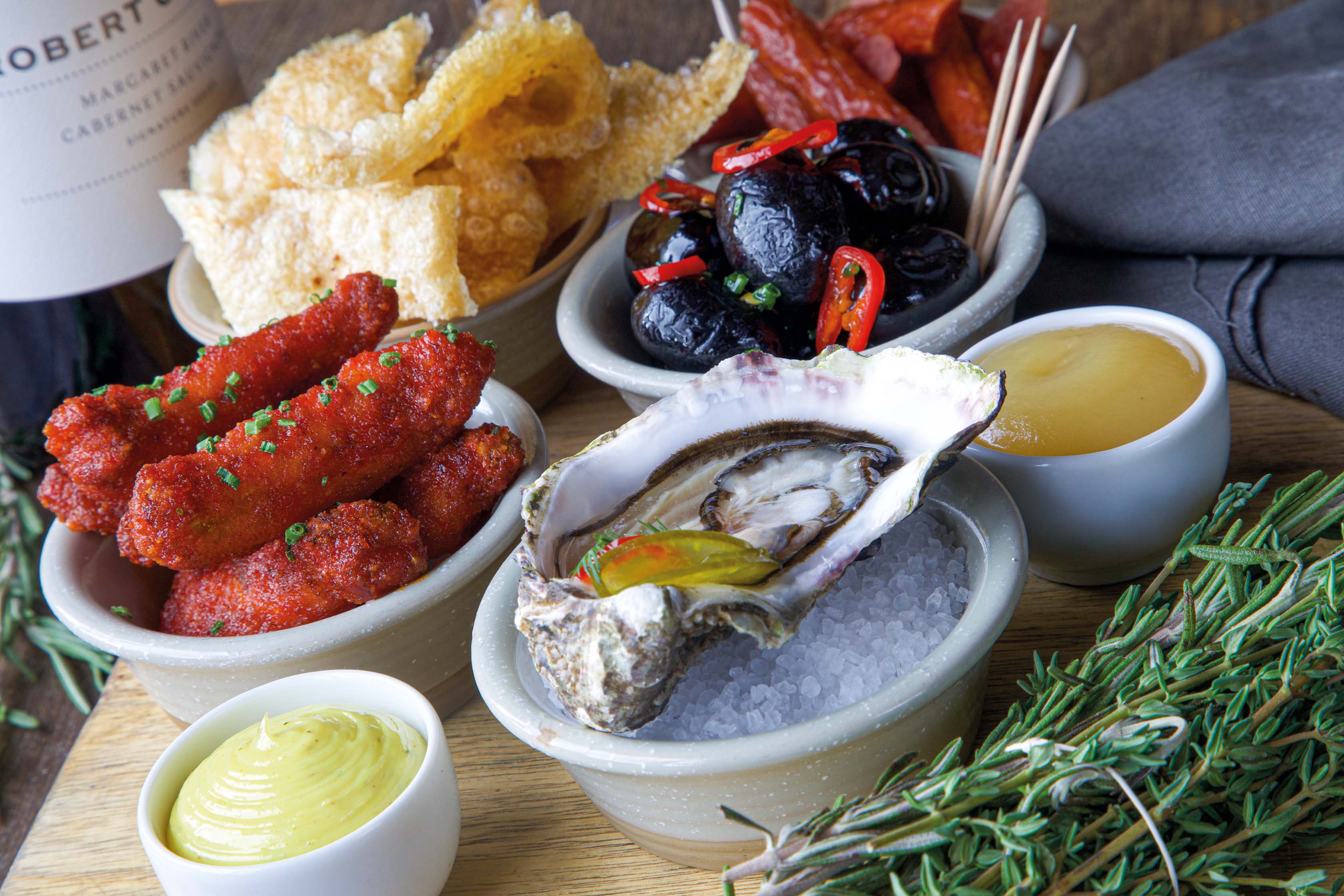 Sample Menu
Starters
Lobster bisque sour cream, toasted bloomer bread £8.
Five Maldon oysters garlic mayo, pickle cucumber, chilli, dill £17.
In-house cured meats from the 'whole animal' project, turmeric spiced pickled cucumber, bloomer bread crackers £12.
Main Courses
Grimsby haddock, mushy peas, tartare sauce, triple cooked chips £16.
H&A burger, triple cooked chips, red pepper relish, pickled cucumber, cheddar, brioche £17.
Whole Winteringham lamb project loin, shoulder, pea puree, garden peas, dukkah, jus, compressed baby gem £27.
Sharers
Full native lobster, 8oz fillet and choice of two sides and a sauce £97.
F2 Highland Wagyu rib-eye 16oz, choice of two sides and sauce, £140.
Hundred day aged Côte de boeuf choice of two sides and a sauce, £3.50/oz.
Desserts
Chocolate mousse, chocolate ice-cream, almond crumb £12.
Vanilla crème brûlée gooseberry sorbet, meringue, strawberry salsa £9.
Dining Out at The Hope & Anchor at South Ferriby
The Pitch: "A casual and informal space with no compromise on the quality of food: strong and bold, with an emphasis on simplicity."
Food Served: Tuesday to Thursday 12 noon – 2.30pm; 5pm – 8.30pm. Friday and Saturday 12 noon – 8.30pm. Sunday 12 noon – 5pm.
The Hope & Anchor, Sluice Road, South Ferriby DN18 6JQ.
Call 01652 635334 or see thehopeandanchorpub.co.uk