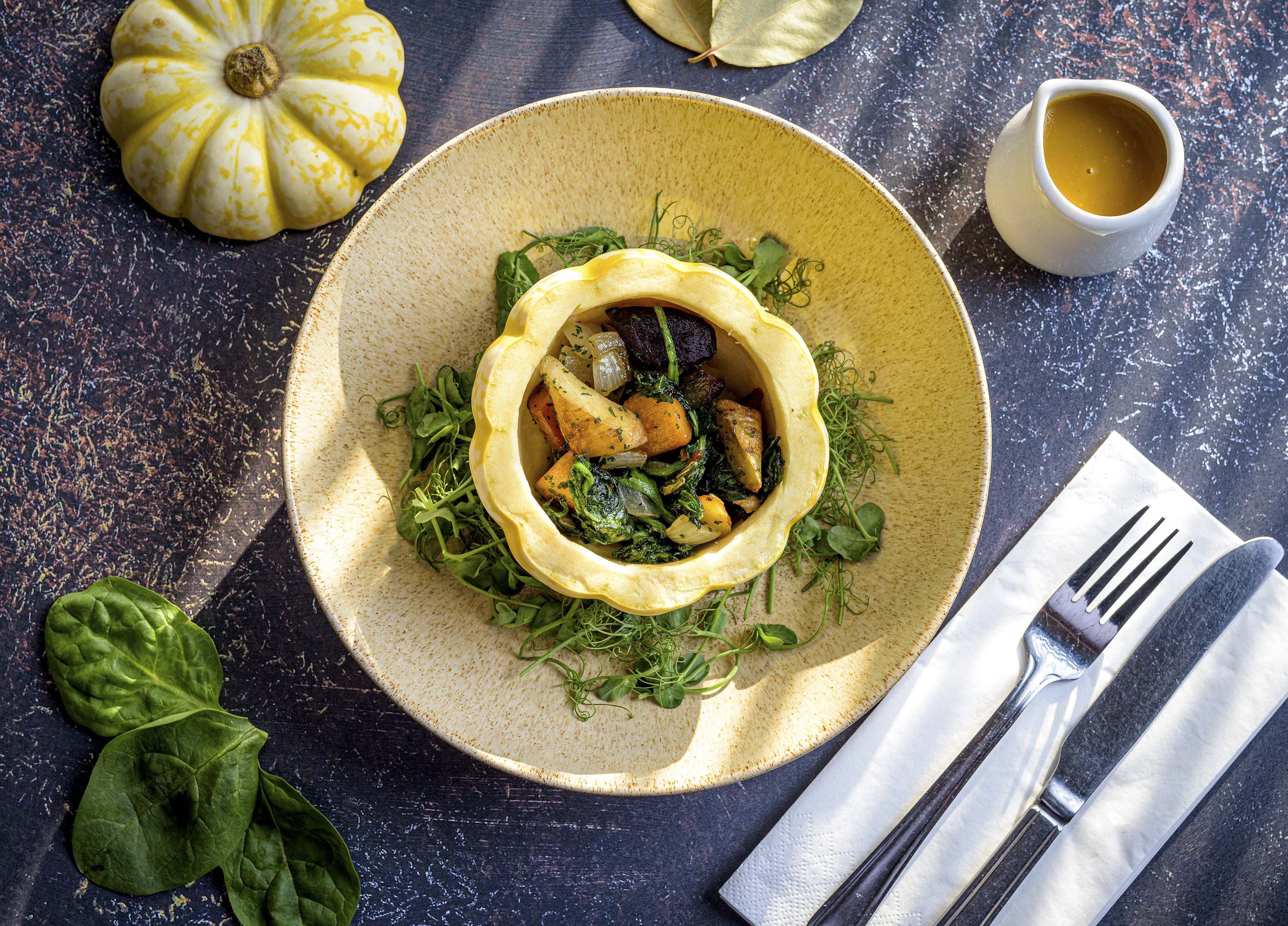 Next month will mark the Cross Keys at Grasby's second anniversary, and what a couple of years it has been! Reborn and refurbished with a stunning menu and a father & daughter team determined to provide first class dining well beyond the usual remit of a village pub restaurant…
Traditionally, the new year is an opportunity to embrace a new challenge. Roughly two years ago, father and daughter Nick and Steph received the keys of their new pub restaurant, the Cross Keys at Grasby.
They opened the doors to customers eager to see what the new owners have made to the pub restaurant, equidistant between Brigg and Caistor, then awaited their response.
But what superlative could do Steph's provision of 'British food with a modern twist' justice? As our photos demonstrate there's remarkable flair in presentation, technically flawless chefcraft and a warm welcome at front of house thanks to Nick.
Steph decided she wanted a new challenge, having worked at Lincoln's White Hart, the city's Doubletree by Hilton, and the Horse & Groom dining pub. She and Nick set up the Cross Keys and are part of a team that also comprises chef de parties Malika Garwell & Tom Soulby, and sous Steven Rendall.
At front of house alongside Nick is Sue Chaperon, assistant manager, and together they're all doing great things for local diners. "We've a great team, and that's something that's difficult to achieve but helps enormously when you're trying to run a busy dining room, so I'm really grateful for them, and for the way we all work so well together!" says Steph.
The kitchen takes advantage of Lincolnshire's wealth of local ingredients and suppliers, creating dishes which are elaborate and appealing in their appearance but grounded in just one or two good quality ingredients which are allowed to shine through and make each dish special.
Diners can choose to enjoy a meal in the main restaurant, which was refurbished in July 2019 and seats 35 covers – enough for a good atmosphere but still quite intimate – in the lounge, with its capacity of 12 covers – ideal for private dining – or in the bar, with its homely feel and log burner – nice for cosy dining on a winter evening. Menus include an à la carte or plat principal with about eight starters and main courses apiece, plus a separate list of seven pub restaurant-inspired classics, the kind slow cooked pies, sausage & mash and Grimsby haddock & chip options that would provoke mutiny from customers upon their attempted removal from the menu.
Grill options include the ubiquitous gourmet burger, Steph's iteration of which features a black sesame seed roll and streaky bacon.
There's also a dedicated Sunday lunch menu offering proper roasties and home made Yorkshire puddings, plus slow blades of beef and pork shoulder braised to bewitching perfection over 12 luxurious hours. Senior Citizens have their own menu too, with dining available Monday to Friday for a decidedly trim £6.95, £9.50, £12.95.
Happily, even in the case of the latter, all of the Cross Key's dishes are the result of plenty of effort. There can be no corner cutting in the pursuit of excellence, reckons Steph. It's a philosophy reflected in the fact that she creates all of her bread, desserts, ice creams, sorbets, sauces and so on all in house. Local suppliers include Ashby Butchers, and Premier Seafood whilst eggs, honey and potatoes are all sourced from the village.
No labour is spared in the her dishes' creation, nor their presentation, with our halibut dish served with a sort of sushi-esque parcel of asparagus and a brown shrimp beurre noisette.
Likewise the redoubtable soufflé has proved ignominious to even the most experienced chef. And in a busy kitchen, when you're juggling 40-odd covers, it's a brave chef who attempts to put one on the pudding menu.
Yet, here we are with an impressive example with white chocolate and raspberry, textures of meringue and a well-deserved side order of chutzpah for the chef who created such a beautifully fluffy, golden example of a pud that could easily have been a chef's downfall.
During January & February, the log burners and cosy bar, the steak nights and Sunday roasts, the real ales and library of gins will leave you wanting to revisit again and again.
Long story short, approaching their second anniversary, it's very easy to see that this is a pub restaurant which is overdelivering on its remit of good food, delivering instead some pretty stunning fine dining dishes that are as good to eat as they are to admire.
To brave a night out in cold January you need a pretty compelling excuse. Well, excuses don't come more compelling than the rather excellent Cross Keys. Try it and enjoy it!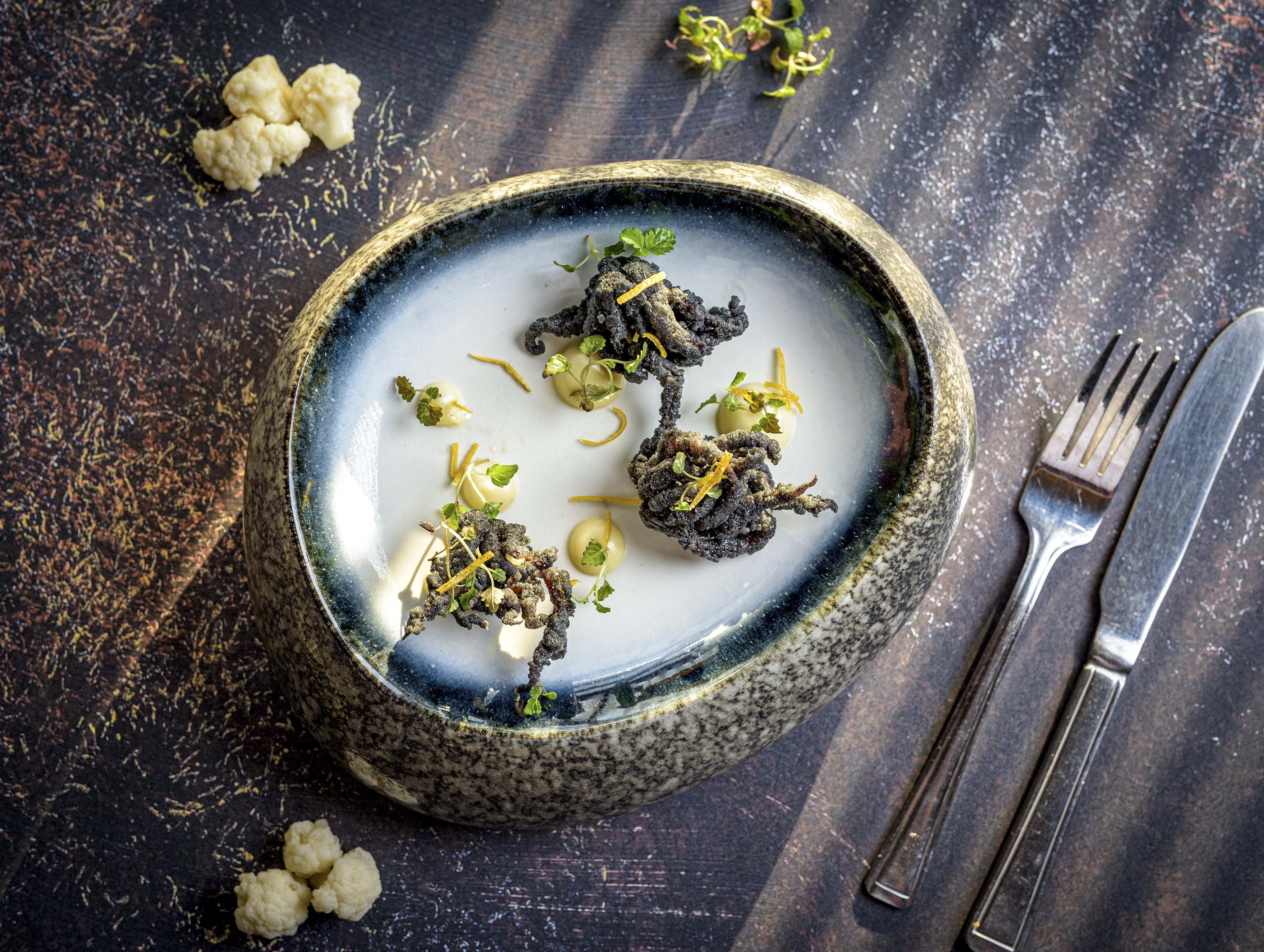 On the Menu…
The Cross Keys at Grasby…
Starters
Charcoal squid with vanilla puree £6.95.
Vegan gourd butternut squash with burnt pepper £6.95.
Main Course
Pan seared duck breast served with celeriac fondant, textures of pear, purple sprouting, alongside a confit teriyaki duck bon bon and celeriac puree £14.95.
Pan seared venison with breaded bubble and squeak cake, Wild mushrooms, charred leek, pickled turnip and beetroot £17.95.
Desserts
White chocolate and raspberry soufflé £6.95.
Grasby honey parfait, candied nectarine, toasted almond textures, honeycomb £6.95.
NB: Featured dishes are subject to change.
The Cross Keys Inn, Brigg Road, Grasby, DN38 6AQ. Call 01652 628247 or see crosskeys-grasby.co.uk.