Something new for 2019; Healing Manor's Pig & Whistle, and what a treat it is! Not only is it a beautiful Tudor manor converted into a hotel, restaurant and events venue, but it is now under new ownership; The Lincolnshire Chef. We cannot wait to see what Steven and his team do with this new project in 2019, but rest assured it will look amazing and of course, taste incredible…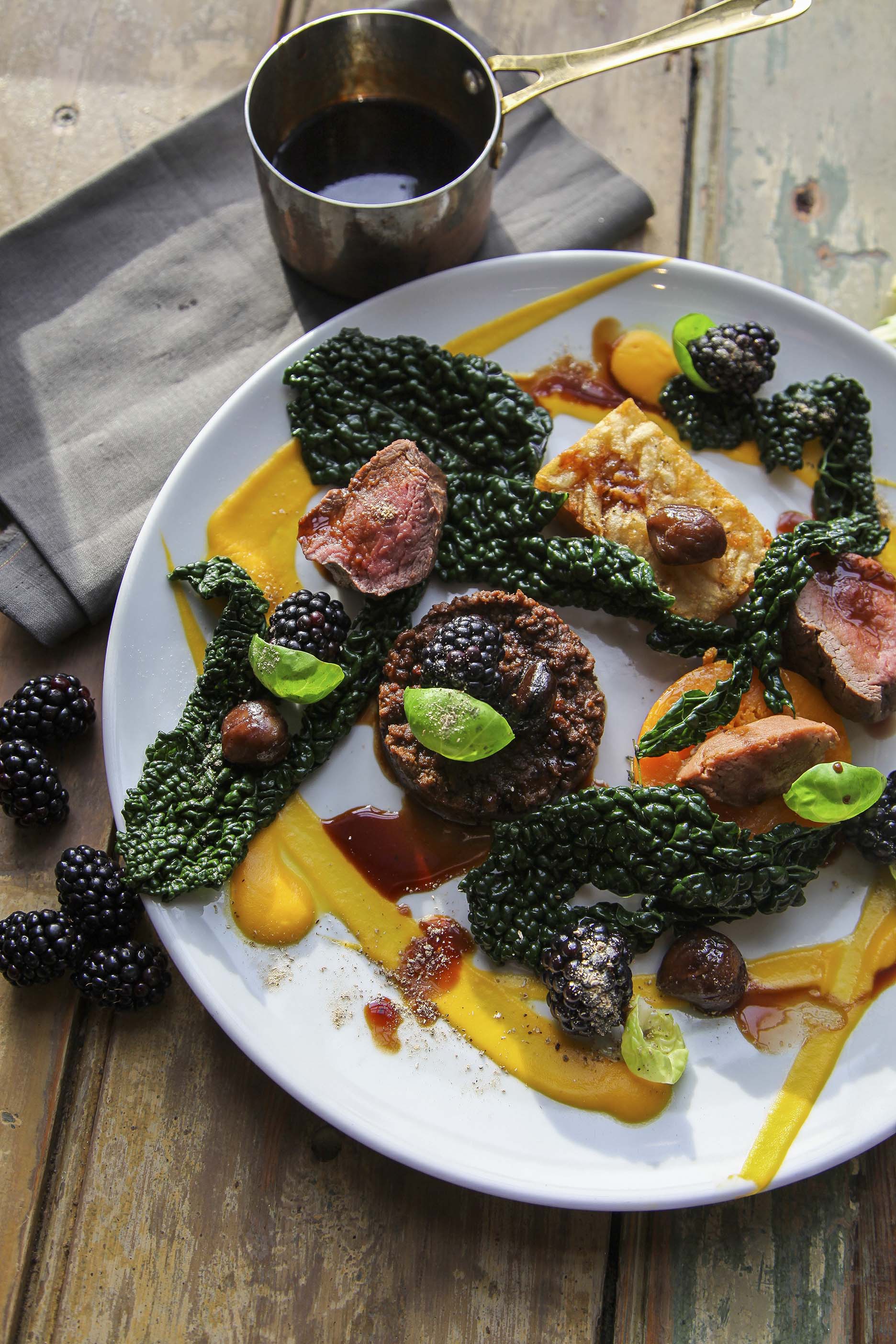 North Lincolnshire is a bit of a journey for anyone in the south of the county (where Pride Studios is). If you do decide to travel an hour or so to the other end of the county, it has to be for somewhere superb. Well, we present to you a reason to head to North Lincolnshire time and time again. Anyone familiar with Steven Bennett and his fabulous team, whether it's through his catering business or his phenomenal work at the Comfy Duck in Oaklands Hall Hotel, you'll be just as excited as we are about Healing Manor.
"It's a relatively new project for us, taking over in March last year," says Charlotte Hay, partner to Steve in life and in business. "The site has enormous potential, and we've already made great progress, converting the barn into a rustic wedding venue and redecorating parts of the hotel. It's a big – and expensive – project, and there's still a long way to go with redecorating."
The work the two have done already is fantastic, having recently held a fireworks night for thousands of attendees in the grounds of the manor.
Healing Manor has an interesting history too, having been a moated establishment for a number of years, part of which still exists. It's certainly a hidden gem, and we're so excited that it has been taken on by the best duo in Lincolnshire to breathe life back into it and put such a great place on the map.
For the restaurant on site – The Pig & Whistle – there are several menus including lunch dining, pub classics, Sunday lunch, a la carte and a 'Piglets' menu for children.
Being the Lincolnshire Chef, the menu is bursting at the seams with local suppliers which is why we're not surprised our readers awarded them 'Best for Fish' in our annual Restaurant of the Year awards this year.
While we're on the subject of awards, Steven and Charlotte have already won a whole host of them, recently awarded his second Rosette, winning Business Person of the Year at the Northern Lincolnshire Business Awards, and granted Guild of Master Craftsman. We believe it's because Steven's style of food embraces very traditional, fresh cooking, combined with modern dining and his strong ethos of locally sourced, seasonal ingredients.
The kitchen has fresh fish delivered daily from Grimsby, Lincoln Red is used for their steak burgers, local spirits are stocked at the bar (including around 40 other varieties of hand picked gins) and they even forage for some of their ingredients on the 36-acre site.
In addition the 36 acres of mature grounds, lakes and woodland, Healing Manor includes two restaurants – The Pig & Whistle and the Portman Restaurant for more formal dining, two function rooms, 37 individually designed bedrooms and a reception hall currently in the process of being entirely renovated.
They've truly thought about all kinds of diners; no one is excluded from an evening at the Pig & Whistle. They cater for gluten-free, vegan and vegetarian diners, and they even offer dining for dogs! Yes, there is a place where you can enjoy a delicious meal while your dog dines too, and there are dog-friendly rooms if you want to stop the night.
We don't know about their food, but the human food is amazing. It's presented beautifully as you can see from our photos and with Steven's wealth of experience, it's clear to see why it tastes as good as it does too.
Our starters included smoked salmon with torched mackerel, apple and pansies, in addition to cod cheek scampi with tartar sauce and pickled clams. For mains, we had lamb rump and shepherd's pie with peas, baby gem, goats cheese and mint. The second main we photographed was the venison loin and ragu with butternut squash, brambles, chestnut, parmesan crisp and calovo nero.
We cannot wait to see the success of Healing Manor grow and we hope you enjoy your experience as much as we did.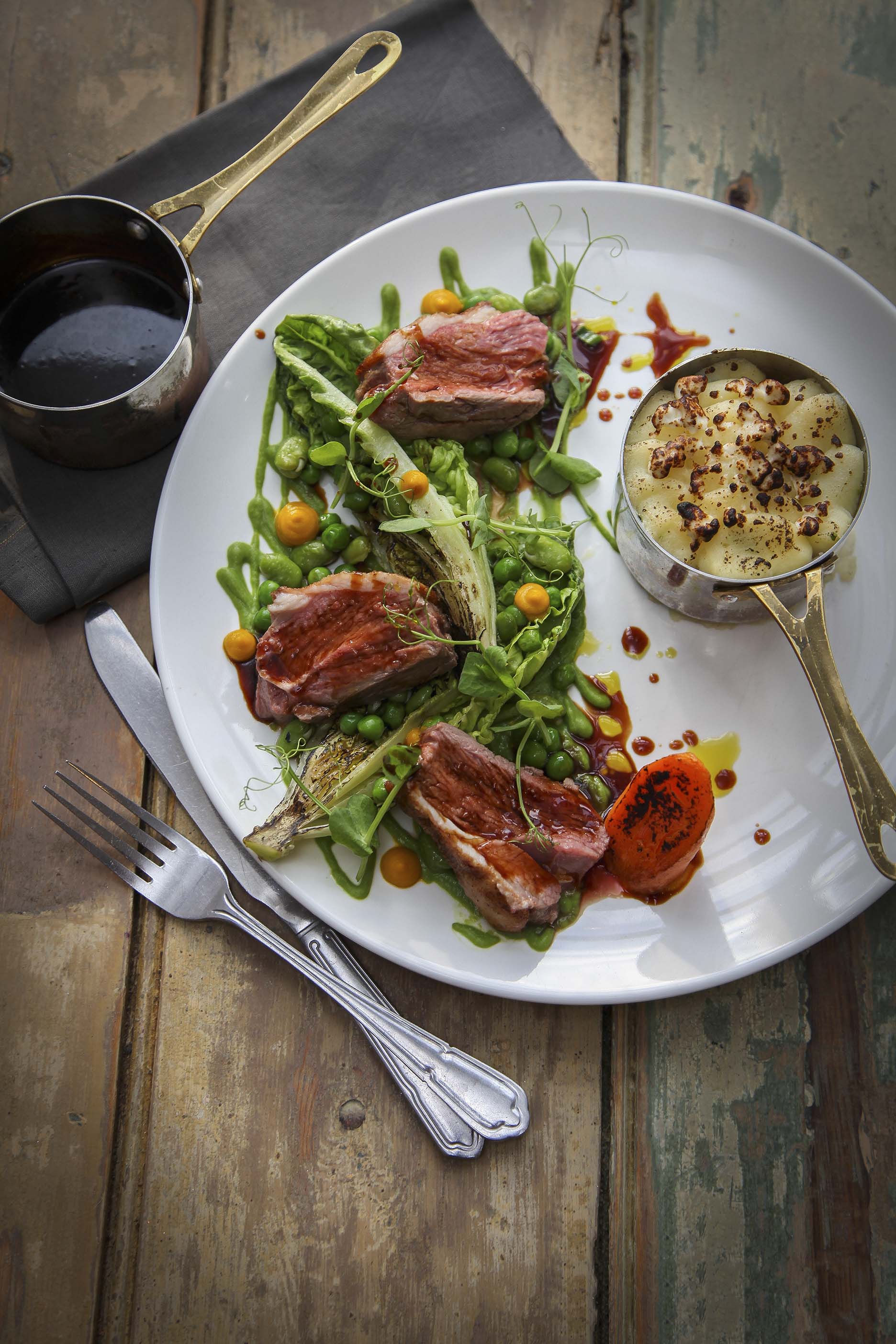 On the Menu…
Starters
Jerusalem artichoke velouté with wild mushrooms, pickled artichokes and nasturtiums, £7.
Potted beef with a Yorkshire pudding and onion gravy, £8.
Salt-baked beetroot with pickled walnuts, whipped goats cheese and watercress, £7.
Main Courses
Hake with brown crab risotto, shellfish bisque, pickled samphire, chive oil and sea herb, £18.
Pork belly and braised cheek with carrot purée, charred hispi, cabbage, rostï potato, crackling and cider jus, £17.
Wild mushroom, spinach and chestnut wellington with spinach, kale, chestnuts and béarnaise, £13.
Desserts
Black forest with cherries, chocolate and hazelnut, £7.
Honey cake with cinnamon, mulled fruits and pear, £7.
Mille Feuille flavoured with coffee, walnut and dark chocolate, £7.
NB: Featured dishes are subject to change.
Opening Times:
Main dining: Monday to Friday 12pm to 9.30pm, Saturday 12pm to 9.30pm.
Sunday Lunch: Sunday 12pm to 3.30pm.
Sunday Evening Specials: 4.30pm to 8pm.
Afternoon Tea: Thursday to Saturday 12pm to 3.30pm.
For more information about the Pig & Whistle at Healing Manor, call 01472 884544 or visit the hotel's website www.healingmanorhotel.co.uk. Stallingborough Road, Healing, Grimsby, North East Lincolnshire, DN41 7QF.