Springtime, and new life is unfolding everywhere… the grounds of Woodhall Spa's Dower House were looking a bit glum during our January visit, but by the time you read this, they'll be a verdant joy, with spring bulbs and a lush-looking setting for this very pretty  hotel, hidden away at the end of Manor Estate in Woodhall Spa…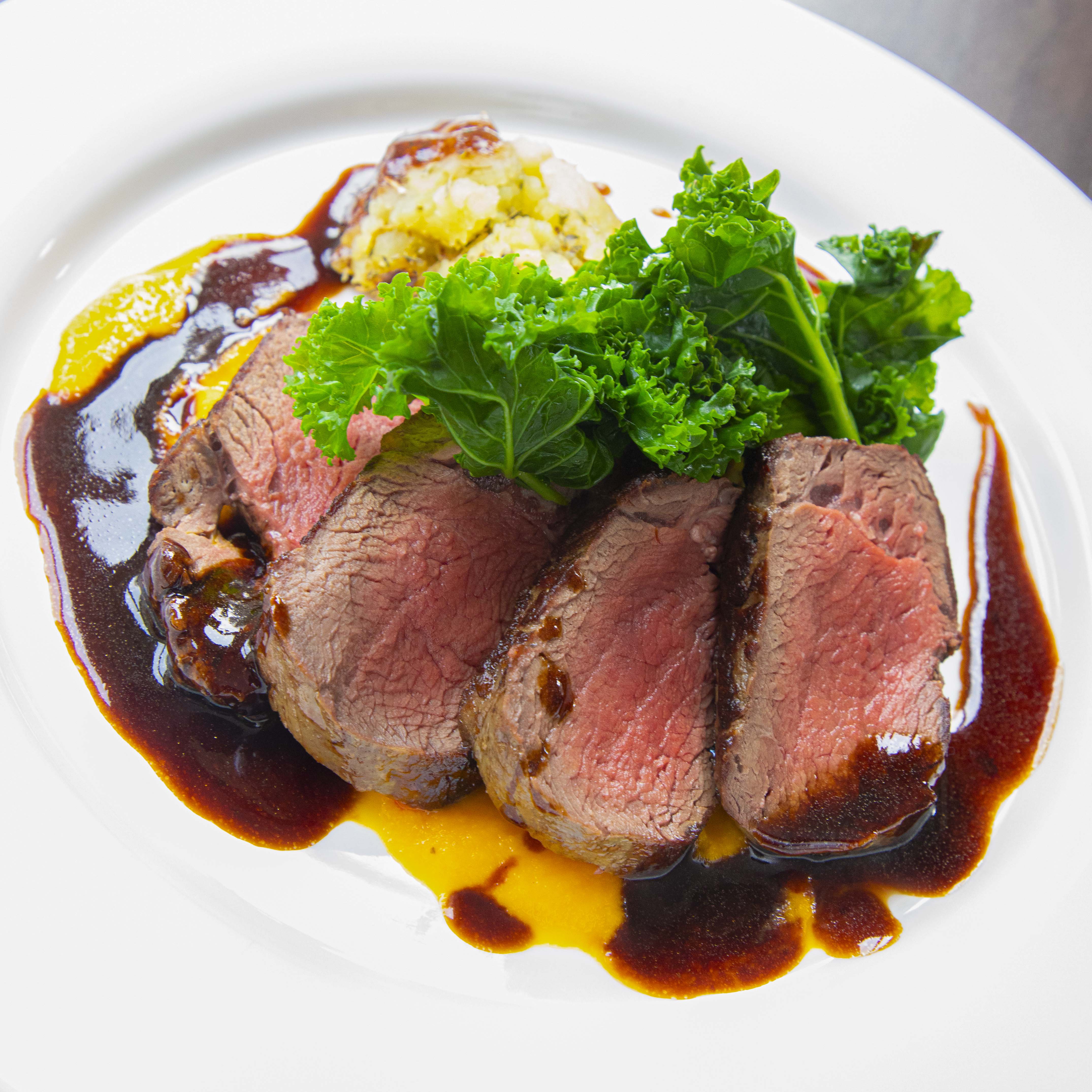 No stranger to new life is Jed Stout. Exactly a year ago he and his new wife welcomed into the world their first child, Luna. And so, this time of year will hold particular joy as they celebrate her first birthday. Elsewhere, there's new growth on trees, new lambs are gambolling in fields and everywhere there's the general sense that a fresh new season is unfolding, much to everyone's joy.
It's particularly pertinent this year as we all hope that the beginning of spring will also coincide with the end of Covid, not to mention with outdoor events and the chance to enjoy days out both resuming, too, after a couple of rather constrained years.
So if you're venturing out this spring to enjoy fresh air, blue skies, and – if you dare to dream – warmer temperatures, you'll be looking for a decent dining out recommendation… and The Dower House fits the bill perfectly.
As well as Mother Nature's handiwork outdoors, giving the garden a much-deserved pick-me-up, you can also enjoy the results of a makeover inside the hotel, with redecoration, recarpeting and new furniture due to be completed as Pride goes to press.
What was once the lounge and reception is now a pretty dining room with views over the garden. Previously the dining room was located in what is now exclusively a huge function room, and for dining, that space was a little large and impersonal. The newer dining room has about 20 dining covers and is smart, cosy and intimate, more suited to the kind of enjoyable dining you'd expect in a boutique hotel.
There's a private dining room too, for up to 12 people, and Harry's Bar with its dedicated menu of more relaxed favourites too. Alongside new look interiors and a new dining room is a brand new à la carte menu courtesy of Jed and his team which runs alongside the bar menu. And it's a beaut. There are six starters, 13 main courses and six puddings including a trio of ice creams or sorbets and a cheese board option.
Suppliers to the hotel include Lincolnshire butcher Mel Ward, Woodhall Spa's Graham Fidling who provides Lincolnshire sausages and pies, as well as fish merchants Cooks & Lucas. More often than not, fish is landed in Grimsby at four o'clock in the morning and is in the pan in time for evening service, meaning diners benefit from only the freshest fish, treated as respectfully as all of Jed's other ingredients.
Eggs are from Lincolnshire's Fairburns, ice creams are from fourth-generation ice cream makers Dennetts, based in Spilsby, and fruit & veg, naturally, is from the fields of Lincolnshire wherever practical.
Presentation of dishes is something in which Jed takes great pride. Our visit coincided with the signing-off of The Dower House's new spring menus and these included our two starter dishes of mushroom pâté and treacle-cured salmon, both of which were beautifully embellished and delicious.
Main course options include our featured roasted venison loin with a carrot and swede purée buttered kale, crushed new potatoes and a Madeira reduction. A second main course was duo of duck, which comprised a beautifully textured breast and a lovely duck leg croquette.
Embarrassingly, as Jed arrived with the desserts to photograph, he completely caught me in the act of getting stuck into the latter. I make no apologies, for it was absolutely delicious… although my enthusiastic gluttony was a bit undignified to say the least.
If, however, I made a bit of a piggy of myself over the main courses, worse was yet to come, for Jed's chocolate tart arrived and proved to be pretty much the most chocolate-ey treat you'll ever experience.
By far the most delicious tart I've ever had, it was also all the better for being juxtaposed by a deliciously tangy sorbet courtesy of Robin Dennett of Spilsby; the camera was barely down before I was polishing that off too. As summer comes along, though, you might also want to give consideration to Jed's deconstructed assiette of strawberries, comprising a panna cotta, meringue and a macaroon.
A final mention, too, for The Dower House's excellent provision of a traditional tiered afternoon tea, and for its Easter Sunday Lunch at £32/person.
With a new look, a new menu and new life all around, The Dower House is a distinct recommendation. This is local spring dining at its very best indeed!
Sample Menu
Starters
Mushroom pâté with sourdough crisp, spiced cranberries, rocket and pickled shallots £7.
Treacle-cured salmon with charred scallions, lemon dressing, red sorrel and beetroot £7.
Main Courses
Roasted loin of venison with carrot and swede purée, buttered kale, crushed new potatoes and Madeira reduction £16.
Duo of duck, with breast and hoisin duck sauce, duck-leg croquettes and egg noodle stir-fry £16.
Slow roasted pork belly, with sage dauphinoise, caramelised apple puree, baked apple and jus £15.
Desserts
Chocolate tart with bitter chocolate soil and Dennett's raspberry sorbet £6.
Summer strawberry assiette, deconstructed, to include strawberry panna cotta, roasted strawberries, balsamic strawberries plus strawberry meringue and macaroons £6.
NB: Menu items subject to change.
The Dower House is based on Manor Estate, Woodhall Spa LN10 6PY. Call 01526 352588 or see www.dowerhousehotel.co.uk.